Gannochy housing estate wins Saltire Society Award
The Gannochy Trust's lifetime neighbourhood in Perth, designed by Glasgow architecture firm Anderson Bell + Christie, has won a Multiple Dwelling Award at the Saltire Society Housing Design Awards 2021, which took place at a virtual ceremony on December 15.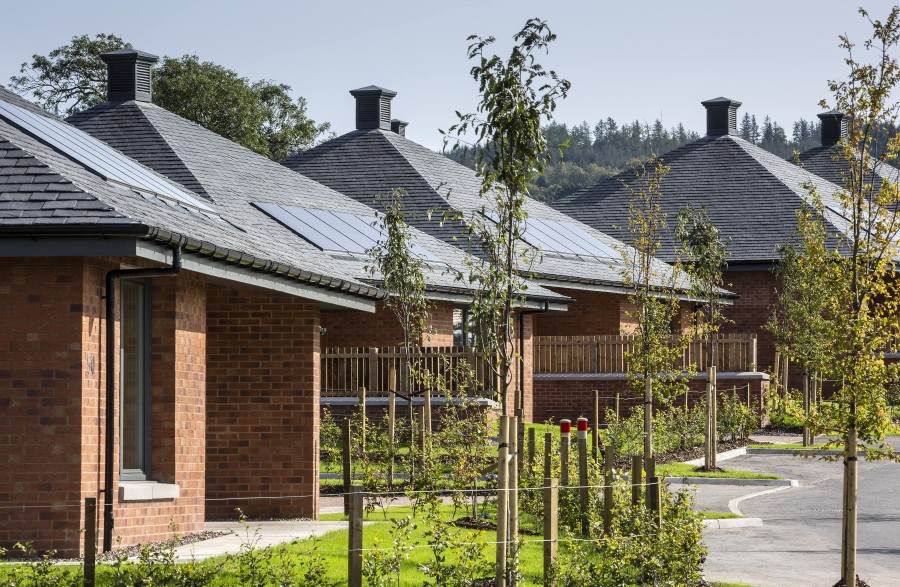 The awards, which celebrate the diversity of the best in new housing in Scotland, are supported by the Scottish Government and recognise the contribution housing makes to social and cultural conversations.
The 48-house development integrates seamlessly with the original housing estate built by Gannochy Trust founder and former Scotch whisky entrepreneur and philanthropist,
Arthur Kinmond (A.K.) Bell in the 1920s. The new development is underpinned by three core design principles; 'Healthy Homes for Life,' 'Lifetime Neighbourhoods' and 'High Quality Design' which aim to improve health, accessibility and connectedness for tenants, with the flexibility to adapt to their needs as circumstances change.
The Saltire Society commented: "The Gannochy Lifetime Neighbourhood revisits a planned village and extends it in an exemplary way, reflecting contemporary challenges and opportunities our housing stock must address. The houses follow the general form and orientation of the original development by the Gannochy Trust in 1923. They share the sense of generosity and open character of the original, but are at a higher density through skilful massing of the semi-detached units. Their design anticipates householder needs at all stages of their lives, through generous space planning.
"The development has the intention to nurture secure communities, whose buildings will support their residents for the longer term. It combines this with an exemplary approach to sustainable design, to provide robust and reliable internal conditions. The Gannochy lifetime neighbourhood will do as its name suggests and is a model for our times."
Stephen Lamb, director of Anderson Bell + Christie, added: "We are delighted to win a prestigious Saltire Society Housing Design Award. We have created a unique estate in terms of its layout and emphasis on healthy living, people getting outdoors and ventilating their houses well. We started off by taking a wide view of the Gannochy estate and prepared a masterplan using a co-design process. We worked with people that lived and worked in the area, so the idea of an intergenerational community became important early on, particularly one that is accessible to everyone and gave a sense of ageing well."
David Gray, chairman of the Gannochy Trust, commented: "It is an honour to win a Saltire Society Housing Design Award and we thank Anderson Bell + Christie and all our partners for the hard work and effort they put into creating this exemplary project. What we wanted to do is deliver the best houses we possibly could for our tenants, while also providing an exemplar that could influence housing design across Scotland and beyond. I think we have achieved this with the Gannochy lifetime neighbourhood."
The full list of winners is available here.