Gannochy Trust housing development wins first UK-wide award
The Gannochy Trust's lifetime neighbourhood in Perth, designed by Glasgow architecture firm Anderson Bell + Christie, has won the Best Healthy Homes Development (rural and suburban) and Best Affordable Housing Development at this year's Inside Housing Development Awards.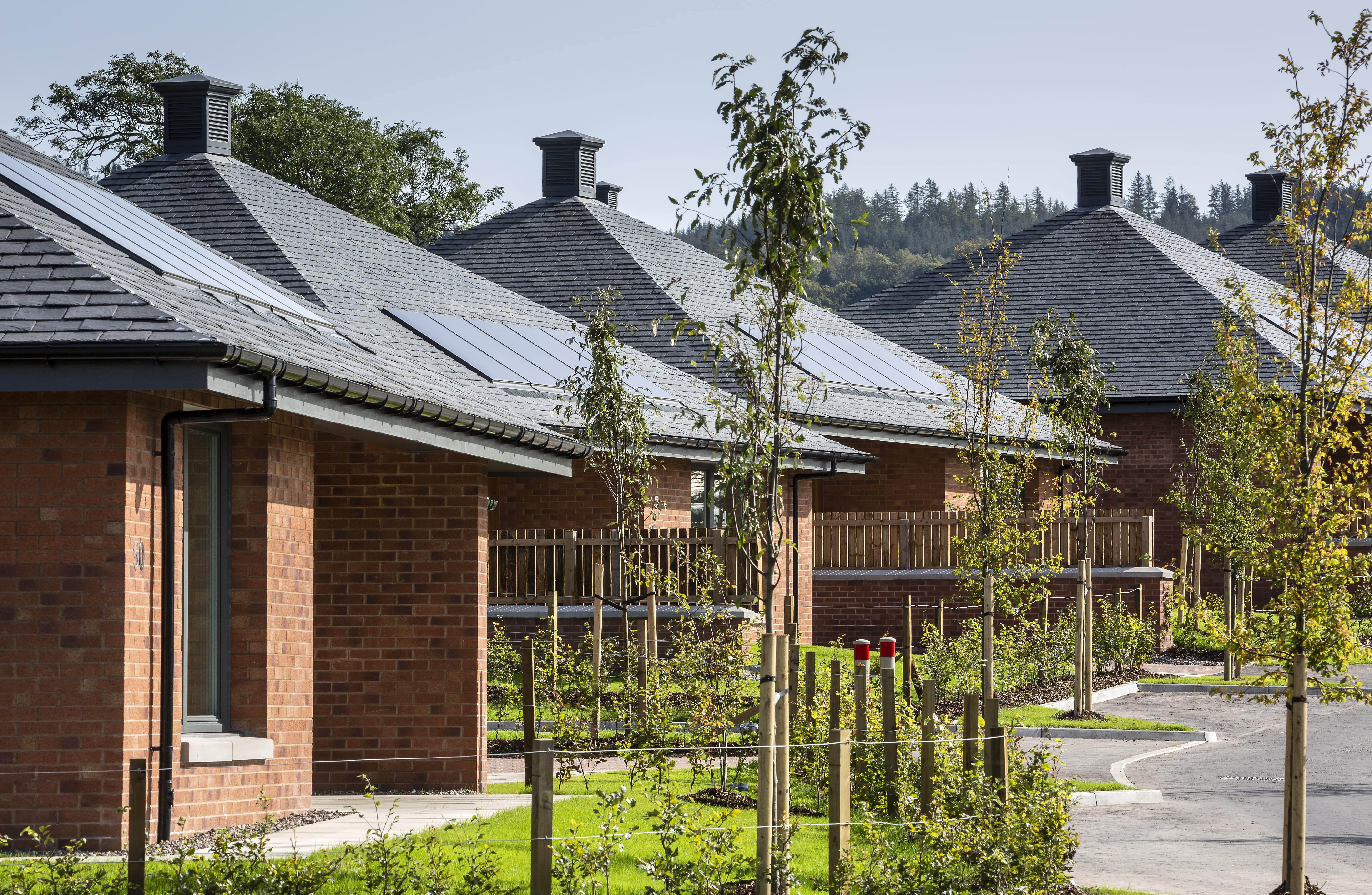 This is the first UK-wide award for the development, having picked up accolades at the Scottish Design Awards, Glasgow Institute of Architects Awards and the Herald Property Awards in Scotland earlier this year.
The 48-house development integrates seamlessly with the original housing estate built by Gannochy Trust founder and former Scotch whisky entrepreneur and philanthropist, Arthur Kinmond (A.K.) Bell in the 1920s. The new development is underpinned by three core design principles; 'Healthy Homes for Life,' 'Lifetime Neighbourhoods' and 'High Quality Design' which aim to improve health, accessibility and connectedness for tenants, with the flexibility to adapt to their needs as circumstances change.
Many of the developments core design principles were inspired by the work of A.K Bell, particularly his legacy of creating healthy homes for the community. Back in the 1920s, Bell designed spacious houses that were south facing to maximise sunlight, with large gardens all set within a thriving community. He was also passionate about the positive benefits of good indoor air quality and went to the lengths of installing brass plaques in each house with a message encouraging tenants to keep their home well ventilated.
Nearly 100 years on, The Gannochy Trust has incorporated many of Bell's original ideas into the new development, such as the installation of a passive ventilation system and laundry rooms to improve indoor air quality.
The Trust and its partners also recognised the importance of creating an environment that fostered good mental health and wellbeing through a range of design features. These include open plan living areas with large windows and high ceilings to maximise natural daylight and a sense of space. Each home also has a special sheltered seating area called a 'sitooterie' to encourage social interaction and a sense of community.
Stephen Lamb, director of Anderson Bell + Christie, said: "We are delighted to receive the Best Healthy Homes Development and Best Affordable Housing Development at this year's Inside Housing Development Awards. This is the development' first national award and is testament to the dedication and hard work of all the consultants and contractors who worked with us on this project. We have made every effort to continue the legacy of A.K Bell by creating an exemplar housing estate that promotes healthy living within a thriving community. These awards should be credited to Bell and the legacy he left us as much as they are to the achievements of Anderson Bell + Christie and its partners."
David Gray, chairman of the Gannochy Trust, added: "We are proud to win the healthy homes and affordable housing categories at the Inside Housing Development Awards. We thank all our partners for making this development happen. This award is in recognition for their hard work and ingenuity as well as the legacy of our founder A.K Bell. The principles we have applied in designing homes which aim to foster good physical and mental health have proven particularly important as we continue to deal with the effects of the Covid pandemic."
The Gannochy Trust Lifetime Neighbourhood was built by Campion Homes and designed by Glasgow architectural firm Anderson Bell + Christie. 'Healthy Homes for Life,' and 'High Quality Design' elements also received design input from the Mackintosh Environmental Architecture Research Unit at Glasgow School of Art with support from the Construction Scotland Innovation Centre.