Glasgow's Lord Provost plays Santa to Milnbank residents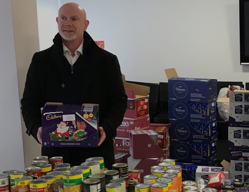 As part of its on-going work in the community during the national lockdown, Milnbank Housing Association volunteers and staff distributed an early Christmas gift of biscuits to the elderly residents and a selection box for school-aged children.
Joining them last week was Philip Braat, the Lord Provost of Glasgow.
On being updated on the latest support for the community, Mr Bratt commented: "I am delighted to help as this is an excellent way of showing people that the Association is thinking about them at this time of the year."
During his visit, the Lord Provost learned of the recently launched food pantry initiative which after a short period of time now has over 200 members.