Govan Housing Association excels in UK-wide jobs drive for young people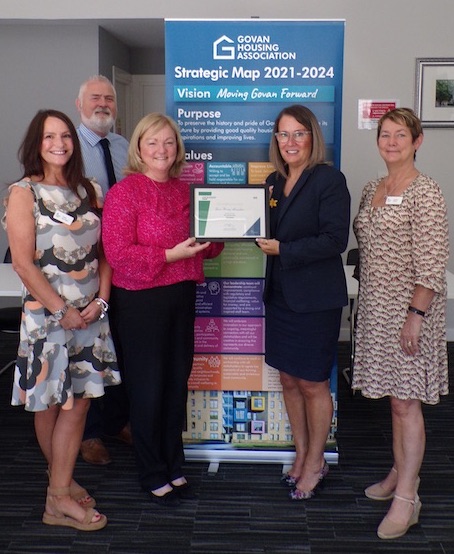 Govan Housing Association has excelled in a UK-wide drive to help young people get a flying start to their working lives.
The much-praised Kickstart Scheme from the Department for Work and Pensions, giving young people six months of work with employers, has been a huge success.
Now Govan Housing Association's in-house repairs subsidiary Govan Home Team has been named runner up in one keenly-contested category in the nationwide Kickstart Awards for "developing young people's talent".
The housing association was the only housing provider anywhere in the UK to make it onto the final shortlist.
Five young people aged between 18 and 24 joined Govan Housing Association in September last year with Kickstart to give them a taste of a working life. Much of their time was focused on estates work, learning about how to keep the local community environmentally appealing and tidy – something tenants place great emphasis on.
Two of them liked it so much they have now applied for full-time jobs with the housing association which potentially unlocks the door to many opportunities that come with a career in the housing sector.
The 'Kickstart Scheme', which has now ended, was a £2 billion fund to create hundreds of thousands of high quality 6-month job placements for young people. The Project's key task is to enable young people to be ready - and have the potential to be ready - for employment opportunities.
Fiona McTaggart, chief executive of Govan Housing Association, said: "Like so many housing providers, we are committed to investing in young people – something which has always been part of our vision to help our community thrive.
"Achieving runner-up status in the Developing Talent category in the Kickstart Awards is very welcome. We are delighted with this success and commend the DWP for their commitment to helping make our engagement with Kickstart such a success."
Kenny McGinty, head of Govan Home Team, added: "We feel very privileged to have been part of the Kickstart scheme which has allowed us to give five young people a taste of a working life. They have shown commitment and a ready appetite to learn in the time they spent with us."
Senior representatives of the DWP in Scotland travelled to Govan Housing Association's offices to present the framed Kickstart certificate to mark the organisation's success.
One of the Kickstart participants Sarah-Jane Ewing (21) said: "I found working for Govan Home Team a very rewarding experience. Kickstart helped me find out what it is like to be working and the discipline and responsibility which comes with paid employment. I would recommend it to anyone my age."
Margarita Morrison, DWP area director work and health services Scotland, added: "It is fantastic to reflect and recognise the success achieved through Kickstart and seeing the impact it has made on these young people's lives."