Govan Housing Association pays tribute to former chair with 50th anniversary mural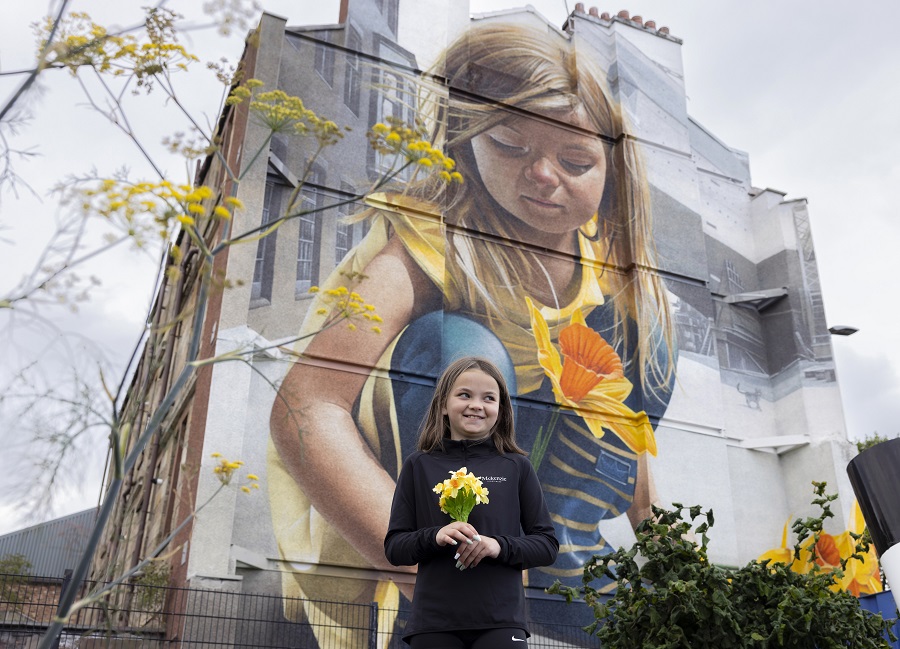 A striking new artwork celebrating life in Govan has been unveiled to mark the 50th anniversary of Govan Housing Association.
The eye-catching tenement artwork by celebrated street artist Sam Bates – better known as "smug" – encapsulates the vibrancy of this iconic community and focuses on the future while embracing a proud past.
And in a touching tribute to Govan Housing Association's late management committee member Georgie Hay, it has been announced that the girl featured would be known as Georgie.
Former chair and secretary, Georgie served Govan Housing Association for a remarkable 42 years until her death in January this year and "would never be forgotten" by the Association, its tenants and the Govan community.
Located not far from Govan Cross and easily seen on the way into the city centre, the mural depicts a young girl bending down to pick a daffodil.
The daffodil has a connection to Govan thanks to the popularising of the flower by 19th century Govanite and horticulture expert Peter Barr who was known as "Govan's Daffodil King".
After his death, The Royal Horticultural Society established the Peter Barr Memorial Cup, still awarded annually to those who have done great work in the service of daffodils.
Additionally, and with a nod to Govan's world-beating maritime heritage, shipyards feature in the background. Importantly, a wide-ranging community consultation was carried out about what local people would like to see in the mural.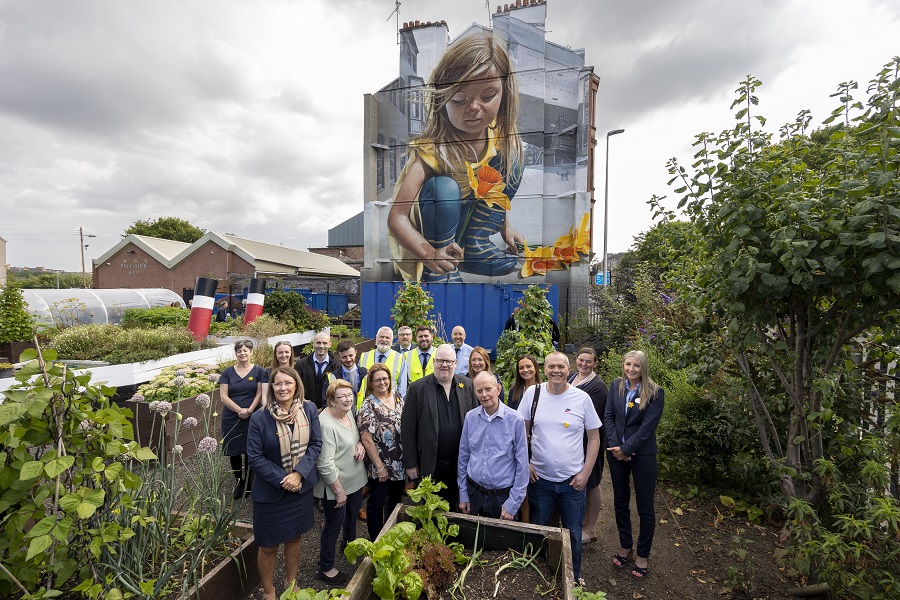 The artwork is seen as an entirely fitting gift to the community from Govan Housing Association because it embraces its "building the future, preserving the past" ethos.
The work by smug was created under the auspices of SWG3 and "Yardworks" – the renowned Glasgow creative hub and arts venue which aims to bring street art to a wider audience and is based directly across the river from Govan in Yorkhill.
The mural sits above the colourful Riverside Hall community gardens and is sure to become a popular city visual landmark.
Laura Frood, SWG3 Yardworks programme manager, said: "SWG3 are delighted to partner with Govan Housing Association to deliver this mural to mark 50 years of the housing association. Our Yardworks programme has been working with people in Govan for the last 18 months and we hope that they enjoy the mural for years to come, the mural will form part of a mural trail under our Yardworks GRID Programme tasked with establishing multiple public art sites in Govan, Partick and Yorkhill."
Fiona McTaggart, Chief Executive of Govan Housing Association said: "The Association with funding from the Big Lottery is absolutely delighted to see the ideas and inspirations from the people of Govan coming to life in the mural. We are especially pleased that the mural has been gifted by the Association to Govan to mark our 50th anniversary.
"We would like to thank SWG3 for the work they carried out consulting the community and to Sam for bringing those ideas together to create this amazing piece of artwork. We are sure people will get pleasure from the mural now and for many years to come."