Government and Greens agreement signals boost for affordable homes and tenants' rights
Plans to implement an effective national system of rent controls, enhance tenants' rights and deliver 110,000 affordable homes by 2032 have been outlined as part of a working agreement between the Scottish Government and the Scottish Green Party Parliamentary Group.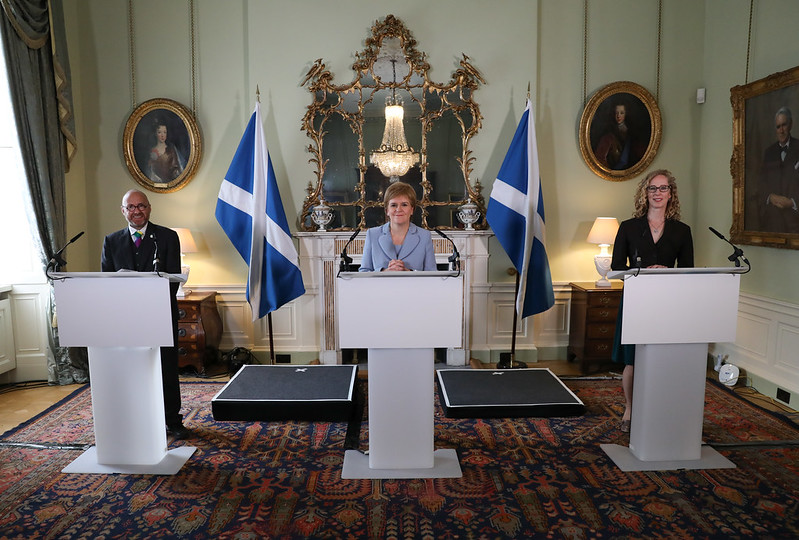 A shared draft policy programme - the Bute House Agreement - has been agreed for the next five years to "build a green economic recovery from COVID, respond to the climate emergency and create a fairer country".
The agreement also sets out plans to invest at least £1.8 billion over this parliamentary session in energy efficiency and renewable heating and to significantly increase the level of the Scottish Child Payment, in order to maximise the impact on child poverty, with the full £20 payment being achieved within the lifetime of the Parliament.
On housing, the draft policy programme stated: "The Scottish Government and Scottish Green Party believe that housing is a fundamental human right. We believe that it underpins the health, wellbeing, happiness and life chances of people in our communities. We will work together to make the right to a suitable, affordable, warm and safe home a reality.
"We will take action to improve the affordability and quality of rented homes, and to improve the fairness of the terms on which they are rented. We will take action to end homelessness.
"We will work together on our shared aim for everyone to have a safe, high-quality home that is affordable and meets their needs in the place they want to be. A new housing standard will underpin these ambitions, ensuring that all homes, irrespective of tenure, type or location should, over time, meet this standard."
Under the agreement, a new deal for tenants will be developed in consultation as part of the Rented Sector Strategy to be published by the end of 2021. The deal will create a new housing regulator for the private rented sector to improve standards and enforce tenants' rights, and will introduce new rights for tenants, for example giving tenants greater flexibility to decorate their home and to keep pets.
Tenants' rights, including through greater restrictions on evictions over winter, will also be enhanced with additional penalties and compensation for illegal evictions introduced.
Following the conclusion of the Rented Sector Strategy consultation, a final Rented Sector Strategy and a Housing Bill are planned for the second year of this parliamentary session, to deliver a number of the legislative changes required to implement the strategy.
The partnership will also seek to implement an effective national system of rent controls, with an appropriate mechanism to allow local authorities to introduce local measures.
"We will consult on the options, deliver legislation and implement rent controls by the end of 2025," the draft policy programme stated.
Around 110,000 affordable homes have also been pledged by 2032, of which at least 70% will be available for social rent and 10% will be in remote, rural and island communities.
The policy note added: "We will develop a Remote, Rural & Islands Housing action plan to ensure we meet the housing needs of those areas and help retain people and attract them to these communities. This will be backed by a Remote, Rural and Island Housing Fund of at least £45m as part of our overall affordable housing supply programme funding in this parliamentary session."
The government and the Greens have also agreed:
through all of this work,

to use innovative methods to engage people with the

proposals consulted on, including through listening to those with lived

experience.

to improve the availability of homes by working together to regulate short

-

term

lets,

give

local authorities

the abili

ty

to manage

the impact of

second homes

and bring empty homes back into use. Where possible, empty homes will be

brought into the social rented sector.

to progress work towards tenure

-

neutral standards and work to develop a new

Housing Standard for all ten

ures

that is aligned with the proposed energy

efficiency and heat standards

.

to work to end homelessness, including by rolling out a Housing F

irst

approach.

to take forward the recommendations of the Scottish Parliament working

group on tenement maintenanc

e.

to explore ways in which we can provide further support for housing

cooperatives, including potentially through LBTT relief, through funding and

financing options.

to consult, as part of the Rented Sector Strategy, on how a rent

guaranto

r scheme for estranged young people will be delivered

.

to ensure community housing trusts are adequately funded so that they can

support the delivery of enhanced rural home building plans.
The draft policy agreement also seeks to focus on areas of mutual interest to improve the way Scotland is governed and create a stable platform to meet the challenges Scotland faces. It details collaboration on the climate emergency, economic recovery, child poverty, the natural environment, energy and the constitution. It includes commitments to:
hold a referendum on Scottish independence after the COVID pandemic has passed, within the current parliamentary session
increase investment in active travel and public transport, including a Fair Fares review to provide a realistic and affordable alternative to car use
a strengthened framework of support for the marine renewables and offshore wind sectors
take forward a ten-year £500 million Just Transition Fund for the North East and Moray
designate at least one new National Park by the end of this parliamentary session
enhance marine environmental protection
establish two new Scottish Government overseas offices in Warsaw and Copenhagen to promote Scotland's interests in central Europe and the Nordic countries.
Alongside the draft policy programme, the draft co-operation agreement sets out the way in which the Scottish Government and the Scottish Green Party will work together. This will include the nomination of two Green MSPs to be Scottish Government ministers. The cooperation agreement also lists a number of areas that are outwith the scope of the agreement, where both sides have agreed to differ.
The draft agreements will now be considered by the respective political parties involved and ministers will provide an update to Parliament following recess.
First Minister Nicola Sturgeon said: "I am delighted that the Scottish Government has reached a ground-breaking agreement with the Scottish Green Party that meets the challenges and opportunities of our time.
"The challenges we face have rarely been greater - the climate emergency, recovery from a global pandemic and an assault by the UK government on the powers of our Parliament.
"Today's politics can too often feel small - polarised, divided and incapable of meeting the moment – and this agreement is intended to change that in Scotland. It is about doing politics and governance better to find the solutions needed to solve the problems confronting the world today.
"The spirit of co-operation and consensus-building is very much in keeping with the founding principles of our Scottish Parliament. We do not agree on everything but we are coming out of our comfort zones to focus on what we do agree on.
"The agreement delivers bold policy action on pressing issues. A commitment to more affordable housing, a better deal for tenants and action to tackle poverty and inequality. Steps to accelerate our transition to net zero - more support for active travel, transformation of home energy and a ten-year transition fund for the North East of Scotland. A focus on green jobs and fair work - and a sustainable recovery from COVID. We also reaffirm in this Agreement our shared commitment to securing independence for Scotland, and to giving people the right to choose our country's future through a referendum.
"It recognises that business as usual is not good enough – we need boldness, courage and a will to do things differently. That is what we offer."
Green Party co-leader Patrick Harvie said: "This is a historic moment, which could not come at a more important time. We must build a fairer and compassionate country and we must do everything in our power to tackle the escalating climate and nature emergencies to deliver a just transition for all. That is what this deal will do. Fundamentally this is a new approach to politics. We agree on some things and disagree on others - those distinctive voices can and will remain."
Green Party co-leader Lorna Slater added: "The stakes could not be higher - with the COP26 climate conference coming to Glasgow, Scotland is in a position show real leadership on climate. But this deal is about people as well as the planet. Together, we would deliver a new deal for tenants, giving tenants more rights and introducing rent controls to help tackle Scotland's housing crisis, create a new National Park, and much more. That's why we are pledging to work together to build a greener, fairer and independent Scotland."
Response
Responding to the plans on housing announced by the Scottish Government and Scottish Green Party, Alison Watson, director of Shelter Scotland, said: "Scotland has long been in the grip of a housing emergency leading to widening housing inequality and an assault on the fundamental human right to a safe home.
"We've been calling for 37,100 social homes to be built in the next five years and these proposals offer hope that this can now be met as part of a more ambitious target of 110,000 new affordable homes in the next decade. The wider agenda offers the potential for a fairer, greener and healthier housing system, with enhanced support for tenants' rights.
"If this deal goes ahead, we look forward to working constructively with the parties on their Programme for Government where we hope to see details for how they will accelerate the building programme in the next five years and support renters during recovery from the pandemic. Urgently addressing the shortage of social housing is key to tackling social justice issues like child poverty.
"We welcome the intention to listen to people who have been impacted by homelessness and housing inequality as this ambitious agenda for reform is delivered."
Lang Banks, director of WWF Scotland, said: "We look forward to seeing more details of this co-operation agreement in due course.
"However, with COP26 a matter of weeks away, the commitments to spend more on active travel and firm dates by which homes will have to be energy efficient and no longer use fossil fuels, are welcome. Proposals such these come at a crucial time to tackle the climate emergency, help create new jobs and deliver a better environment for people and nature."
STUC General Secretary Roz Foyer said: "The Scottish economy faces the twin challenges of a Just Transition to net zero and COVID recovery. This will only be delivered by decisive action to create good quality, unionised, green jobs, through active intervention in the renewables supply chain and investment at a national and local government level.
"We welcome the emphasis in the agreement on increased home retrofitting but will continue to press both parties for this to be directly delivered by councils. Equally, with a failing bus network and the commitment of the Greens to public transport, we will press hard for action to bring buses back into public ownership. We were disappointed not to see reference to bus re-regulation in the agreement.
"We welcome the ambition to make Fair Work a reality through toughening up on our expectations of employers receiving public funds and look forward to working with both parties to make this happen. With unresolved pay disputes in local government and the Fire Service, as well as the general need to recover lost pay for all key workers, we will be pushing both parties hard to use their joint majority to deliver pay justice.
"We warmly welcome the commitment to implement an effective national system of rent controls."
Solar Energy Scotland chair Thomas McMillan said: "The solar energy industry in Scotland welcomes the clear recognition in the cooperation agreement of the important role solar can play in Scotland's drive to meet our 2030 climate obligations. As the cheapest, most readily deployable renewable technology, with substantial benefits for the economy and helping to tackle fuel poverty, it is time for the sector to be allowed to grow and flourish. Scotland's solar opportunities could see deployment increase 15-fold by 2030, and this would deliver a solar sector in Scotland proportional to what is being achieved elsewhere in the UK."
Sarah-Jane Laing, chief executive of Scottish Land & Estates, added: "For some time there has been significant concern amongst rural communities and businesses that votes on policies of huge significance to rural Scotland were being traded in return for support on high-profile issues such as the annual budget. We wait to see how the coalition announcement will impact that perception.
"We are hugely supportive of policies to tackle the climate emergency and that is why privately owned land-based businesses continue to lead the way in planting new forestry, locking up carbon through peatland restoration, providing energy efficient homes and pioneering clean energy projects. Scotland must continue to maximise the benefits of its land use and people, jobs and nature are at the heart of this. We cannot exclude employment for the sole purpose of aiming to go green – there needs to be a just transition that delivers for communities as well as tackling climate change.
"The policy programme as laid out provides some areas of optimism, such a commitment to developing Regional Land Use Partnerships, increasing woodland creation targets and financially supporting food production in return for improving natural capital. That said, we see the prospect of punitive land reform measures – despite two land reform acts in the last 20 years – and pursuing further culling of deer. Neither of these measures will serve the environment or rural communities well.
"There will be significant unease if the new coalition takes an ideological approach rather than one that seeks to bring people together. We want to work with the new government and believe the best outcome for the environment can be achieved by constructive partnership with our members."