Government urged to address 'housing emergency' as homeless applications rise to 100 a day
Homelessness applications in Scotland rose by 3% to 100 a day in the past year while the number of households and children in temporary accommodation also increased, new figures have revealed.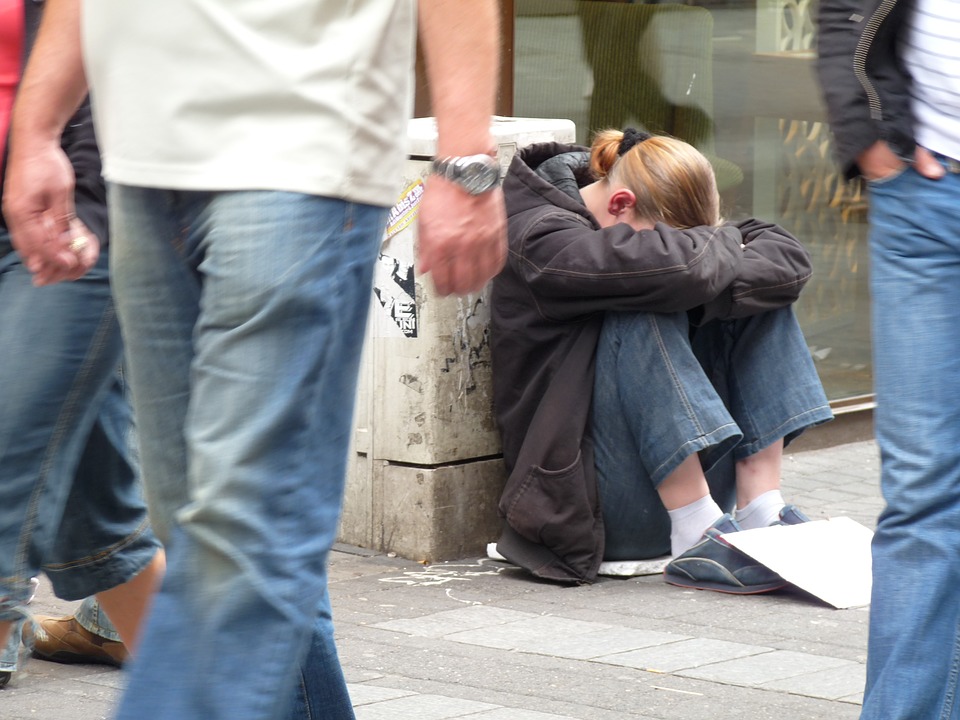 Official statistics published yesterday show 36,465 people asked for help from their local authority in 2018-19, up 892 on the previous year.
The increase marks the second consecutive year applications have risen following a period of consistent decline from 2005-06.
Glasgow saw the biggest increase in the number of people applying for homelessness status with 5,679 applications last year, up 8% on 2017-18. East Ayrshire saw a 29% increase in homelessness applications, while Fife handled 10% more cases than the previous year.
Glasgow was also responsible for 95% of the 3,535 Scotland-wide cases where a council did not fulfil its legal obligation to offer temporary accommodation to a homeless person. This occurrence saw a 10% increase nationwide.
The number of households in temporary accommodation has also risen – including for families with children and expectant mothers.
The number of children in temporary accommodation was 6,795 as of March 31 2019, up 180 (3%) on the same date the previous year.
Overall, there were 10,898 households in temporary accommodation at the end of March this year, up by 56 (1%) on 2018.
Of these households, 3,315 included children or a pregnant women, up 65 (2%) on the previous year.
In the past financial year, there were 620 breaches of legislation that now ban pregnant women and children from being placed in unsuitable accommodation for longer than a week, up 225 on the previous year.
Shelter Scotland said the statistics showed the country faces a "housing emergency" and everyone in Scotland needed to consider whether they were prepared to tolerate its "devastating impact".
The housing and homelessness charity is calling on Scottish ministers to speed up efforts to stop people becoming homeless and to radically address the chronic shortage of homes for rent. It said the chronic shortage of suitable homes for social rent is resulting in thousands becoming trapped in unsuitable temporary accommodation – often for years at a time.
Since 2012, every unintentionally homeless person has had the right to a home.
The Scottish Government's plan to adopt a rapid rehousing programme for people who enter the homelessness system will do little to address the reasons people become homeless in the first place, the charity added.
Gordon MacRae, head of communications and policy at Shelter Scotland, said: "These statistics expose the devastating impact Scotland's housing emergency is having on people's lives. This is the human cost of our collective failure to build the homes we need. On an industrial scale, thousands of men, women and children are being denied their most basic right to a safe home.
"While we wholeheartedly welcome the progress the Scottish Government has made on building 50,000 affordable homes, 35,000 for social rent by 2021. New Scottish Government-led initiatives like rapid rehousing will take time to bed in, but these only deal with the terrible consequences of becoming homeless, they do not address stopping homelessness by preventing it in the first place.
"Every 17.5 minutes a household was made homeless in Scotland last year with 29,894 households assessed as homeless – up 2% on last year.
"For the fifth year in a row the number of homeless children living in temporary accommodation has risen – up 3% to 6,795. People are having to stay longer in temporary accommodation with their lives in limbo.
"And on 3,535 occasions people were denied their legal right to emergency housing by local authorities – being turned away to sleep rough, sofa surf or return to dangerous situations.
"The question every citizen of Scotland must ask ourselves is how much longer are we prepared to tolerate this."
Gordon MacRae added: "Last year, when homeless applications rose for the first time in a decade, we warned that alarm bells should be ringing in Holyrood and asked for urgent action from all areas of local and national government to combat homelessness and its causes. On today's evidence, it is clear no progress has been made and homelessness in Scotland is still getting worse not better.
"Rights are not a privilege they are a legal entitlement enforceable under the law. Shelter Scotland will not sit idly by as people's legal rights to a home are routinely denied."
Scottish Labour said the figures were "disgraceful", and revealed a lack of long-term planning.
Housing spokesperson Pauline McNeill said: "Having just one person homeless in 21st century Scotland is unacceptable – but to see homelessness on the rise once again is an utter disgrace.
"These numbers show that the impact of continued austerity from the Westminster and Holyrood governments is having real impact on real people's lives and more must be done to halt the blight of homelessness in Scotland.
"It took the SNP over ten years to focus on homelessness and as yet their plans are having little impact on people at the sharp end of poverty. We need to see more investment in social housing, frontline services and prevention made a top priority as a matter of urgency but we also need investment in housing more widely."
Scottish Green MSP Andy Wightman said the figures show the Scottish Government is "being timid on housing".
He added: "Housing is a basic human right and Scottish Ministers are far too cautious when it comes to taking radical action.
"It is simply unacceptable that households with children living in temporary accommodation has risen yet again. Temporary arrangements can often be inappropriate and can affect the health and wellbeing of children and families, particularly in Edinburgh and Glasgow where we have the highest instances.
"In these cities, the number of people being refused temporary accommodation has increased by 10 per cent in the last year, and of these figures 95% of refusals were in Glasgow. That is frankly unacceptable and Scottish Government must do more to support local authorities to address this.
"The Scottish Government's steady-as-we-go approach simply does not work. We must remind ministers that behind these latest homelessness statistics are real people's lives in need of help."
Housing minister Kevin Stewart said it is "unacceptable for anyone to find themselves without a home" and the Scottish Government is taking action to "end homelessness altogether".
He added: "In a country with some of the strongest rights in the world, it is unacceptable for anyone to find themselves without a home. Our Ending Homelessness Together Action Plan sets out a range of measures that support our ambition to eradicate rough sleeping, transform temporary accommodation and end homelessness altogether.
"We are tackling this challenge in the context of the UK Government's welfare cuts which we know are causing major hardship and housing insecurity for many people – a growing number of studies show these cuts are causing homelessness. We are spending more than £125 million this year to mitigate against the worst impacts and protect those on low incomes, including £62m in Discretionary Housing Payments.
"We want to make sure that anyone facing homelessness is supported into permanent, settled accommodation that meets their needs as quickly as possible. I'm pleased that the latest statistics show a significant increase in households securing settled accommodation, but we have further to go.
"There are multiple, complex reasons why people sleep rough – many have experienced drug or alcohol addiction problems or suffer from poor mental health and require specialist support, in addition to a home, to tackle these issues. We are investing in the Housing First Programme because we recognise a permanent home as the best, stable platform to address needs and build a life.
"That's why we've invested £23.5m to support the transition to Rapid Rehousing and Housing First.
"While we recognise that temporary accommodation provides an important safety net in emergency situations, we are clear such arrangements must be for as short a time as possible and be of good quality.
"Local authorities have a statutory duty to provide temporary accommodation. We are concerned to understand why the data suggests that this is not always happening. The data highlights a particular issue in Glasgow and I have agreed with Glasgow City Council that a voluntary review would be led by the Scottish Government in partnership with the Council to tackle this issue.
"It is disappointing that there have been a significant number of breaches of the unsuitable accommodation order in some areas. Although there has been some improvement in the second half of the reporting year, I am clear that any breach is unacceptable and I expect those local authorities to continue to make improvements and minimise the use of unsuitable temporary accommodation like B&Bs.
"Our work so far - the actions we are taking as set out in the Ending Homelessness Together Plan - is a huge step forward in our ambition to end homelessness. When compared to other countries it is a radical, rights-based approach that will set Scotland apart.
"However this is a time of significant change, and there are still many challenges ahead to bring about the system change required. We are taking forwards this transformation in the face of welfare cuts, with the benefit cap still in place, the freeze on Local Housing Allowance still in place, and some areas of Universal Credit functionality continuing to threaten housing stability.
"Nonetheless, the actions set out by our expert group last year – and informed by the voice of lived experience – represent an opportunity for all of us to work together across national government, local authorities, the third sector and the wider public sector to realise our vision of a fairer Scotland where everyone has a warm, safe place to call home."