Green and Avro Energy join growing list of collapsed energy firms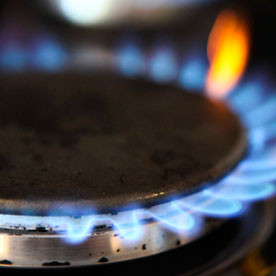 Energy firms Green and Avro Energy have become the latest providers to go bust following a sharp rise in wholesale gas prices.
Together representing a share of 2.9% of domestic customers in the market, Avro Energy supplies gas and electricity to around 580,000 domestic customers while Green Supplier Limited supplies gas and electricity to around 255,000 domestic customers and a small number of non-domestic customers.
Just last month, energy regulator Ofgem issued Avro Energy with a provisional order, which compelled it to provide the regulator with financial and other information relating to the company's activities.
In recent weeks there has been an unprecedented increase in global gas prices which is putting financial pressure on suppliers.
People's Energy, Utility Point, PfP Energy, MoneyPlus Energy and Hub Energy have all ceased trading since last month.
Ofgem said it is working closely with government and industry to make sure customers continue to be protected this winter.
Neil Lawrence, director of retail at Ofgem, said: "Ofgem's number one priority is to protect customers. We know this is a worrying time for many people and news of a supplier going out of business can be unsettling.
"I want to reassure customers of Avro Energy and Green Supplier Limited ('Green.') that they do not need to worry. Under our safety net we'll make sure your energy supplies continue. If you have credit on your Avro Energy or Green Supplier Limited account this is protected and you will not lose the money that is owed to you."
Meanwhile, Ofgem has ordered five suppliers to make payments into a government renewables scheme.
Colorado Energy, Igloo Energy Supply Limited, Neon Reef Limited, Whoop Energy Limited and Symbio Energy have been issued with provisional orders, compelling them to pay around £765,000 in total for the Feed In Tariff (FIT) scheme, which is administered by Ofgem, provides payments to owners of small-scale renewable energy generators, and is paid for by suppliers.
Any supplier that fails to pay its Year 11 FIT levelisation obligation by the deadline of September 17 is in breach of the rules of its supply licence.
The five suppliers each failed to make their payments by the due date. Colorado Energy failed to pay £261,406.12, Igloo failed to pay £316,582.44, Neon Reef Limited failed to pay £37,350.76, Symbio Energy failed to pay £146,238.66 and Whoop Energy limited failed to pay £3,780.22. This will delay the distribution of this money to generators and other suppliers.
If the suppliers fail to comply with the order made against them, Ofgem may take further enforcement action and they could end up having their licences revoked or facing a financial penalty.