Hillhead Housing Association helps residents receive additional £5m
Residents have received an additional £5 million in annual financial gains thanks to the welfare rights service at Hillhead Housing Association.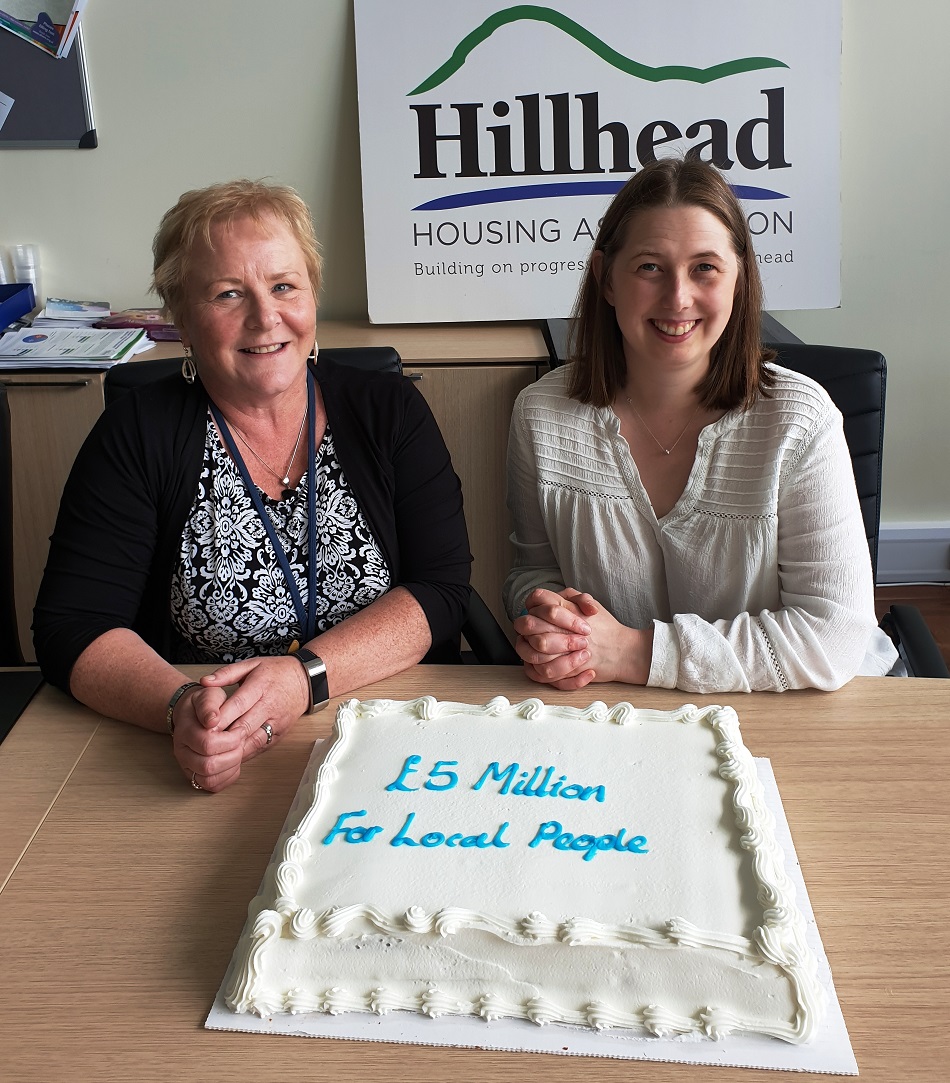 The service, which started in August 2005, reached this milestone this month with more than £5m having been generated for residents in Hillhead, Kirkintilloch.
The Association employs two welfare rights officers, Moira Escreet and Morag Bisset, who together celebrated the milestone with a £5m cake.
Since the service began it has supported a great many tenants and residents in the area, with more than 2,400 clients using the service over the years, many of whom have returned again and again for help. In the last year alone they have dealt with 370 new clients.
Moira Escreet said: "I am delighted to have been able to assist so many people over the last 14 years. I hope that the increased income and one-off payments we have generated have made a real difference to people in the communities we serve."
Morag Bisset, who joined the service in 2014, added: "We're happy to have brought so much money into the local area to help residents of Hillhead and Caledonia Housing Associations. This goes a long way to help people overcome hardship from years of austerity, and has helped a lot of families out of poverty."
The service was set up within a year of the Association's stock transfer from East Dunbartonshire Council out of a recognition that there was a severe gap in the services available to residents in Hillhead. The service has also made a significant impact in reducing rent arrears and contributing to an overall lower level of debt borne by residents in Hillhead.
In 2014, the service expanded with financial support from the Big Lottery Fund which enabled the Association to recruit an additional member of staff. During this time, Hillhead has been able to expand the service to meet the needs of Caledonia Housing Association tenants in Kirkintilloch as well as offer support to tenants of Arklet Housing Association. At a time of significant changes to the benefits system, the Association said it is very fortunate to be able to support and assist its tenants through this period of unprecedented change which continues to this day.
The service also has a Welfare Rights Tenants Group which works with Moira and Morag to develop the service further and to oversee the service's future direction and development.
As well as assisting clients in making benefit claims Moira and Morag also represent clients at appeals and have assisted many clients in successfully negotiating the maze of benefits bureaucracy.