Home energy efficiency improvements help West Dunbartonshire Council hit 2020 emissions target
West Dunbartonshire Council has already met the carbon emission reduction target it was aiming to reach by 2020.
Officers anticipate that the council will now far exceed the 15% reduction they committed to back in 2012.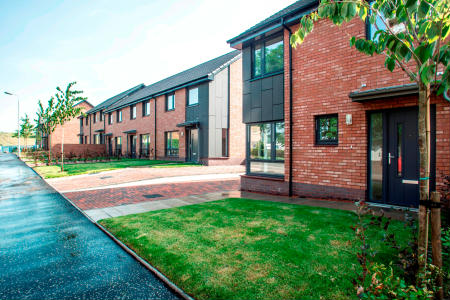 The council-wide programme of activities to tackle climate change has seen emissions reduce from 32,938 tonnes of CO2 in 2012/13 to 26,433 tonnes in 2016/17.
Projects including LED lighting upgrades, energy efficiency measures at the new Our Lady and St Patrick's High School building and the addition of domestic hot water heating controls in council houses have all contributed to the reduction.
And across the organisation, officers are continuing to engage in a variety of initiatives to tackle climate change.
Reducing building numbers and replacing with modern energy efficient alternatives, improving standards to new house build insulations and introducing electric cars and vans are just some of the projects which have contributed to the improvement.
Future contracts with the council will also take into account the environmental impact, including reducing single use plastics.
In Clydebank, the council's £15 million investment in the District Heating Network at Queens Quay is another firm commitment to low carbon technology. When complete, it will provide low carbon heat and hot water - taken from the Clyde - to buildings on the site, with potential for expansion in the future.
The council is also working with Argyll and Bute and Inverclyde councils to create a joint waste treatment contract to ensure no more than 5% of household waste collected by all three will be disposed of into landfill by 2021.
Councillor Iain McLaren, convener of infrastructure, regeneration and economic development, said: "West Dunbartonshire Council has an ambitious programme of activities to reduce carbon emissions and tackle climate change and this is demonstrated by the fact that we have already exceeded our reduction target with a year to go.
"It is important to remember this area's climate is already changing due to historic emissions so we are continuing our efforts to respond to this.
"Our vast programme of action demonstrates our true commitment to not just reducing our carbon footprint, but also taking action to ensure we are resilient to any future conditions."
Councillor Marie McNair, vice convener of infrastructure, regeneration and economic development, said: "Climate change is one of the most serious threats facing the world and it will have far reaching effects on Scotland's economy, its people and its environment.
"We are committed to reducing our consumption of energy, water and fuel, as well as minimising our waste production and I am delighted to see that the hard work of officers means we have already smashed our target a year before expected."