Housing associations team up to build 106 new homes in Easterhouse
GHA and Provanhall Housing Association are joining forces to build 106 new energy-efficient houses and flats in Easterhouse.
The £14 million development, made up of 80 homes for GHA and 26 for Provanhall, should be ready by next autumn.
The Auchinlea Road site is close to community facilities, including Easterhouse Health Centre, has good bus connections and is close to the M8 motorway. Glasgow Fort shopping complex is within 10 minutes' walk.
The new homes mark another stage in the transformation of Easterhouse.
Councillor Kenny McLean, Glasgow City Council convener for neighbourhoods, housing and public realm, visited the site to see how the new homes are taking shape.
He said: "It's great to see work progressing on these homes. We are delighted to work with our partners GHA and Provanhall Housing Association on this development.
"The council has provided over £2million in funding for this development, another investment in high-quality affordable housing in Glasgow."
The GHA homes will include an amenity block of 21 flats, designed to help older tenants live more independent lives.
Cathy McGrath, GHA Board member, said: "It's exciting to see these modern, spacious, energy-efficient homes take shape.
"We're delighted to be working with our partners at Provanhall on new homes which will help breathe new life into Easterhouse."
Liz McEwan, chairperson of Provanhall Housing Association, said: "We are delighted to be celebrating work on this new development, in a year that marks our 25th anniversary as a developing organisation.
"We've had a huge demand for the 26 homes, which shows that Provanhall continues to be a popular community where people want to live and raise their families.
"By allocating many of these homes to meet existing tenants housing need, we will be able to accommodate the needs of many more households from our waiting list, ensuring best use of our housing stock."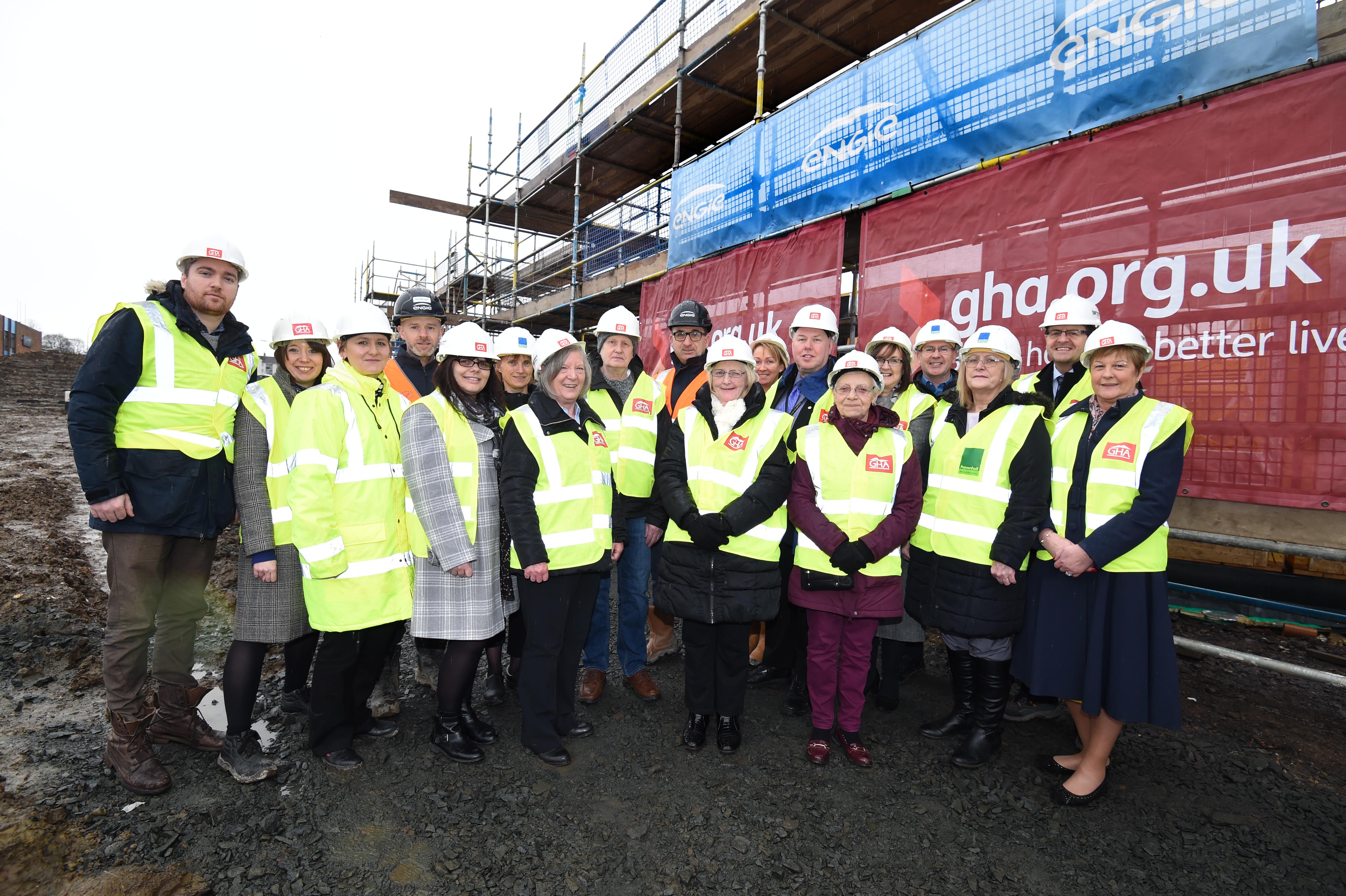 As part of the contract with GHA, contractors ENGIE will be providing benefits for the local community.
Brian Pettigrew, regional managing director for ENGIE's Places & Communities division, said: "We work extensively with our partners to inject long-term value for the communities in which we are building, including seeking to utilise a local workforce and supply chain and creating training and apprenticeship opportunities for young people.
"We're looking forward to working closely with our partners as well as Provanhall and GHA customers to provide high-quality, energy-efficient homes."
The Auchinlea Road development includes £6m funding from the Scottish Government and £2m from Glasgow City Council.
The new homes will be close to the 75 homes in Conisborough Road which GHA built in 2013.
GHA currently has more than 550 homes for social rent being built across Glasgow. They include 53 homes in Bellrock Street, Cranhill; 48 in Glenacre Drive, Castlemilk; 48 in Kennishead Avenue; 98 at Linkwood Drive, Drumchapel; 115 at the Gallowgate; and 116 at Hinshelwood Drive, Ibrox.
GHA recently completed 67 new homes in Meiklerig Crescent, Pollok; 54 in Cathay Street, Milton; and 51 in Tarfside Oval, Cardonald.