Housing minister praises Link's Dunbeg development
Representatives from Link, Argyll and Bute Council and West Highland Housing Association (WWHA) welcomed the minister for local government and housing for Scotland, Kevin Stewart, to a sod cutting event at Link's Dunbeg development in Oban this week.
The event marked the start of construction on Phase Three of Link's 'Dunbeg Development Corridor Masterplan' of 600 new homes, which was approved by Argyll and Bute Council in May 2017.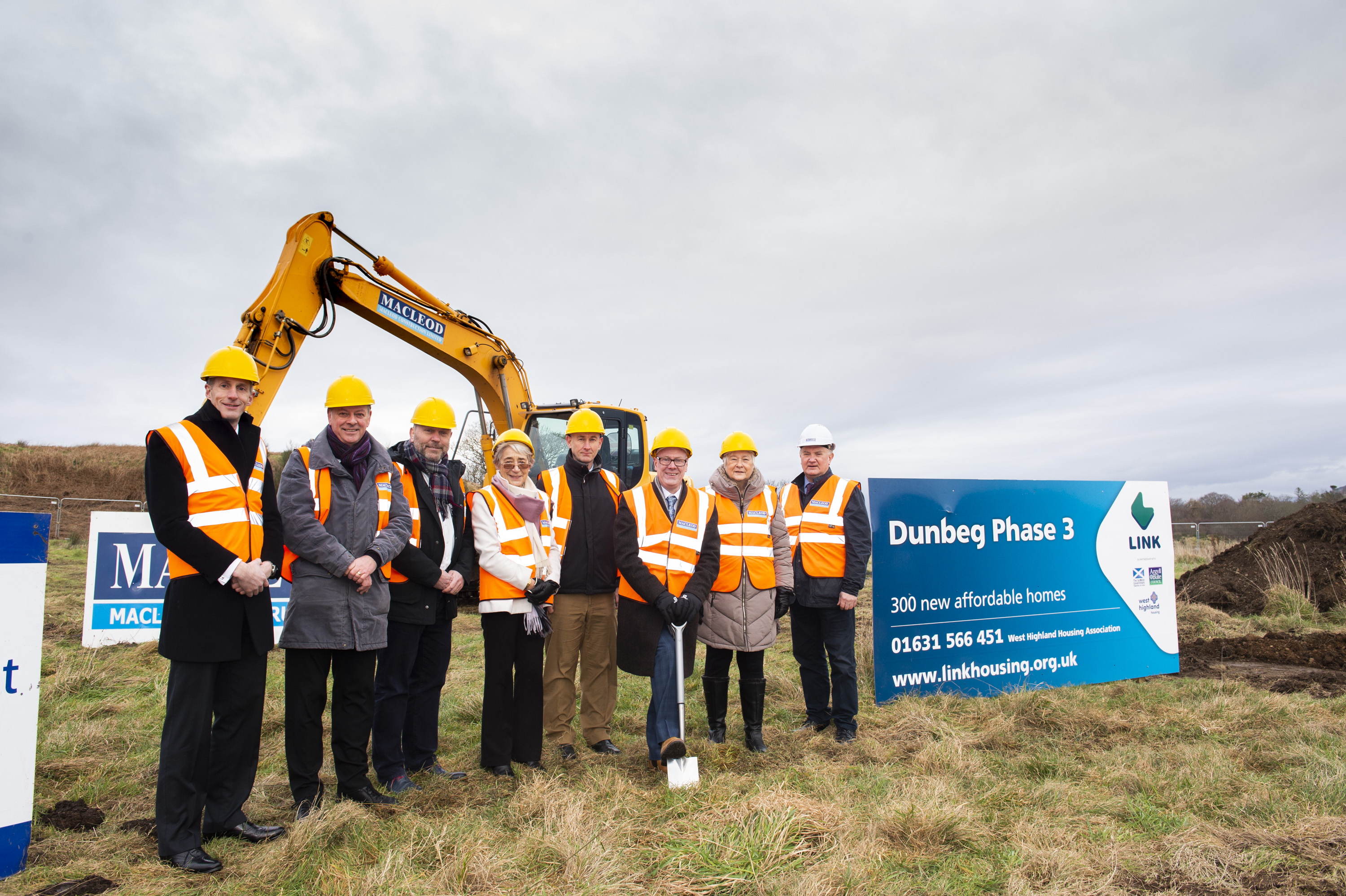 Kevin Stewart MSP said: "I'm delighted to have the opportunity to perform the sod cutting for these new homes in Dunbeg.
"The Scottish Government has agreed to support this project with £35.5 million from the Affordable Housing Supply Programme to allow the development of 300 affordable homes.
"We want rural communities to thrive and meet the needs of all of their residents, businesses and visitors.
"I know that this investment will make a real difference, not just by providing more homes, but also supporting the economic regeneration of the area."
Link's chief executive, Jon Turner, said: "This event marks an important step in our Masterplan, which seeks to transform the Dunbeg Corridor area into a family orientated, vibrant and sustainable rural place where people will choose to live, work and visit.
"It is envisaged the development will also have wider social benefits and be a catalyst for shops, cafes, community uses and commercial activity."
Link, in partnership with its subsidiary West Highland Housing Association, has already completed the first 75 affordable homes on the site, including 50 intermediate rent-to-buy properties and 25 social rent homes.
West Highland Housing Association's chief executive, Lesley McInnes, said: "Through developing the Masterplan, a unique opportunity exists to create a gateway to Oban and the Isles, in which we will deliver a mix of houses for sale and rent."
In addition to Dunbeg, Mr Stewart also visited Link and West Highland's new development of eight affordable homes at Albany Street and the Housing Infrastructure Fund (HIF) funded works at Kirk Road – without which the Dunbeg development would not have been possible.
Argyll and Bute Council's policy lead for housing, Councillor Robin Currie, said: "The Dunbeg development is a key player in the long term sustainable development of the Oban area. It is fully consistent with the local development plan, and addresses some of our key corporate challenges in terms of reversing population decline and growing the economy. Not only that, but the construction of these houses will provide a welcome boost to local people employed in the construction industry."
Chair of the Oban, Lorn and the Isles area committee, Councillor Elaine Robertson, added: "This development will be a huge asset when it's completed, bringing much needed, high quality, affordable homes to families. It will help to put Dunbeg on the map as a sought after location, and will hopefully encourage people to live, work and visit this beautiful area."