Housing Options Scotland celebrates success of volunteer programme
Housing Options Scotland has hosted an online thank you event for its volunteer team to bring everyone in the team together and celebrate all of the hard work the volunteers have been up to over the past year.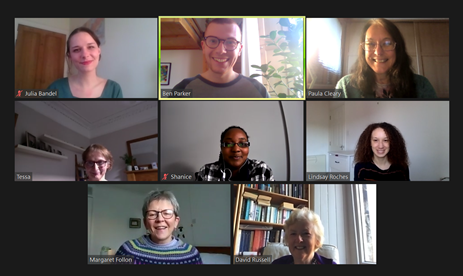 The group heard about all of the different volunteer projects which are ongoing, and even took part in a volunteer themed quiz. Highlights discussed include the success of the Housing Buddies programme in supporting over 50 clients in the past year; the brilliant work of the online researcher team in producing Area Guides for a quarter of local authority areas in Scotland; the launch of a new client feedback survey, developed by one of the volunteer team; and the work of volunteers in researching support for applicants with learning disabilities in the social rented sector.
Ben Parker, volunteer and engagement manager, said: "It's been a briliant year of volunteering at HOS! We've had 29 volunteers get involved with the team this year, spread across 15 different local authority areas in Scotland. Each and every one of our volunteers has given so much time, energy and enthusiasm for which we are very thankful – their work has supported the team in so many ways!"

The team has also recently been boosted by the recruitment of Julia Bandel in the new post of volunteer and engagement assistant.

Moira Bayne, CEO, added: "It's been great to see the volunteer programme become such an integral part of what we do at HOS. Our volunteers have added so much value to the team in helping us to support our clients, and the recruitment of the new volunteer and enagement assistant post is a great recognition of this fact. Thank you to all of our volunteers for their work."

Julia Bandel, volunteer and engagement assistant, said: "It was great to meet lots of our volunteers at the event! I'm looking forward to working with everyone going forward and I'm delighted to be part of the team."