Income maximisation service generates more than £1.8m for Milnbank tenants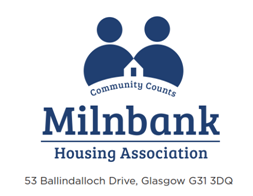 Milnbank Housing Association's income maximisation team has continued to generate increased year on year financial gains after securing £1,871,907 for its tenants during the financial year ending March 31, 2020.
The small team of two advisors responded to more than 2,000 claims, the breakdown of which demonstrated that the majority of tenants' gains were rent-related and this contributed hugely to help support tenants to keep up their rent payments and sustain their tenancy.
Around 75% of the total income generated was for Housing Benefit, Universal Credit or pass-ported benefits.
Financial gains achieved by the team also help to keep money circulating through the local economy.
Nick Halls, chair of Milnbank Community Enterprise Board, said: "The cumulative impact of a steady improvement in the number of tenants receiving their proper entitlement brings millions of additional pounds into the community year on year, and helps to ensure that MHA receives the rent necessary to enhance the quality of housing and social life within the community."
He added: "A housing association which looks after the community, looks after itself."