Ise of Bute eco starter homes near completion
The promise of affordable idyllic island life awaits ten lucky householders as a new neighbourhood nears completion on the Isle of Bute.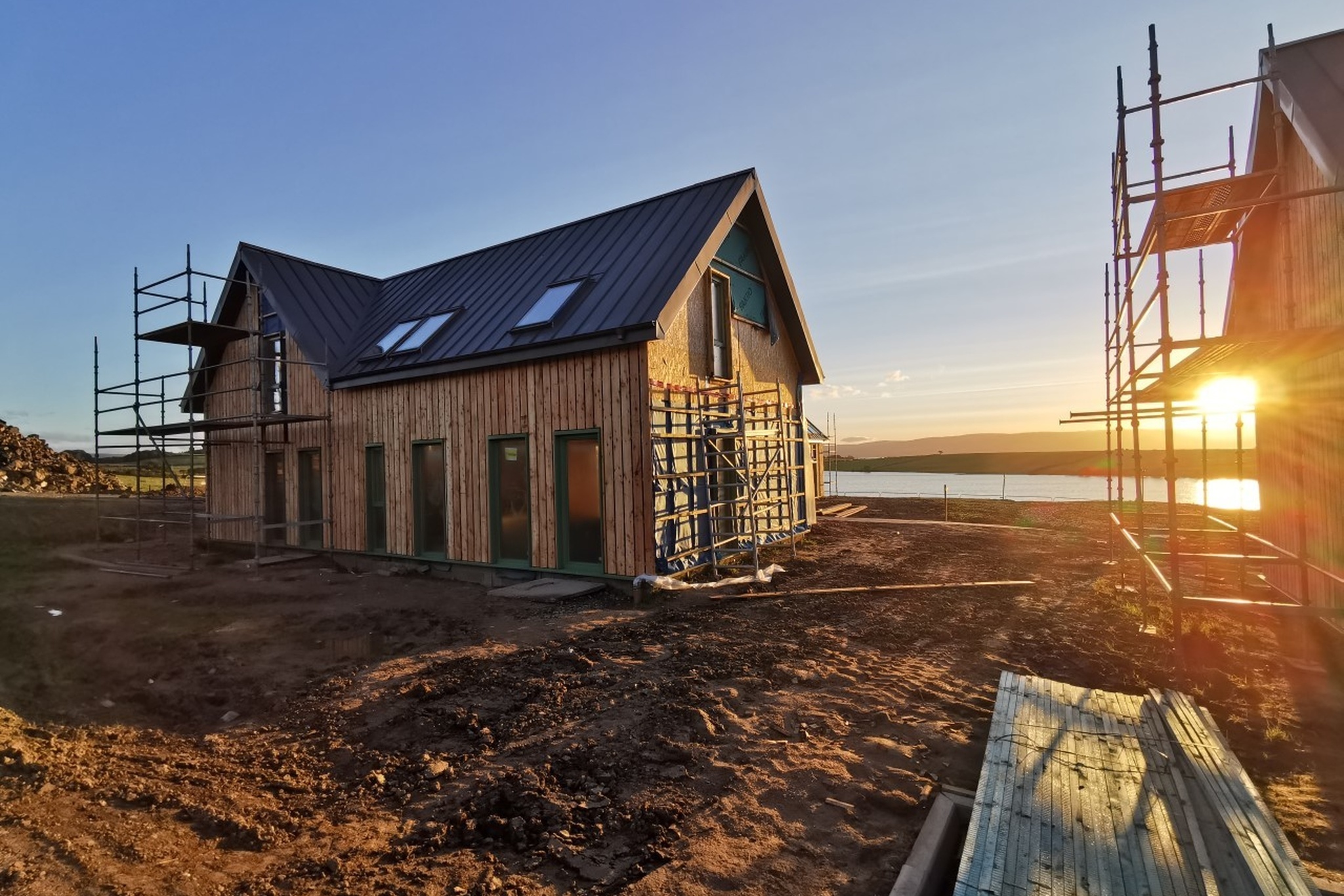 Mount Stuart Trust is inviting prospective tenants to apply to live in one of ten new eco starter homes built on the shores of Loch Ascog and just a short walk from the town of Rothesay.
This new development comprises six two-bedroom and four three-bedroom low energy eco-homes developed at the site of the old Lochend Farm, located just a field away from the stunning Loch Ascog.
With community living at the development's heart, a significant importance has been placed on prospective tenants having the drive to get involved with community-led projects at Lochend, such as creating allotments, orchards and other beneficial activities. As part of the sustainable living approach, an area of ground has also been set aside for these purposes, in order to allow prospective residents to take a further step towards self-sustaining, sustainable living. It is hoped that some traditional skills events could also be hosted by the Lochend Community.
Designed as starter homes, each property will be available for private rent with an integral low energy design strategy keeping utilities bills to a minimum. The Trust anticipates that the mid-market rental levels and low utility bills on these homes makes them extremely attractive to prospective tenants.
Working alongside local architects ARCHITECO, Mount Stuart Trust have sought to create homes of striking architectural significance. The houses have been built to Passivhaus Low Energy Building Standards, with each property highly insulated and triple glazed, meaning no traditional heating system is required.
Cleverly designed, each property boasts bright and airy interiors thanks to a combination of skylights and drop height windows, which also affords uninterrupted views across the neighbouring fields and countryside. Furthermore, tenants can expect to enjoy magnificent views over Loch Ascog, leading onto the Firth of Clyde and towards Arran too.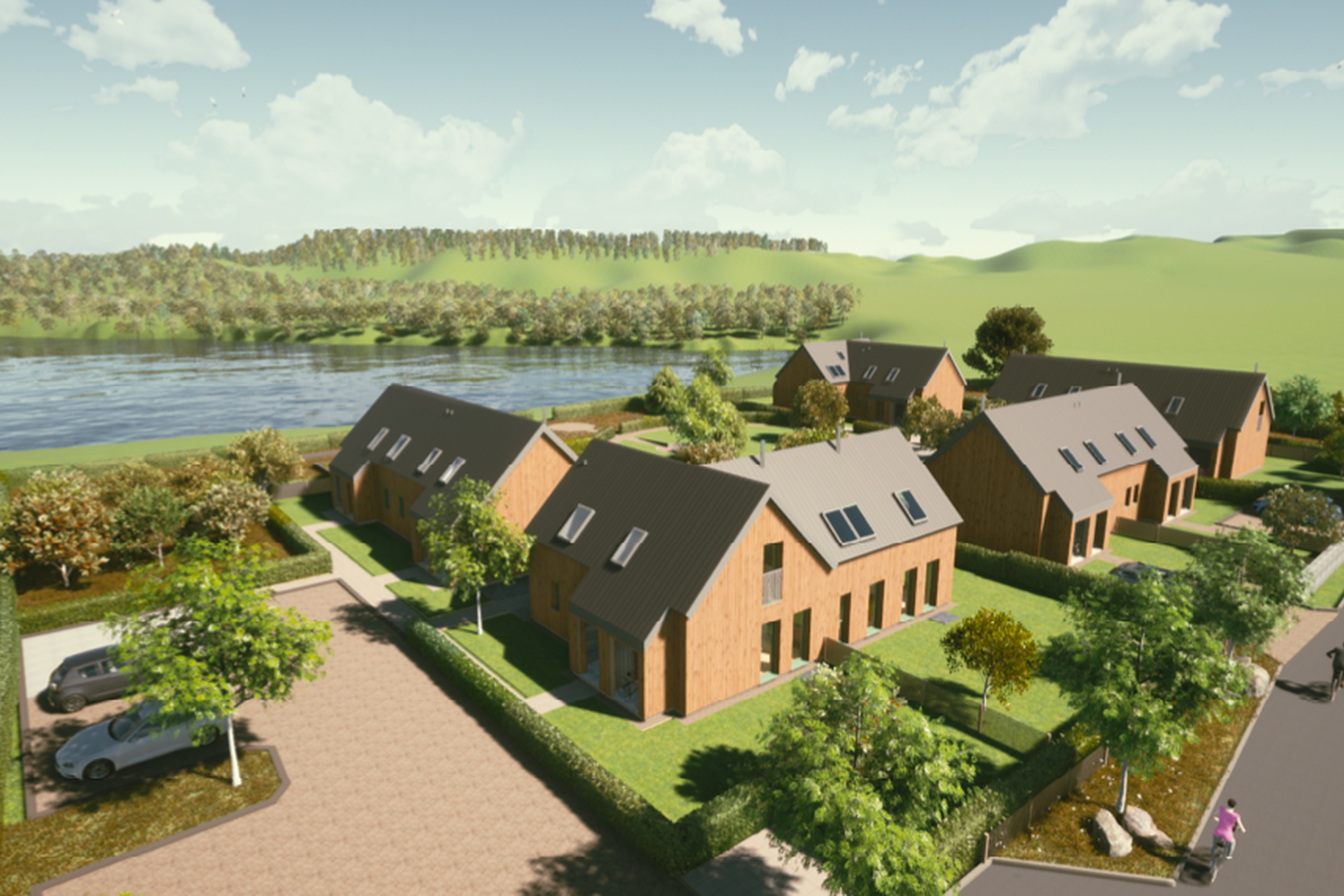 The site features extensive shared communal spaces such as a fire pit, BBQ areas, and play areas, along with private gardens for every home. Lochend is leading the way for good quality, affordable, low energy, sustainable living on the Isle of Bute. In addition to its picturesque rural location, Lochend is within walking distance to the town of Rothesay and the joint campus for school and college.
Mount Stuart Trust is now seeking initial applications of interest from people who would like to live in this development. As both a sought after place to live for island inhabitants, and an attractive proposition for those considering the Isle of Bute as a place to live, the Trust is keen to encourage applications from both locals and newcomers.
A preference will be given to those with an idea to promote the island and a community led approach to furthering sustainable living on Bute. For further information, and how to apply please see the online application form here.
Harry Bowman / Chris Pescod of Mount Stuart Trust, said: "As the Lochend nears completion we're excited to welcome new tenants to this ambitious affordable development. Community and innovation have historically been at the heart of all developments made by Mount Stuart across the Isle of Bute with a view to improving life on the island. Coming over 200 years after Kerrycroy village designed by Maria North, wife of the 2nd Marquess of Bute, Lochend promises to lead the way in sustainable community development for rural communities not just in Scotland but further afield also."
Colin Potter, sustainability expert and principal at ARCHITECO, added: "With Mount Stuart Trust being a forward thinking client, Lochend has been a great project for us to work on. The strategy to create a sustainable living development was to design energy efficient housing but avoid being too prescriptive with the communal areas.
"The tenants will be able to decide and implement what happens with these areas themselves, creating a real sense of community. It's a stunning location and I feel it will be a really great place to live. I am really looking forward to the houses being occupied and seeing what the residents do to the place!"