Knowes appoints Erica Davidson as new CEO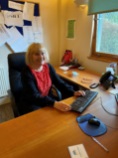 The former head of finance at Knowes Housing Association, Erica Davidson, has stepped up to chief executive officer following the retirement of Pierre De Fence after 23 years' service to the Faifley community.
Erica qualified as a Chartered Accountant in 1993 and almost immediately found her niche in social housing by joining Renfrewshire Council as their financial accountant in the Housing Department. In January 1998, Erica was appointed as the Head of Finance at Knowes Housing Association which was a newly formed stock transfer organisation based in Faifley, Clydebank.
Erica said: "I am both delighted and honoured to be appointed the CEO of Knowes. I am fortunate to have inherited from Pierre a high performing organisation, a strong supportive Management Committee and an excellent staff team. I look forward to continuing our partnership working with local organisations and contributing to continually improving our services to the local community."
Pierre said he is delighted that the Committee chose Erica as his successor and wished her all the best in her new role.
After working for 43 years, and 23 of those at Knowes, Pierre has decided that the time is right to move on to a new chapter of his life, and spend more time doing leisure activities with family and friends. Pierre is immensely proud of what Knowes has achieved over the years, consistently one of the highest performing RSLs in Scotland and keeping rent increases below average year after year.
Chairperson Rhona Polak said Faifley is a much better place now than it was when Knowes took over the properties from Scottish Homes 23 years ago, and this good work will continue into the future.
She added: "Pierre is leaving his mark not just on Knowes but also on the area: you only have to look up and see all the solar panels and cladding - these were two of Pierre's projects. He was always interested in environmental impact, green energy innovation.
"Pierre was always looking for more efficient ways of doing things, he reorganised the management structure and the Committee set-up. All the time keeping up to date with the ever-increasing amount of regulation in the housing sector. Still, he had time to answer the phone or reply to emails personally if any of the committee needed to talk over any issues.
"Erica has always overseen the finance at Knowes, and her professionalism and expertise has always shone through. She has taken the Association successfully through new build developments, major refurbishments, staff changes and electric car rental all with the same clear, detailed, financial planning which everyone on the Committee has appreciated. She has always been focused on providing not only the best value for money, but also the best service possible for Knowes tenants and owners throughout her time as Head of Finance.
"It was no surprise when she decided to put herself forward when Pierre announced his retirement. The Association is in the most trustworthy and capable hands for moving into its future with Erica at its helm."