Link Group showcases 'life changing' services to Patrick Harvie
Staff and tenants from Link Group met Patrick Harvie, minister for zero-carbon buildings, active travel and tenants' rights, in Falkirk recently to discuss the positive impact the housing and support group has in the community.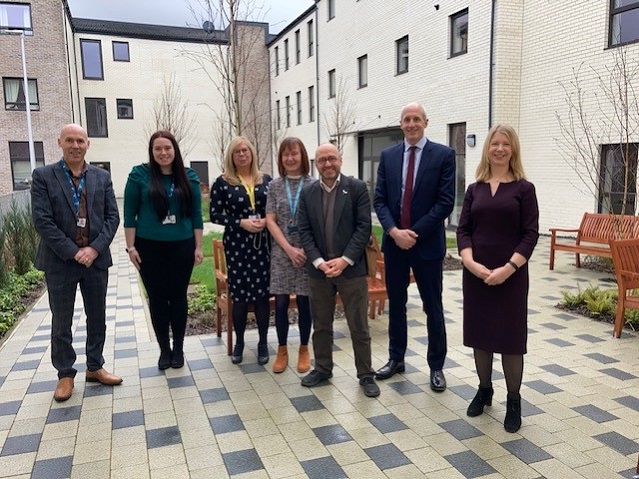 During the visit to Link's Williamson Street retirement living development, the minister met with Link tenants, Mr and Mrs Hutcheson, who noted: "Moving into our new home here has been life changing."
Williamson Street, which was completed in November 2021, features one and two-bedroom retirement living homes and five wheelchair-accessible properties.
The minister also met with Jade Cieslar, who began her career as a Kickstart trainee with Link before securing a full-time position with the organisation's learning and development team.
Patrick Harvie said: "Housing to 2040 set out a 20-year vision to deliver good quality, energy efficient, zero emission homes with access to outdoor space, transport links, digital connectivity and community services. I was pleased to see and hear from tenants how Link Housing are working to deliver this in practice through the Williamson Street Retirement development, and about their approach to supporting tenants and the wider community through different initiatives."
Link Group CEO Jon Turner, who also met with the minister, added: "I'd like to thank the Minister for taking the time to meet with our staff and customers.This provided the opportunity to gain a real insight into the impact Link's services have across the communities we work in.
"Stretching beyond traditional housing provision, it's really important to me and the team to know that our services improve people's lives and enrich the wider community.
"We are here to help people get and keep a quality home, embark on successful careers, and offer support when life gets challenging."
The minister's visit concluded with a presentation from Link advice services co-ordinator Rhona Penman and Link housing services co-ordinator Ann Gribben, which showcased Link's approach to supporting their tenants.