Living Wage accreditation for Highland Council
The Highland Council, the largest employer in the Highlands, has achieved Living Wage accreditation.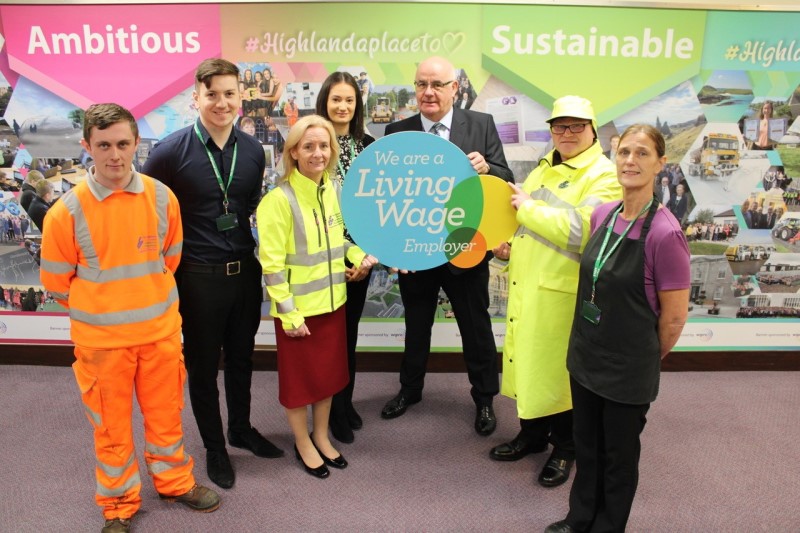 Highland Council, which employs just over 10,270 staff across the Highland area, also applies the living wage rate to apprentices. The accreditation means there is an ongoing commitment to encourage contractors to pay their workers the real Living Wage rate too.

The accreditation will provide social and economic benefits to workers in the Highlands where wages in remote and rural areas in particular are below the national average.

Alister MacKinnon, chair of resources committee, said: "Paying Council staff the real Living Wage contributes to achieving a sustainable economy and supports staff wellbeing. We are working with our Community Planning Partners to address inequalities in our communities and collaboratively driving economic growth to ensure the Highlands is the place to live, thrive and prosper."
In a joint statement, council unions GMB (Highland Council Branch), UNISON, Unite/UCATT and EIS said: "We are pleased The Highland Council are recognised as a Living Wage employer.
"Increasing the wages of the lowest paid employees and reducing the level of in-work poverty is a key priority for our unions. We commend the Council for also paying its apprentices the real Living Wage rate, which goes beyond the requirement of a Living Wage employer."
Peter Kelly, director of the Poverty Alliance, commented: "We are delighted that The Highland Council have become an accredited Living Wage employer. They join a movement of over 1600 Scottish employers who choose to go beyond the legal minimum and ensure that all their staff receive a rate of pay that is based on the cost of living.
"The real Living Wage is one of the most important tools at our disposal to help make an impact on levels of in-work poverty in Scotland and we congratulate The Highland Council on becoming an accredited employer."
Jack Evans, Living Wage Scotland manager, said: "Congratulations to The Highland Council on becoming a Living Wage accredited employer. Their accreditation is a signal of their commitment to tackle low pay and in-work poverty. Local Authorities are key employers in their local area. They are not only large employers with significant spending power, but also act as an example to other employers in the area.
"We hope, after today's announcement, more are encouraged to become accredited and ensure that both directly employed and contracted staff are paid the real Living Wage."