Livingston FC launches Rock Trust charity partnership with urgent appeal for volunteers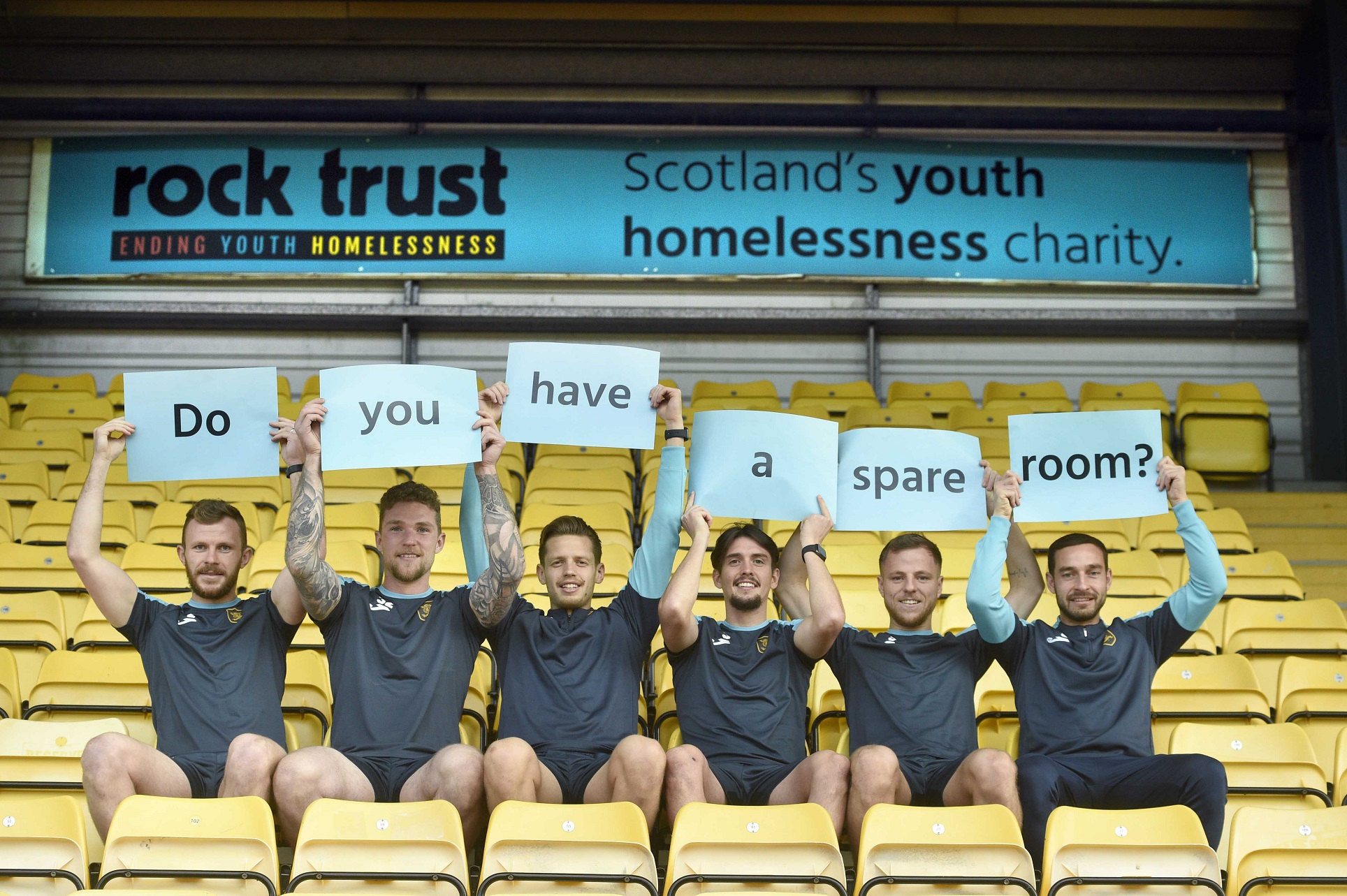 Scottish youth homelessness charity Rock Trust has been announced as the new charity partner for Livingston FC.
Officially launching the partnership, players assembled at Almondvale Stadium to ask fans and the communities of West Lothian – Do you have a spare room?
Rock Trust's life-changing Nightstop service has been helping young people at risk of homelessness in West Lothian for over five years. The project involves volunteer hosts offering their spare room to a young person for short periods of time to help them avoid sleeping rough or staying in unsuitable and potentially unsafe, temporary homeless accommodation.
Last year almost 350 young people were officially declared homeless in West Lothian. Nightstop hosts play a crucial role keeping these young people safe, and preventing more young people from experiencing homelessness altogether. But as we head into winter and the cost-of-living crisis continues to put a strain on families, Rock Trust urgently need more volunteer hosts, and Livingston F.C. are helping them to spread the word.
Alongside providing a spare room, the hosting role involves ensuring the young person feels safe and supported and providing them with meals. While they are staying with their host, the young person is helped by the Rock Trust team to find longer-term secure accommodation, or to repair relationships and return to their family home.
Young people are referred to Nightstop by West Lothian Council who also fund the service, and by teachers in schools and other professionals working with young people.
All hosts receive support and training, expenses to cover the costs of hosting an additional person in their home, and 24-hour support from a dedicated Nightstop Co-ordinator.
Volunteering is also flexible, with hosts sharing their availability ahead of time and specifying when they aren't able to host.
Speaking about the partnership and Nightstop, Rock Trust CEO Kate Polson said: "We have been supporting young people in West Lothian for over 22 years, and Nightstop is a crucial part of our prevention work there. As we see increasing referrals of young people to the service, it's vital that we recruit more volunteer hosts. We're very excited to be partnering with Livingston F.C. and are so grateful to them for helping us amplify our voice and raise awareness of how the communities of West Lothian can support local young people."
John Ward, CEO of Livingston FC, added: "Rock Trust are providing a much needed safety net for our young people. In my 15 years on the children's panel I have never seen the depth of issues they are facing this bad. The difference Rock Trust are making is tangible and we are delighted to partner with them."
If you would like to be a part of the Nightstop project, please get in touch with Rock Trust today. They are holding their next Nightstop information session online on November 24th, register to attend here.