Rock Trust marks World Homelessness Day with new campaign to raise awareness of youth homelessness
To mark World Homelessness Day on October 10th, Rock Trust has launched a new campaign to influence public perceptions of youth homelessness and raise awareness of the help they can give young people.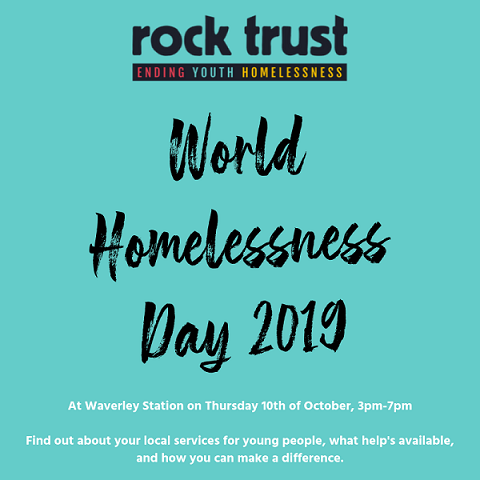 The 'Rock Trusted' campaign was developed in partnership with The Gate Edinburgh, which has been providing Rock Trust with pro-bono support since 2016.
The aim of the campaign is to increase awareness of Rock Trust's advice and housing services for young people and encourage those who are affected by homelessness to come to them for help.
The campaign will be visible across Edinburgh and the Lothians for the month of October and features real-life experiences of young people that show the reality of youth homelessness, and that 'rough sleeping' is only one part of the picture.
Half of the young people that Rock Trust supported last year were not rough sleeping when they came to them for help, but were trapped in temporary forms of accommodation such as hostels and B&Bs, or were sofa-surfing with friends, or sometimes placing themselves at great risk by staying with strangers to keep off the streets.
Youth homelessness is largely hidden from public view because young people are less likely to be seen rough sleeping. Young people require youth-specific homelessness services, as their experiences can be very different from adults.
The campaign will be live throughout October and can be seen in Edinburgh Waverley Station, Livingston Shopping Centre and Edinburgh city centre, as well as Lothian City buses and Lothian Country buses, where Rock Trust have known young people try to sleep to avoid the streets.
As part of the month-long campaign, Rock Trust are holding an awareness-raising event at Edinburgh Waverley station on October 10th, World Homelessness Day.
With support through Network Rail's 'Routes out of Homelessness' initiative, and alongside their delivery partners in the sector, they will be holding a series of advice stations, as well as a free 'clothes shop' and interactive games.
Charity partners holding stations as part of the event include the A Way Home Scotland Coalition, Cyrenians, Streetwork, British Transport Police, and Clan Childlaw. There will also be a live performance from the Tinderbox Youth Orchestra at 5pm.
Kevin Stewart, minister for local government, housing and planning, will be attending the event at 16:00 to meet with assembled partners and young people from the 'Aff the streets' consultation group, who have worked with the Scottish Government on developing a homelessness prevention pathway for care experienced young people, to be launched later in 2019 by the A Way Home Scotland Coalition and Scottish Government.
The public are invited to drop-in to this open event at Edinburgh Waverley between 3pm and 7pm on October 10th to find out more about what help is available, or how they can get involved and support their local charities for people affected by homelessness.
Kate Polson, CEO of Rock Trust, said: "We want young people experiencing homelessness and those who feel at risk, to recognise themselves in the stories we are portraying and feel that they can trust us to support them. Public perceptions of homelessness as being solely rough sleeping mean that young people living in short-term, unstable, sometimes traumatising environments do not always realise that they can get help to move on with their lives, or that it is their human right."
Helen Hourston, director of The Gate Edinburgh, said: "We are committed to supporting Rock Trust, who are making an important difference in our community. This campaign is a sensitive, emotive subject and we're proud to help bring it to life. We hope this campaign rightly cements Rock Trust as the authority on youth homelessness in Scotland."
Mark Henderson, senior community engagement manager for Network Rail Scotland, said: "Train stations, especially major one like Waverley, are more than just transport hubs – they can also play an important social role in the communities they serve and we are pleased to be able to support Rock Trust's new campaign.
"We are also increasing our own commitment to helping tackle homelessness through our Routes out of Homelessness initiative, which also launches this week and will see us work with local and national charities across Britain to supporting some of the most vulnerable people in our communities."