Lord Provost hails support provided to North Glasgow community during pandemic
Glasgow Lord Provost, Philip Braat, recently visited North Glasgow to meet with some amazing businesses, groups and volunteers to say 'Thank You' for supporting the community throughout the pandemic.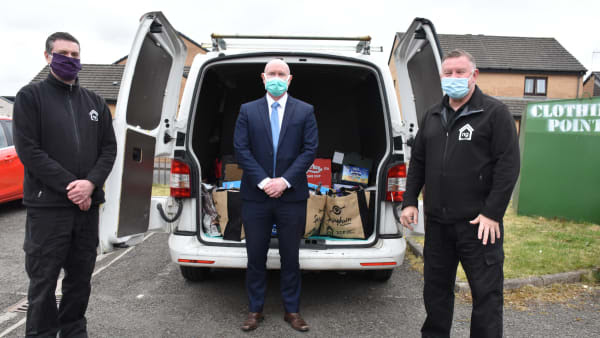 Margaret Fraser, head of regeneration at ng homes, coordinated the visit and arranged for local groups to meet with the Lord Provost to highlight the various ways in which they have supported the community during these challenging times.
Margaret said: "There is really amazing work happening in North Glasgow - businesses, local organisations and volunteers have pulled together to support the community in the best way they can. The support has been amazing, from providing PPE, to food deliveries, to delivering hot meals and supplying essential items to families and older people, and there has been much more. The sense of gratitude we have for these groups and volunteers will outlast the pandemic."
The Lord Provost visited Gerry Facenna, owner of Allied Vehicles, which provided a wide range of support to people in the local area. Allied Vehicles is also suppliers of accredited face coverings which it distributed during the pandemic. During the visit, Allied Vehicles donated 50,000 face coverings to ng homes and 150,000 to the Lord Provost and they will be used by frontline council staff, community members and local organisations both across North Glasgow and Glasgow City.
The Lord Provost thanked Allied Vehicles for their very generous donation and said: "I want to thank Gerry and the team at Allied Vehicles for the community work they have done over the years, but this considerable offer of masks is an extremely generous gift. These masks will ensure that many volunteers, groups and keyworkers who deliver on the frontline to protect us, keep us safe and provide services to our communities can continue to do their incredible work in a safe manner."
The Lord Provost met with Possobilities, a local organisation in Possilpark which operates the 'Cook N Care' service alongside a range of other activities. Possobilities have recently been preparing their venue for a safe opening once restrictions have lifted.
Melanie Fyfe, manager at Possobilities, said: "It was a delight to meet with the Lord Provost and tell him about the support we have provided during the pandemic. Our service continued throughout with dedicated staff and volunteers delivering it. Possobilities delivers hot meals, activities, breakfast clubs, education classes and provides a laundry service to vulnerable and disabled people. Possobilities has 50 volunteers that help to make all of this possible."
The Glasgow North Baby Food Bank volunteers met with the Lord Provost to highlight the vital service they provide to support parents and families in the local area. The Glasgow North Baby Food Bank was established by a group of mothers in North Glasgow to address a gap in the provision of essential baby items to families who need it most. The volunteer-led group hax provided an essential service throughout the pandemic.
Towards the end of the Lord Provost's visit, he met with staff and volunteers from Stronger Together Enterprise, which is based in Springburn. Staff member Consolata Tasinda told the Lord Provost about the key work they carry out in the area, including food support for families and older people, activities and welfare support, and also developing social enterprise opportunities.
The Lord Provost expressed a big 'Thank You' to all the people that he met with and said that he is keen to come back to North Glasgow soon to meet with others in the community.
The Provost added: "The past year has been a difficult one for all of us, filled with many personal challenges. But it has also been a year that has made me extremely proud of my fellow Glaswegians, as I saw, and still see, people from all walks of life coming together to help their neighbour and their fellow citizens, while showing compassion towards those less fortunate. Having been out helping various community groups and volunteers during the pandemic, I have seen that work and compassion first-hand, and it never ceases to amaze me how resilient our people are in the face of adversity.
"I thoroughly enjoyed my visits to the various groups and volunteers in North Glasgow and it was great being able to personally thank them for all their incredible work. It is their selflessness and dedication to their communities that fills me with hope of a brighter future ahead. I cannot wait to visit more groups throughout North Glasgow and the rest of the city to thank them and, where possible, lend them a helping hand!
"Thanks also to ng homes for organising the visits and for their own commitment to helping the communities in the North of Glasgow."