Loretto Care bridges generation gap with music
A musical project run by Loretto Care is breaking down the generation gap in Knightswood.
The Intergenerational Ensemble saw young and older people team up to write new music with the help of professional musicians.
It is the latest stage of Loretto Care's popular Ensemble song-writing project, funded by Creative Scotland.
Loretto Care worked in the north west Glasgow community of fellow Wheatley Group member GHA to bring older and younger people together through the power of music.
The oldest person taking part was GHA tenant Charlotte Boyce, from Knightswood, who is 78. She said: "I have never done anything like this before, but I love singing. I got involved because I wanted to do something I hadn't done before. I enjoyed taking part, having fun and meeting people.
"Taking part made me feel good. Everyone enjoyed it – young and old together. Everyone loved every moment of it."
The youngest person in the project was 12 year old William Moir, who also lives in Knightswood. He came along with his mum, Simone.
He said: "I didn't want to do it at first. My mum was dragging me along. The next day I was practically dragging her there. The atmosphere was terrific. It was very relaxed. I have never done anything like this before, but it made me feel excited. I loved working with and talking to older people. They are the only generation I like. It was a good thing to get involved with."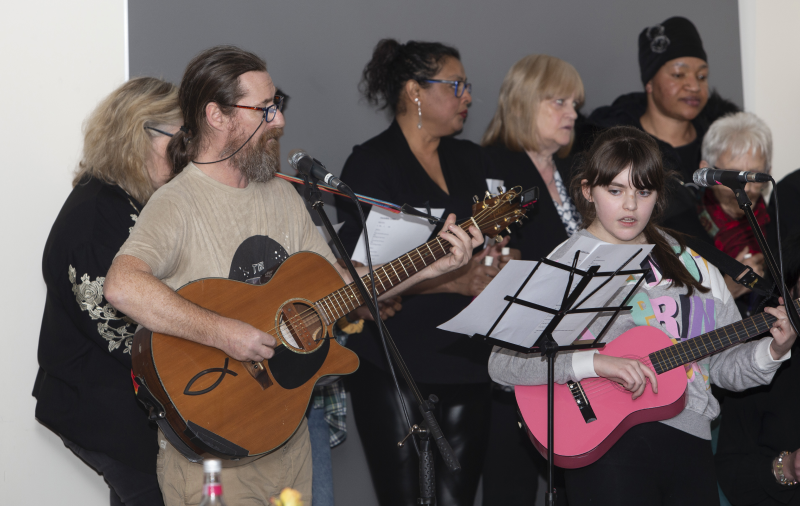 The Ensemble joins up professional musicians with people from different communities to write and record original music. Since it launched in 2016, participants have seen their work performed live on stage and played on national radio. At Christmas, the Ensemble also performed at Social Bite's World's Big Sleep Out in Edinburgh.
Loretto Care's Knightswood Connects group worked with Kingsway Court Health and Wellbeing Centre to put on a five-week block of songwriting workshops.
Participants used a series of photographs to kick start a discussion about what older and younger people have in common. Professional musicians Donna Maciocia, Clare McBrien, Jamie Scott and Lucy Cathcart-Froden helped people create an original song 'Invisible Lines' which explores the life and stories of an older person.
The song was premiered in a live concert in GHA's community room at 290 Lincoln Avenue last week, with an audience of more than 40 people from the local community.
The group were joined by people who had previously taken part in the Ensemble programme and performed ten different songs.
Laura Pluck, Loretto Care's managing director, commented: "The Ensemble is a fantastic project that is breaking down barriers. People told us how much fun the process was, how much they learned about music and songwriting and enjoyed meeting new people and learning new musical skills. We are thrilled to have received funding to run this project for another year and are very grateful to Creative Scotland for making this possible."
Ann Harvey, Loretto Care's community engagement co-ordinator at Knightswood Connects, added: "The past five weeks have seen lots of fun and collaboration. The final session was very uplifting with every single person contributing musically to the final piece of music".