'Mary Barbour Bill' lodged by Scottish Labour
A Bill to limit private sector rent rises and to increase the availability of information available to tenants has been lodged by Scottish Labour's housing spokesperson Pauline McNeill.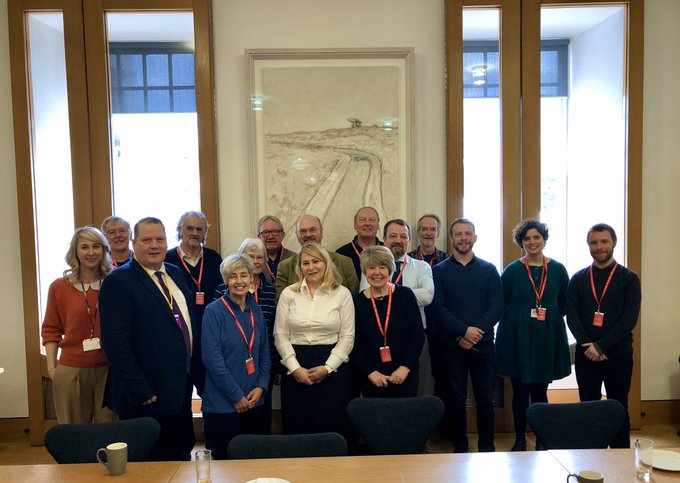 The Fair Rents Bill, dubbed the Mary Barbour Bill after the legendary rent strike organiser, was written with the support of Govan Law Centre's Mike Dailly and follows extensive engagement from across the housing sector in Scotland.
Scottish Labour said the impact of the COVID-19 pandemic and the insecurity it has brought to renters demonstrates the need for radical housing reform.
Through introducing a cap on annual private sector rent increases across Scotland at one percentage point above inflation, as well as other new regulations, the party said the Bill would put protection for tenants on a statutory footing.
Pauline McNeill MSP said: "Ever increasing rent costs are taking greater and greater percentages of people's income. We cannot allow rents to continue to increase beyond the affordability of tenants.
"I am delighted to have lodged the Fair Rents Bill and am extremely grateful to Mike Dailly, Danny Philips and everyone at the Govan Law Centre for working so hard to create it.
"The COVID-19 pandemic has exposed the extreme precarity of many people's finances and housing situations. Tens of thousands of families in Scotland are one missed payday away from being unable to pay their rent.
"While campaigning for a full ban on evictions and calling on the Scottish Government to consider setting up a national fund for people struggling to pay their rents, we have also been clear that there can be no return to business as usual when the immediate danger of coronavirus passes.
"It is my hope that this Bill will act as a catalyst for radical housing reform."
Mike Dailly, solicitor advocate at Govan Law Centre, added: "Before the COVID-19 crisis many private renters in Scotland struggled to make ends meet. Their rents are double of tenants in the social rent sector, while many get a fraction of the quality of housing.
"Those in low paid work spend most of their wages on rent, while those in receipt of social security don't get enough to cover their rent and often go without essentials to make up the difference each month.
"All of this has been turned on its head with COVID-19. We have nine million people across the UK on furlough and our GDP has dived by almost a third with many job losses sadly looming.
"Pauline McNeill's rent control Bill is a vital part of the solution for renters in Scotland. We need to protect renters as we plan our future during the biggest pandemic in living history. Without fair rent control we will face a housing crisis for hundreds of thousands of low income Scots."