McDermott Group and M-Four bringing festive cheer to north Glasgow residents
This week Christmas came early to Springburn in Glasgow, as the McDermott Group and M-Four presented over 100 gifts to the children and residents at ng homes' Balgrayhill multi-storey flats.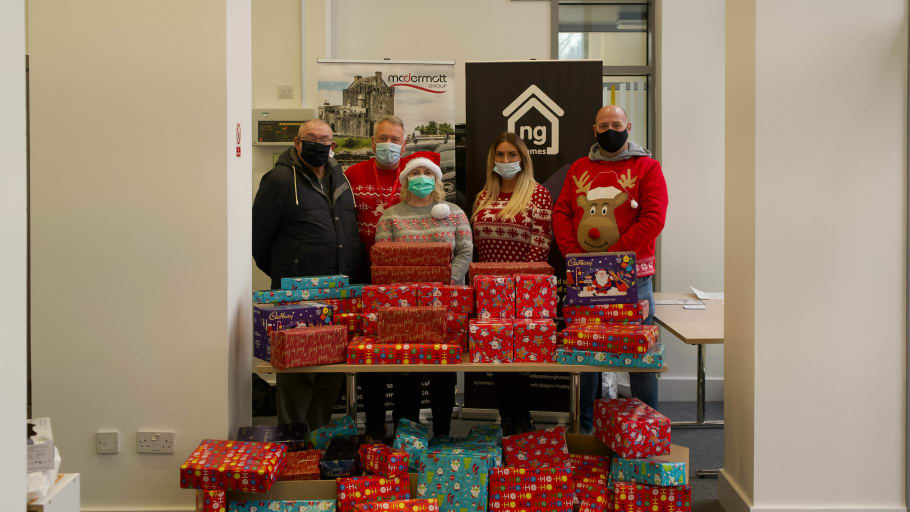 Recently, tenants in the Balgrayhill multi-storey flats benefited from a newly installed district heating system.
To spread Christmas cheer to all the residents, Santa brought along a generous sack of presents, including a variety of toys for children which are being distributed within the community and will bring some much-needed festive enjoyment to all!
Not forgetting elderly residents who can often be alone at this time of year, Santa also brought along delicious tea and biscuit sets to be gifted. M-Four were thrilled to be able to gift over £2k of presents to their residents during this festive season.
Reflecting on the day, John Thorburn, chairperson of ng homes, said: "It's been such a pleasure to see residents and their children having a fantastic time together today, sharing presents and getting ready for Christmas. We are thankful to the McDermott Group M-Four for their ongoing support towards our residents and look forward to continuing to work with them in the new year."
Dave Falla, associate director of M-Four, added: "Our team always feel fortunate to have the opportunity to give back to the communities we operate in, and always ensure we integrate community benefits offering into each project we take on. This allows us to build deeper relationships with tenants and residents and invest deeply in not only first-class services but making a difference to the neighbourhoods in which we work.
"Our long-term pledge to providing demonstrable, valuable community benefits on each of our projects, alongside our project partners, is something that we are incredibly proud of at M-Four. Having the chance today to provide presents and Christmas cheer to the ng homes residents has been both a joy and a privilege."
M-Four and McDermott Group gave a special thank you to ng homes staff and volunteers in helping to deliver a dose of Christmas spirit to ng homes residents this December!