Michael Gove moves into housing hot seat at Westminster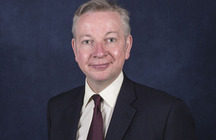 The UK Government's housing carousel continued to turn yesterday as Michael Gove became the latest secretary of state for housing, community and local government at Westminster.
The former chancellor of the duchy of Lancaster will be tasked with deciding where and how new housing should be approved – a major overhaul announced by his predecessor, Robert Jenrick – and delivering a new strategy to meet the government's 300,000-a-year housing target.
Responding to the appointment, Ben Beadle, chief executive of the National Residential Landlords Association, said: "We welcome Michael Gove to his new position and look forward to working with him to ensure the rental market works for responsible landlords and tenants alike.
"Key to this will be addressing the supply crisis in the sector by developing pro-growth policies that recognise the vital contribution it makes to housing millions of people across the country."
Cllr James Jamieson, chairman of the Local Government Association, said: "This has been an incredibly difficult period for councils and communities and we thank Robert Jenrick for the support he has given to local government during the pandemic. We wish him all the best in the future.
"The COVID crisis has shown what can be achieved when government empowers councils to innovate and create new services locally. We look forward to working with Michael Gove as our new Secretary of State at MHCLG to build on this and ensure councils are backed with the resources and freedoms they need to build back local from the pandemic, level up communities and deliver more for our residents and communities."
The Associated Retirement Community Operators said Mr Gove will need all of his reforming instincts to make the radical reforms needed.
Michael Voges, executive director of ARCO, said: "Mr Gove will need to draw on all of his reforming instincts to bring about the radical change needed in UK housing delivery. We are hopeful that the new Secretary of State will make a clear commitment to increasing provision for our ageing population through innovative solutions such as housing-with-care.
"At a time when more older people than ever before are seeking suitable housing options where they can access care and support if they need it and enjoy their retirement to the full, the UK has been falling badly behind other countries in provision.
"Making a clear and public commitment to work across Government to expand housing-with-care for older people will benefit us all, saving the health and social care systems billions and freeing up hundreds of thousands of family homes.
"Millions of older people, many of the UK's largest housing associations and major investors in the sector will be watching for a sign that the Government is serious about rising to this challenge."
Some were less than convinced.
James Forrester, managing director of Barrows and Forrester, said: "Michael Gove is known as a Whitehall big hitter with a reputation for rocking the boat so we may well see some changes. However, the reality is probably more of the same tired, recycled rhetoric around housing policy.
"Expect to see more initiatives focussed on fuelling buyer demand to keep house prices buoyant and very little in terms of actually addressing the need for more housing.
"In recent times, those charged with addressing the current housing crisis have lasted less time in their post than it takes to sell a house. No wonder the sector has been riddled with scandal and an inability to reach housing targets."