Moniaive Initiative affordable housing wins Empty Homes Award
Moniaive Initiative is celebrating after its first Community Affordable Housing Project won the award for 'Best Long-Term Empty Homes Restoration Project' at the Scottish Empty Homes Partnership Annual Awards Ceremony on February 2.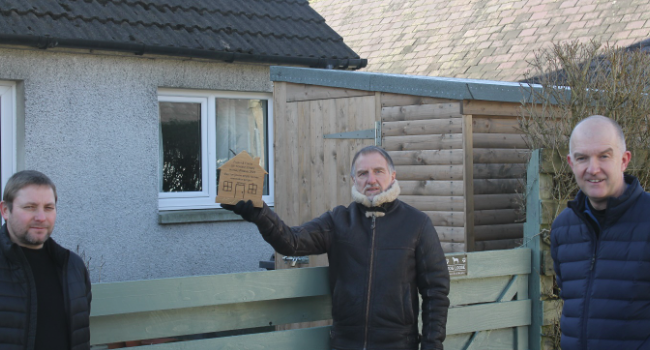 There has been a record number of empty homes brought back into use over the past year and the Scottish Empty Homes Partnership aimed to honour those who have worked so hard to make it happen.
The Moniaive Affordable House Project was the only community-led project shortlisted.
Moniaive Initiative purchased 12 Sawmill Green in 2019, after five years of preliminary work to identify local housing need and investigate potential development options. They received a grant from the Scottish Government Rural Housing Fund to purchase the building, which had stood empty and declining in the centre of their village for several years.
Further grants from SSE Renewables enabled them to renovate the property to make it fully accessible and suitable for an older or less able member of the community. Work was seriously delayed by the Covid-19 pandemic; but thanks to the dedication of the team, including their local main contractor J&W Vernon Ltd, the renovation was eventually completed in August 2020, and the first tenant moved in just days later.
Moniaive Initiative was supported through the process by South of Scotland Community Housing (formerly DGSCHT).
Mike Staples, chief executive at SOSCH, said: "Everyone at SOSCH is really excited about this award because it recognises the role community-led housing can play in bringing empty properties back into use as bright, safe, secure, warm and accessible homes.
"We're delighted for the team at Moniaive Initiative whom we worked in partnership with over several years to secure ownership and funding to redevelop Sawmill Green, and who have demonstrated that new locally managed affordable housing supply in our rural communities can be provided through existing properties."
Kevin Stewart, housing minister, added: "It is very encouraging that in the midst of a pandemic, we have seen continued hard work and dedication of people and organisations to tackle the issue of empty homes. These properties can be a blight on communities which is why the Scottish Government has invested £400,000 each year to support the Scottish Empty Homes Partnership. We greatly appreciate all of the effort that has gone into bringing empty homes back into use over the past year."
Bill McLarty, Moniaive Initiative chairman, commented: "This award is a lovely way of recognising several years' of hard work by a range of people from across the community. We would just like to thank everyone who helped us to make this project happen."