MSP welcomes affordable housing funding rule pilot to address local challenges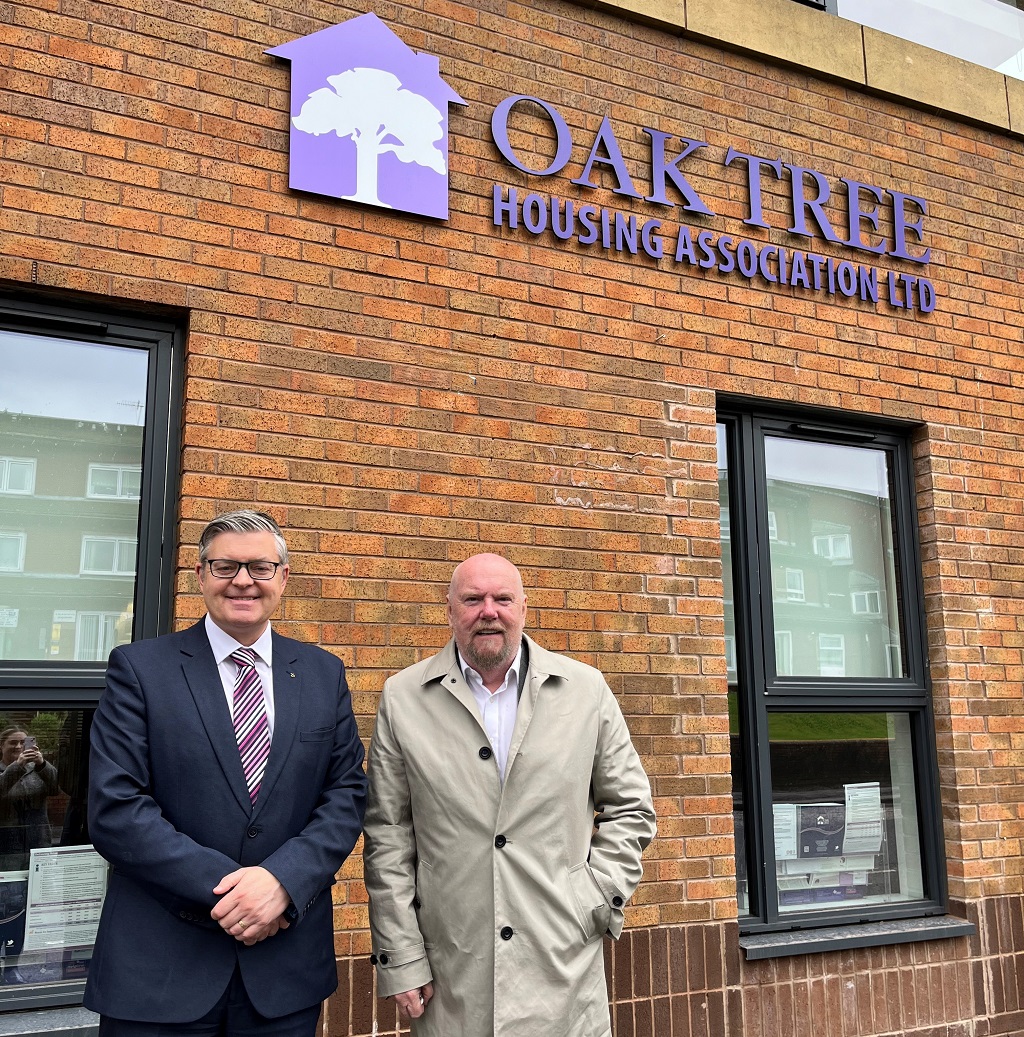 Funding will be made available to enable housing associations to buy back factored properties from eligible homeowners if they wish to become tenants, the Scottish Government has confirmed.
Local housing associations can utilise funding available through the Scottish Government's Affordable Housing Supply Programme to make such purchases if several criteria are met.
The decision comes after Stuart McMillan MSP met with senior management from Oak Tree Housing Association, River Clyde Homes and Cloch Housing Association who highlighted how some homeowners living in properties they factor expressed an interest in selling their property to the housing association and becoming tenants.
At the meeting last autumn, the local housing associations outlined how in circumstances where owners cannot afford the required maintenance or refurbishment of their home, enabling them to sell their home to a Registered Social Landlord (RSL) and become a tenant in the social rented sector would enable the RSL to consolidate its stock and more easily proceed with improvement works.
However, the rules of the Strategic Acquisition Fund only permitted RSLs to purchase properties if the owner was vacating the premises – meaning owners could not seamlessly go from being a homeowner to a housing association tenant while remaining in the same property.
Mr McMillan consequently wrote to the cabinet secretary for social justice, housing and local government Shona Robison on 26 October 2021 to suggest that this rule be changed as the local housing associations indicated that this would particularly benefit tenants in blocks of flats where there is mixed tenure.
The cabinet secretary responded confirming this policy change was being considered, which she reaffirmed in the Chamber on 15 December 2021 when Stuart raised the matter once again.
Stuart has now received a full response stating that the funding can now be made available for such purchases if several criteria are met, following an agreement with Inverclyde Council and RSLs in Inverclyde.
For the purchase to take place, it must be clearly demonstrated that:
the purchase facilitates the consolidation of stock ownership for managing specific planned stock improvement/ refurbishment works, and supports the achievement of the priorities and objectives set out in a local authority's Local Housing Strategy
the local authority is unable to facilitate the planned works from local resources under discretionary power to assist
the homeowner has received (a) advice about their financial situation from an FCA authorised independent financial adviser and (b) independent legal advice on the terms of the proposed sale and subsequent tenancy agreement
the homeowner will employ a solicitor to act on their behalf with respect to the sale of their home, and
the homeowner is not eligible for support under the Home Owners' Support Fund.
The ability to use the Affordable Housing Supply Programme in this way will be reviewed as part of the development of the 'Help to Improve' approach to ensure that it is fit for purpose before being rolled out elsewhere.
Stuart McMillan MSP said: "I am delighted that this policy change has been actioned by the Scottish Government after raising it with them in October.
"Local housing associations told me that some homeowners, usually in very difficult financial circumstances, would welcome the opportunity to sell their property to the housing association but remain in their home.
"Many of these homeowners have lived in their property for several years and if they sold their home on the market, it's likely they would only receive enough funds from the sale to buy a similarly unimproved property.
"In these circumstances, I suggested to the cabinet secretary that it would be better for both the homeowner and RSL if the property could be transferred from private ownership to social housing and the owner-occupier to become a tenant – relieving them of the maintenance burden but still keeping their home.
"Having the flexibility to allow these purchases to go ahead locally will help address some of the housing challenges we face particularly around refurbishment and maintenance schemes, so I'm pleased the Scottish Government have listened to the views of local RSLs in this regard."
Oak Tree Housing Association's chief executive, Nick Jardine, added: "We are pleased this suggestion from housing associations in Inverclyde has been taken on board by the Scottish Government. However, it is early days and even though we can now offer sellers the opportunity to stay on as tenants, this is within set rules.
"Oak Tree regularly meets with Stuart to discuss a range of housing matters and so we are grateful to him for putting this issue to the cabinet secretary. We will continue dialogue with Stuart to pass on our feedback of this policy change and help inform future reform in this area."
Paul McVey, director of Cloch Housing, said: "This is a step in the right direction, and we will continue to engage with Inverclyde Council and Stuart about whether any further policy changes are required to ensure we are ultimately making affordable, high-quality social housing available to more people."
A spokesperson for River Clyde Homes echoed the sentiments of its peer partners and welcomed this positive change.