New climate-friendly vision for Cairngorms to prioritise homes and jobs for local people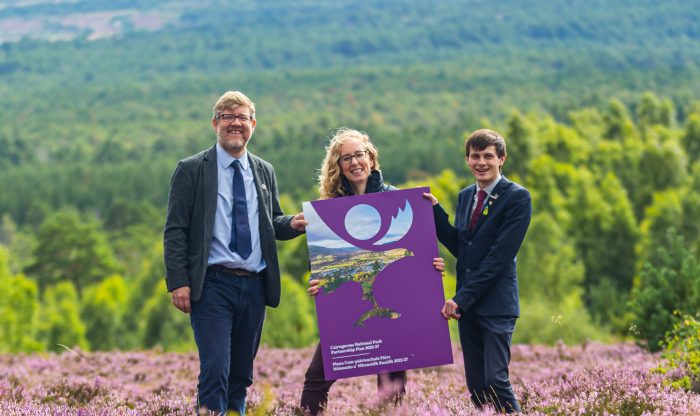 An "ambitious and transformational" plan for the future of the Cairngorms National Park has been unveiled that aims to deliver increased affordable housing to help young people to stay in the area.
Launched yesterday by Lorna Slater MSP, minister for green skills, circular economy and biodiversity, at an event in Boat of Garten, the new Partnership Plan sets out how all those with a responsibility for the National Park will work together to tackle critical issues that relate to its people, nature and places and ultimately address the climate and nature emergencies.
Almost 1,500 people helped shape the plan in a public consultation phase last year. In implementing the plan, people who live, work, and visit the National Park will be given the power to tackle the climate and nature emergencies and more than 100 partners, public bodies and communities will work together to help deliver activity over the next five years.
Key elements of the plan include:
Achieving and going beyond net zero well before 2045
Restoring thousands of hectares of peatland and expanding woodland
At least 50% of the Park being managed principally for ecosystem restoration by 2045
Transforming the way people get around the Park by making it easier to travel by walking, cycling, and using a wheelchair
Increasing affordable housing and reducing short-term lets and second homes
Increasing the working-age population in the National Park and providing green skills and training opportunities
Moving to a wellbeing economy that puts the health of people and planet first
Celebrating the cultural heritage of the Cairngorms, including Gaelic and Scots / Doric
Xander McDade, convener at the Cairngorms National Park Authority, said: "This is the largest, most ambitious Partnership Plan ever created – with major activity including peatland and woodland restoration, affordable housing, green skills, and a wellbeing economy – and represents a vision for what the National Park could look like by 2027, and indeed by 2045 when Scotland aims to have achieved net zero.
"Heritage Horizons: Cairngorms 2030's 24 long-term projects will be a key delivery vehicle for much of the Partnership Plan's activity, bringing about transformational change, benefitting people's health and wellbeing, delivering on climate change, and enhancing nature across the National Park.
"A lot has changed since the last time we came together to launch a partnership plan and taken together, these changes tell us one thing very clearly: that continuing with the status quo is not an option. The Cairngorms National Park should be – in fact, must be – at the forefront of doing things differently. With the help of our communities and more than 100 partner organisations, people and nature will thrive together in the Cairngorms National Park, both now and in the future."
Lorna Slater MSP said: "Our National Parks are amazing places to live and visit and are home to some of Scotland's finest landscapes and wildlife. They do essential work to restore our natural environment, tackle the climate crisis, help manage facilities for visitors, promote responsible access and develop sustainable communities."
"The Cairngorms National Park is the largest in the UK and is well placed to become an exemplar in nature restoration, cutting climate emissions from restoring forests and peatlands, and helping Scotland meet its climate targets as part of a just transition.
"The new Park Plan breaks new ground in its ambition to improve the park and deliver for the environment and is based on listening to and involving communities in the Cairngorms. I have been closely involved in its development, and I was extremely encouraged to see nearly 1,500 people take part in the consultation on the future of this special place. This partnership approach gives us the best possible chance of delivering a Park where people and nature thrive together.
"National Parks can do so much for Scotland and that is why we are committed to establish at least one new National Park in Scotland by the end of this Parliamentary session in 2026."
The Cairngorms National Park Authority conducted six months of detailed consultation with residents, visitors, businesses, land managers, partners, and others to inform the plan. This included a dedicated consultation website and over 40 in-person and face-to-face events.
Of these responses, more than half came from people living or working within the National Park, with a range of businesses, community groups, land managers and environmental NGOs also represented.