New council houses officially opened in East Renfrewshire
East Renfrewshire's new council houses were officially opened yesterday by housing minister Kevin Stewart MSP, marking the first housing builds by the local authority for a generation.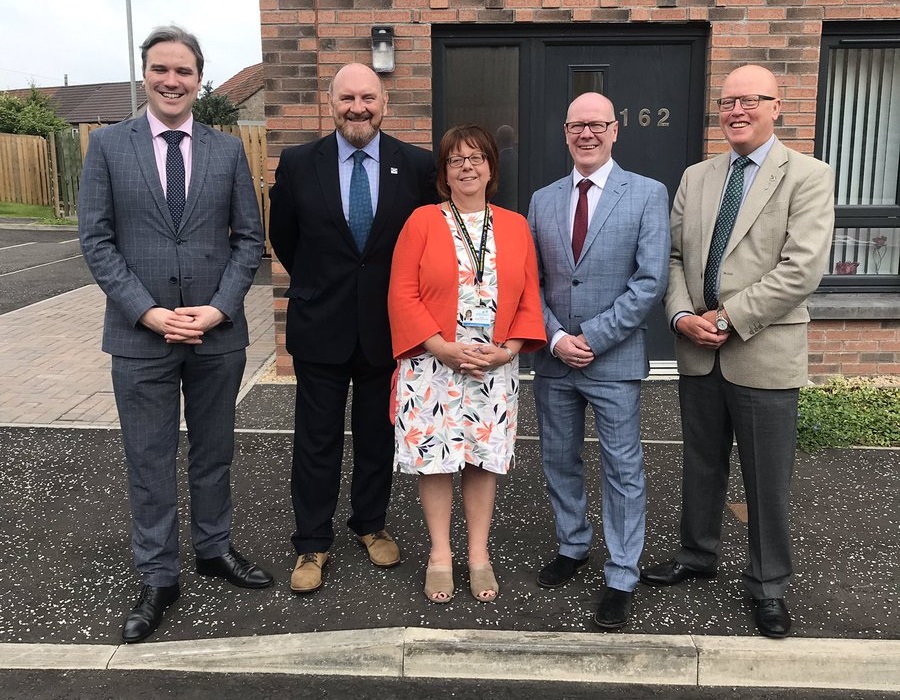 Fenwick/Oakbank Drive along with Robertson/Cross Arthurlie Street, are the first developments to get underway as part of the council's ambitious plans to build over 200 homes over the coming years. The third development at Blackbyres Court is due to be completed in September.
Mr Stewart visited the Fenwick/Oakbank Drive development, which is made up of six one-bedroom own door flats and four three-bedroom family houses. The properties are now home to council tenants facing homelessness, those who lived in overcrowded properties and those wishing to downsize.
While at Robertson/Cross Arthurlie Street four families and nine tenants in the 60+ age group have moved into four three-bedroom houses and nine one-bedroom flats, including a fully adapted wheelchair property.
Each of the projects are being delivered in partnership with building contractor CCG (Scotland) Ltd.
East Renfrewshire Council Leader, Councillor Tony Buchanan, said: "I am delighted to be here today with the Scottish Housing Minister to cut the ribbon on the first of our fantastic new council houses. Without the funding received from the Scottish Government, this project would not have been possible, so I would like to thank them for their continued support and investment.
"East Renfrewshire continues to be a popular place to live and with a diverse population who have a range of requirements, it is especially pleasing that we are able to provide a range of different types of homes for families and individuals."
Councillor Danny Devlin, convener for housing and maintenance, said: "It is fantastic to see the completed homes that will make a real difference to the lives of our tenants. Our aim is to create communities and homes, not just houses, and I am really pleased to see the progress made so far with this ambitious project. I look forward to seeing further projects complete as work progresses."
Mr Stewart said: "A house is so much more than just a place to live - it provides a sense of belonging, independence and pride, and promotes wellbeing. We want everyone in Scotland to be able to afford a warm, safe, energy-efficient place to call home. That's why we're investing a record £3 billion to help us achieve our target of 50,000 affordable homes by 2021, of which 35,000 will be for social rent.
"These high-quality new homes in East Renfrewshire are a testament to the partnership working between councils and innovative construction firms. Providing a mix of housing to meet people's needs is essential in establishing vibrant and thriving communities, and the tenants here will benefit for years to come."
CCG director, Calum Murray, added: "A lasting legacy has been created by the delivery of these projects. Not only have we brought modern, sustainable affordable homes but also an array of community benefits. Upon the completion of Blackbyres Court in September, CCG will have created up to three new jobs, two trade apprenticeships, seven work placements and donated £3000 to local initiatives which would not have been possible without East Renfrewshire Council's commitment to new build affordable housing. We commend them for that and look forward to continuing our partnership."