New Universal Credit study reveals detrimental impact on social housing tenants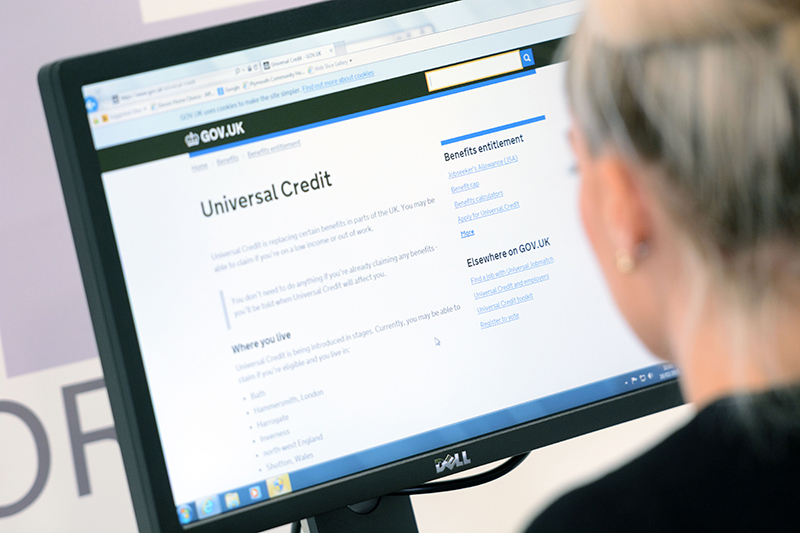 A major new study into the effect of Universal Credit on social housing tenants has revealed the detrimental impact it is having on lives and how it is driving people into debt and poverty.
The 'Existing Not Living' report was commissioned by Wheatley Group and is supported by the Scottish Federation of Housing Association (SFHA) and CIH Scotland.
The findings revealed 65% of claimants believe the social security payment did not give them enough money to cover their basic needs, while 62% believed it did not help them back into work – despite that being the primary goal.
Worryingly, the report revealed Universal Credit was driving tenants into debt, deeper poverty, destitution and mental ill-health, with many feeling the system is unfair, punitive and lacks compassion.
SFHA and CIH have thrown their support behind the report's findings, which included 86% of the social housing tenants surveyed claiming Universal Credit had had an adverse impact on their mental health.
Tenants described their experience of being on Universal Credit:
"It's just existing, and when I think about it, I don't know how much more I can go on like this."
"There were points when the system just completely defeated me. It's too hard and it's too humiliating for people. You have to completely justify everything that you've done. You're sitting and you're thinking, this is my money. I worked for this money."
"Trying to live on £243 per month, that's horrible. I'm expected to feed myself, pay my Council Tax, gas and electricity, pay debt and rent arrears. It's physically impossible to pay for all that and, of course, also your internet or some kind of mobile phone with internet, which you need to have if on Universal Credit."
Last year, Wheatley Group launched its £6 million 'Here for You' campaign to help tenants struggling to cope with the cost-of-living crisis.
Wheatley Group also recently announced it helped more than 8700 tenants of Wheatley Homes Glasgow, Wheatley Homes East, Wheatley Homes South and Loretto Housing access almost £9million in benefits and financial support between April and December 2022.
Hazel Young, Wheatley Group director of housing and property management, said: "We first raised our concerns about Universal Credit with the UK Government back in 2013 and warned them the impact it would have on the most vulnerable in our communities.
"A decade on, this report makes clear it has left thousands of vulnerable people and families not just worse off but confused and distressed as they struggle to cope with the every-day demands of life.
"Supporting our tenants through these difficult times is a priority for us. Whether it is advice with accessing benefits, providing food vouchers or advice on how to keep their homes warm, we are doing all we can to support our tenants.
"We would encourage any customer who is struggling to get in touch with us straight away. We are here to help."
This new report follows a recent study by the Joseph Rowntree Foundation and the food bank network the Trussell Trust which said inadequate benefits were the main driver of the explosion in destitution and food bank use.
It urged the UK Government to formally bring Universal Credit rates into line with minimum living costs, claiming low-income households are at least £140 a month below the real cost of food, energy and everyday basics.
The 'Existing Not Living' report, which was carried out by UNITY Consulting Scotland, calls on the UK Government to introduce a series of measures to offset the damage caused by Universal Credit. These recommendations include:
Restoring the £20 per week uplift
Abolishing the two-child limit
Ending sanctions
Abolishing the five-week wait and pay claimants from the start of their claim
Ending the benefit cap.
Carolyn Lochhead, director of external affairs at the SFHA, said: "Housing associations will always do all they can to support tenants who are struggling financially, but this research reiterates just how difficult that is when the UK social security system isn't meeting people's basic needs. Universal Credit should, at the very least, be enough for people to live on – not drive them deeper into poverty.
"By giving tenants a voice to speak on these important issues, this research underlines the need for urgent change."
A total of 1150 social housing tenants were surveyed in the west, east and south of the country.
Callum Chomczuk, national director at CIH Scotland, added: "Universal Credit should be a lifeline for people when they fall on hard times but, as we know, it is not. This report adds to the evidence that Universal Credit is pushing more and more people into poverty and hardship and impacting their health and wellbeing.
"Landlords like Wheatley Group are doing what they can to mitigate some of the impact of Universal Credit on households, but this should be a job for a properly funded social security system, not social landlords.
"This report sets out a number of very welcome suggestions as a way to bring dignity and fairness back into our social security system."
Tommy Kane, from UNITY Consulting Scotland, added: "Our findings are an indictment of how those in receipt of Universal Credit are treated, but also what priority our society gives to supporting people in their time of need.
"This report is just the latest evidence to show that Universal Credit is not fit for purpose: that the system is designed to be punitive, lacks compassion, results in debt and mental health problems with many people being unable to meet their basic needs.
"The system should be abolished or subject to major reform and replaced with a system that helps people move beyond simply existing. We need a social security system that helps and supports people rather than hinders them."