Next First Minister being 'set up to fail' on homelessness, says Shelter Scotland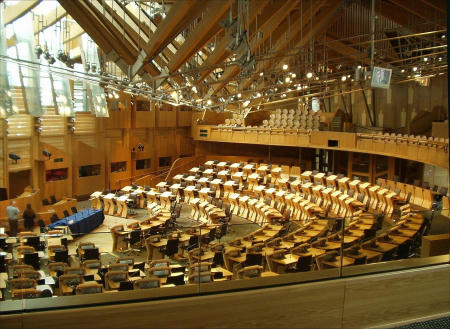 Shelter Scotland is bringing its campaign to stop the cuts to social housing to Holyrood, as MSPs prepare to vote on the 2023/24 Scottish Budget.
Housing activists and campaigners have condemned the swingeing cuts announced by the Deputy First Minister John Swinney in December, which will see a 16% year-on-year reduction in the budget to deliver the social homes Scotland desperately needs and will saddle the next First Minister with a growing Housing Emergency.
Since the draft budget was announced last year, the crisis facing Scotland's housing system has deepened:
Open homelessness cases are at an all-time high, increasing by over 10.6% in the 6 months between March and September 2022 There 9,130 children living in temporary accommodation as of September 2022, the highest number on record and increasing by 120% during Nicola Sturgeon's time as First Minister
The Scottish Housing Regulator has said that there is "an emerging risk of systemic failure" in Scotland's homelessness services, and that "an adequate supply of permanent, affordable housing provided by councils and RSLs is vital in ensuring that people who are homeless secure a suitable permanent home."
Shelter Scotland is calling on MSPs from all parties to join them outside Holyrood as they protest these cuts, demand immediate action to help the 9,130 children trapped in temporary accommodation, and for Scotland's next First Minister to prioritise the Housing Emergency by appointing a dedicated Housing Minister responsible for delivering the social homes Scotland needs.
Director of Shelter Scotland, Alison Watson, said: "Scotland's Housing Emergency is forcing a record number of children into temporary accommodation, leaving them to experience conditions that are unimaginable for most of us.
"We know the solution, the Scottish Housing Regulator knows the solution, MSPs know the solution and the Scottish Government knows the solution – we need more social homes.
"The Scottish Government cannot possibly say that it is prioritising tackling child poverty in this budget while delivering a massive cut to the social housing supply budget. This will keep more children trapped in temporary accommodation and in a devastating cycle of poverty."
She added: "The choices made by the Scottish Government in this budget show a total lack of understanding of the role housing plays in health, education, child poverty, the environment and more. With no Minister in place to defend the housing supply budget, it has almost uniquely been raided for savings. Quite simply, the next First Minister is being set up to fail on housing.
"We hope that they prioritise tackling the growing Housing Emergency and appoint a dedicated Housing Minister, with responsibility for delivering the social homes Scotland desperately needs, to oversee the government's response to the emerging risk of systemic failure.
"It's not too late for the current First Minister and Deputy First Minister to change course and reverse these cuts. We invite MSPs from across parliament to join us in that call today."