North Lanarkshire Council named Scotland's Energy Efficiency Council of the Year
North Lanarkshire Council has been recognised for its "exceptional commitment" to promoting energy efficiency across the area.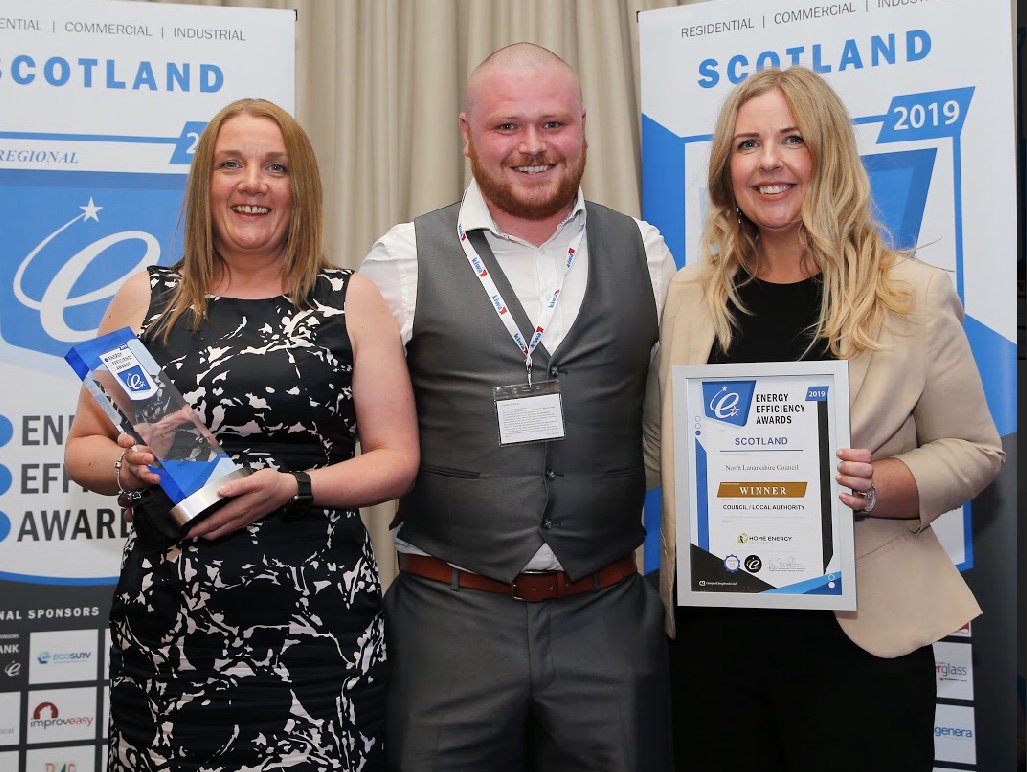 The Energy Efficiency Council of the Year accolade, announced at the Scottish Energy Efficiency Awards, looked at the council's impact within the local community in tackling fuel poverty.
The category examined areas including; listening to what customers had to say, looking at the expertise within the council team and the priority they gave to tackling fuel poverty.
It was the council's high standard of work in these areas, together with the roll out of a range of innovative and exciting projects that secured their success.
Examples include:
Installing insulation to tackle fuel poverty across our communities with over 300 homes benefiting, saving money on tenants and residents' fuel bills and improving their living environments;
720 homes of mixed tenure receiving external wall insulation;
Cavity wall insulation installed in 174 council homes and loft insulation installed in 221 council homes;
Providing ten jobs for supported employees, including apprenticeships, and
Boosting the local economy by supporting three locally based suppliers.
Brian Lafferty, head of housing property, said: "We're delighted that our energy efficiency programme has been recognised at this level and reaffirms we're leading the way in putting our environment and local communities first.
"It's so important we continue to improve the lives of our residents by providing them with warm, comfortable homes, while eradicating fuel poverty. We're helping our residents save money and positively impacting on the local environment as we're lowering carbon emissions.
"We'll continue to strive to roll out our ambitious plans to make North Lanarkshire the place to Live, Learn, Work, Invest and Visit."
Derek Innes, managing director of Procast, added: "Over the past 24 months we have worked closely with North Lanarkshire Council's Energy Team to deliver their HEEPS Abs project.
"Throughout the delivery of the project we have delivered innovative solutions to help tackle fuel poverty. In addition to our contracted works we have also secured external investment through NLC's statement of intent which has enabled us to offer energy efficiency measures to all private households in North Lanarkshire.
"We are proud to be part of the delivery of these Fuel Poverty Schemes and hope to continue to support NLC with their future projects."