North Lanarkshire Council hosts tenants' conference events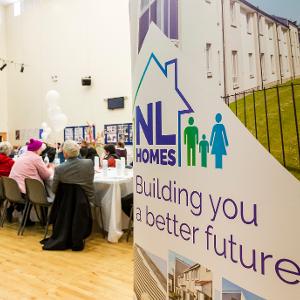 Tenants and residents from across North Lanarkshire came together for North Lanarkshire Council's annual tenants' events earlier this month, held at Clyde Valley High School, Wishaw and Coatbridge High School.
The successful conferences were packed with information, networking sessions and the famous marketplace, and gave tenants and residents the opportunity to find out more about plans for homes and communities in North Lanarkshire and have their say in key areas.
Presentations were given highlighting the new Tenant Participation Strategy and tenants were able to choose the cover of the document and its title: 'Involving Tenants - Improving Services'.
Keynote speeches were given by Des Murray, chief executive and Robert Steenson, executive director of enterprise and communities, both with North Lanarkshire Council.
A repairs surgery and speed networking sessions, covering topics including Digital NL, community safety, dementia-friendly and living and town centres 'Shared Vision for our towns and communities' also took place.
Tenant, Jim Leonard, attended this year's conference. He said: "The new format is a great improvement and proved popular with delegates.
Everyone enjoyed the topics discussed, which were all relevant to North Lanarkshire in 2019. The conferences were well represented by NLC staff and opportunities were available to speak to those in attendance."
The council has issued its thanks to North Lanarkshire Federation who gave the closing remarks and to Mears and Saltire for sponsoring the events.
Tracy Lennon, tenant participation manager, was involved in organising the event. She added: "This year's tenant events were very well attended and this is testament to the greater role our tenants and residents are playing in the delivery of North Lanarkshire Council's Housing Services.
"It's always great to speak directly with tenants and residents using our services. To gauge first-hand the positives and sometimes negatives, gives us valuable feedback that allows us to further develop services. We now have more tenants than ever participating in consultations and events and we're increasing our satisfaction levels too.
"I look forward to reading the event evaluation and I would like to take this opportunity to encourage tenants to get involved - it's never too late."