Ochil View wishes centenarian a happy birthday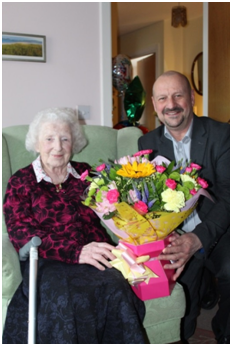 Ochil View Housing Association's oldest tenant has celebrated her 100th birthday with a visit from chief executive George Tainsh and property services officer Ailsa Buchanan.
Kate Macaulay, who lives in Dollar, was born in March 1919 and grew up in a farming family in the Scottish Islands before moving to Dollar where she became the Postmistress of Dollar Post Office.
She has been a tenant of the Association since 1997.
George Tainsh said: "We really enjoyed our visit along with the tea and birthday cake on offer and we loved hearing Kate's stories about her long, interesting and healthy life. We even got to see her letter from Her Majesty the Queen.
"As Ochil View itself celebrated its 30th birthday in March it was, in some way, a double celebration."