Paisley Housing Association's West End regeneration project hailed a triumph
An 18-month long regeneration project carried out by Paisley Housing Association designed to boost the environment in Paisley's West End has been hailed a green triumph.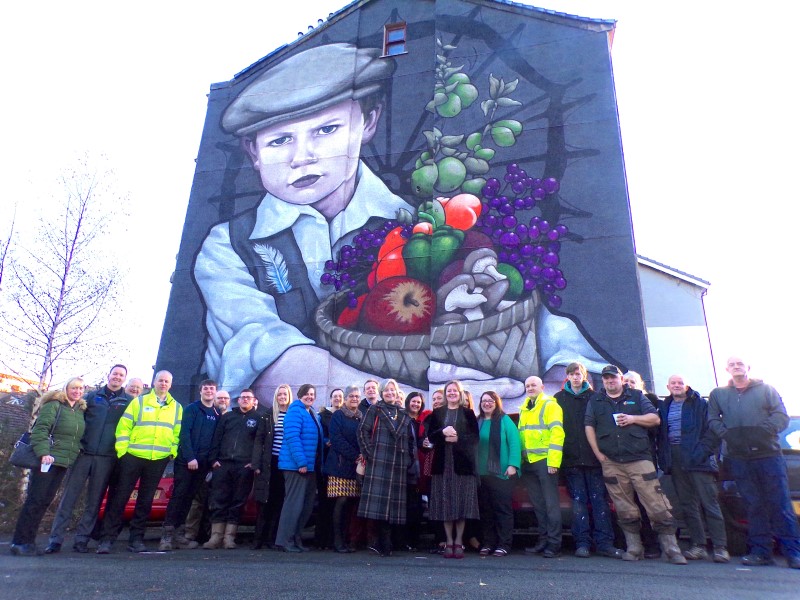 Now the aptly-named West End Transformation Project from Paisley Housing Association has reached the end of its planned lifespan of a year.
The housing association can look back on 18 months of achievement in what has been the organisation's biggest ever drive to improve the environment where it has many of its homes.
To mark the end of the initiative, the entire staff of Paisley Housing Association gathered at what is the most visual example of the project – the recently-unveiled mural at Castle Street.
Known as The Young Poet the remarkable artwork was completed by well-known artist Mark Worst and transformed a tenement Gable End which enhances the West End's environment.
A key undertaking of the project was to improve tenement backcourts so they could become places where people can benefit from improved facilities such as new lawns, better railings and tidier bin shelters.
The key highlights of the project were:
Improvements to the back gardens of 21 tenement blocks which were all free for residents
Almost 45% of residents were involved or put forward their views.
Work included planting new trees, drainage and new paving
The Young Poet mural in Castle Street described as "a nod to one of the town's most famous sons Robert Tannahill" who, appropriately, was born in Castle Street
An employment boost. Apprentices have been provided with ongoing support and gained valuable qualifications and training in areas such as tree surgery, hedge cutting and use of pesticides.
A series of free environmental-themed workshops where residents gained new skills including a free craft project lasting six weeks
The association secured funding from the Scottish Government's "Aspiring Communities Fund" to enable it to undertake the project and at the same time establish an employability and training-focused landscaping team to deliver it.
Leading the project for Paisley Housing Association was co-ordinator Duncan Clelland who said the work had been a "first for the association" in terms of commitment, sheer scale of improvements achieved over a limited time and value for money. It also provided valuable training to a team of apprentices.
Mr Clelland said: "The initiative had a number of vital components - firstly we were able to deliver the regeneration project in the West End, an area often overlooked, by building partnerships and delivering real change. We worked closely with residents of Blue Triangle Housing Association in Paisley delivering a much-used back garden.
"Secondly, we worked closely with residents to deliver backcourt improvements and thirdly we also sought to improve the public realm with a stunning new mural. Lastly, we worked closely with Invest in Renfrewshire to recruit and train a team of landscaping apprentices to deliver the work.
"We are extremely grateful to the Aspiring Communities Fund without which none of the work would have been possible."
Project supervisor Chris Turner, who led and delivered the training to the team of apprentices, commented: "The range of skills gained by the apprentices has been very impressive"
Kathleen McCutcheon, chief executive of Paisley Housing Association, added: "The association can look back on this project with a great sense of achievement. We have delivered significant improvements for our tenants and it continues our longer-term environmental strategy. We look forward to rolling out environmental improvements across our housing stock."