Patrick Harvie MSP attends RCH's first air source heat pump installation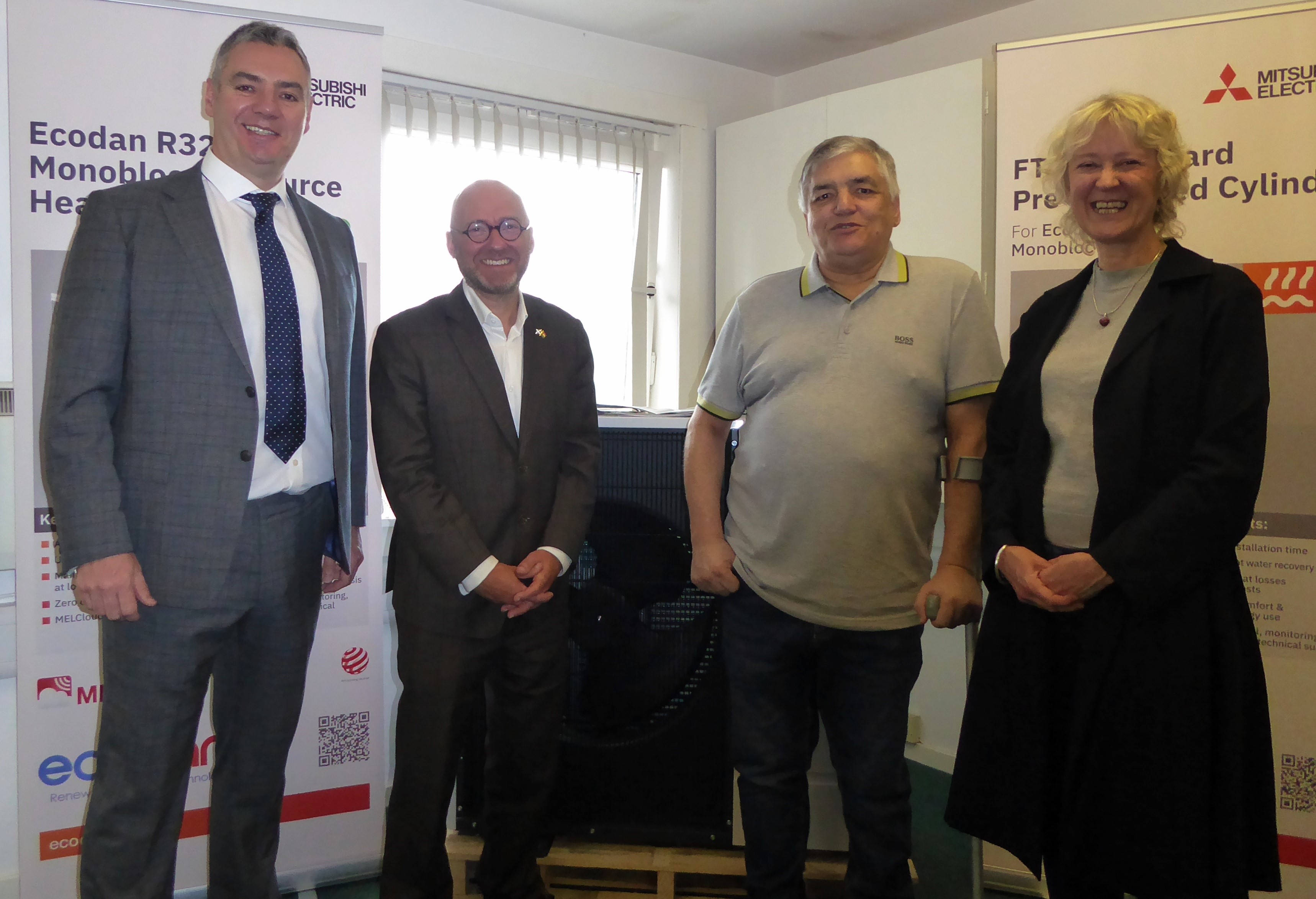 Patrick Harvie, MSP and minister for zero carbon buildings, active travel and tenants' rights, has visited Inverclyde to see the area's first Air Source Heat Pump installation.
This environmentally friendly heating technology was installed back in 2018 by River Clyde Homes and was one of the first Air Source Heat Pumps (ASHPs) to serve a social rented tower block in Scotland.
Kilblain Court in Greenock comprises 61 flats and is situated in a popular town centre location. River Clyde Homes decided to remove gas boilers from its tower blocks in 2016 and replace these with low carbon communal systems to improve safety, reduce emissions and achieve the Energy Efficiency Standard for Social Housing (EESSH).
While the replacement of mains gas with renewable technology provided an energy efficiency gain, the Environmental Impact Rating improved significantly from 81 to 95 (out of a maximum potential of 96).
Richard Turnock, chief executive of RCH Group, met Mr Harvie and said: "We had already installed several bio-mass systems across our estate, but at Kilblain Court we installed Air Source Heat Pumps – a more suitable solution given its town centre location. I am pleased to welcome the Minister and to have the opportunity to discuss our wider plans for delivering our carbon reduction strategy."
Mr Harvie added: "Reducing greenhouse gas emissions from our homes and buildings is vital to ending Scotland's contribution to climate change. Heat pumps are one of the most important ways of achieving this goal.
"We have committed to reducing emissions from our homes and buildings by more than two thirds by 2030. We cannot achieve these ambitious targets alone. Private and community investment as well as support from the Scottish Government will all be crucial in developing a Net Zero future for the country.
"I congratulate River Clyde Homes for delivering a project that is so crucial to our Net Zero objectives. This Air Source Heat Pump continues to deliver low carbon and efficient heating to the residents of Kilblain Court and will do so for years to come. It is an example of the green and climate-friendly future we want to see for the entire nation."
Mr Harvie's visit was co-ordinated by the Scottish Federation of Housing Associations (SFHA), the membership body for, and collective voice of, Scotland's housing associations and co-operatives.
Sally Thomas, SFHA chief executive, commented: "Across Scotland, our members are working hard to tackle climate change, and River Clyde Homes' project demonstrates how housing associations are at the forefront of installing low-carbon, sustainable, highly energy-efficient heating systems.
"Scotland's social housing sector is leading progress in reducing emissions, with over half of its stock already achieving a good level of energy efficiency. By working together with the Scottish Government, and other partners, our members will continue to play their fullest part in meeting Scotland's net zero targets and tackling the climate emergency, while ensuring this is done without creating additional costs for tenants."
Feedback from customers has been positive with residents now enjoying warmer homes.
One customer, Robert Henry, said: "The heating system remains cost effective, and my home is warmer than ever." The process of having it installed was easy with little upheaval over a short period of time. Help was available for us to pack up the house while the work took place."
He added: "There's also the added bonus of knowing that I live in a building that emits very little carbon and therefore plays an important role in tackling the serious issue of climate change which is affecting us all."