Patrick Harvie MSP hears of fuel poverty and zero carbon challenges at Queens Cross visit
Fuel poverty and the challenges of achieving carbon-neutral homes were two of the hot topics on the table when Patrick Harvie MSP visited Queens Cross Housing Association.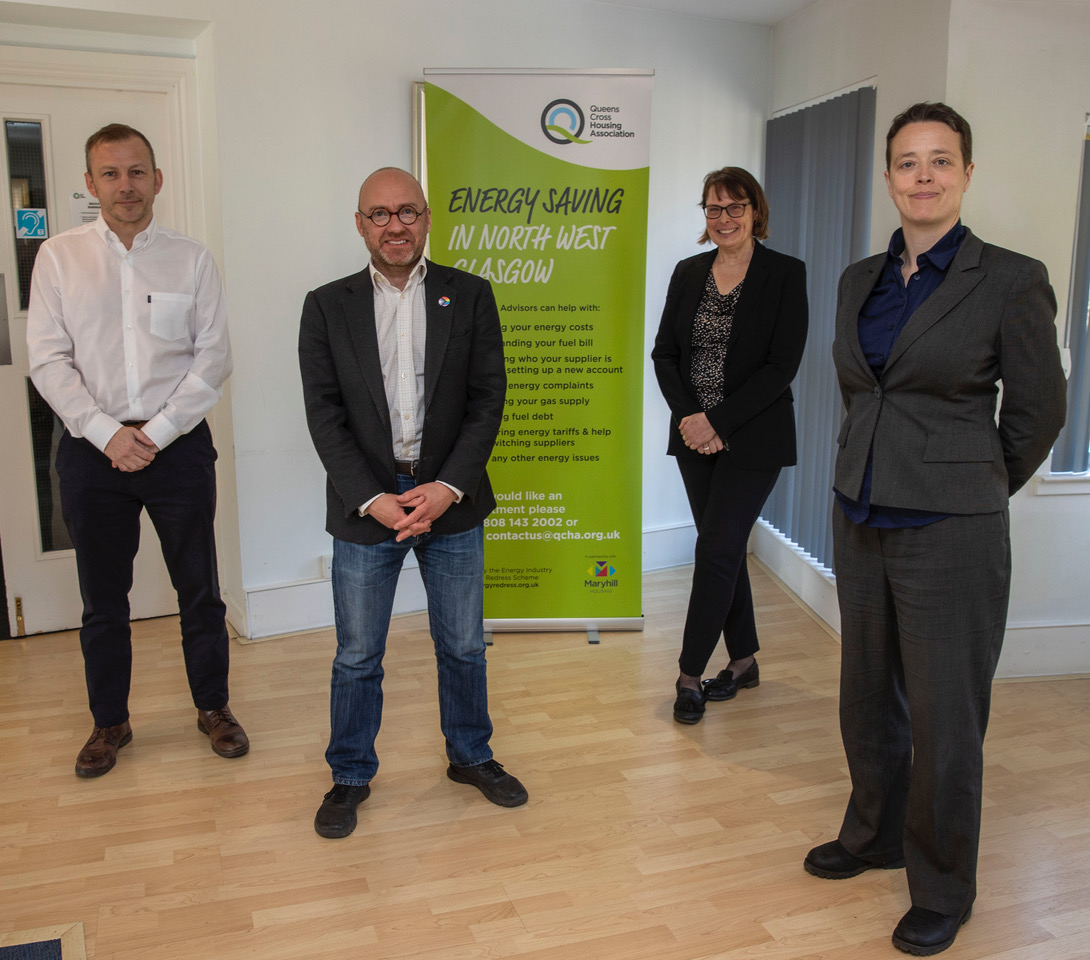 The minister for zero carbon buildings, active travel and tenants' rights met senior management at Queens Cross to explore how the Scottish Government could help tenants cope with rising fuel bills and how the Association could make homes more energy efficient to help reach zero carbon targets by 2045.
Patrick Harvie said: "I am acutely aware that soaring energy prices are causing many people to worry about the cost of their fuel bills and it is vital that people struggling with energy bills get the information and support they need, and the Scottish Government is committed to using all powers and resources available to us to support people through the cost of living crisis.
"The current cost of living crisis makes it clear, however, that immediate help also must go side by side with longer term action. Investing in energy efficiency is the best buffer against the ebb and flow of global energy prices, which is why we are focused on expanding and delivering our energy efficiency and heat programmes to ensure action to secure warmer, greener and cheaper heating for everyone in Scotland."
Figures released by fuel poverty campaigners Energy Action Scotland show that after next month's energy cost increases, 36% of households in the city will live in fuel poverty, and the figure for Queens Cross is likely to be much higher.
Rona Anderson, Queens Cross director of property, enterprise and regeneration, added: "Our area already experiences more than average rates of deprivation in the city, so fuel cost rises are going to hit hard.
"Packages introduced by the Scottish Government to help struggling families pay their bills are welcome, but we need to be more ambitious in how we tackle this structurally, by making homes as efficient as possible. With a joint portfolio of tenant's rights and zero carbon buildings the minister is ideally placed to help us achieve this."
Making new homes more efficient was one way of contributing to the government's net zero carbon targets, but the minister also heard the difficulties of retrofitting old housing stock to save on energy costs.
Rona Anderson continued: "We are demonstrating with our new 600 home development at Hamiltonhill how committed we are to making homes as insulated as possible, but with a high proportion of our homes tenement flats, we need to be looking at innovative solutions to increase the energy efficiency of 100-year-old buildings.
"It is reassuring that the minister is fully aware of these challenges and is keen to work with us and other housing associations facing similar issues to find cost effective solutions for our tenants."