Rettie & Co appoints Fergus Thomson to lead teams in Berwick and Melrose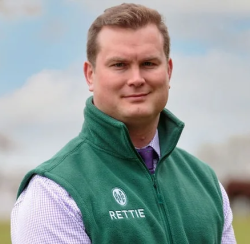 Rettie & Co has hired Fergus Thomson MRICS as an associate director to head up Rettie Borders LLP in Melrose and Rettie Berwick LLP, covering also broader Borders areas.
Mr Thomson, who joins from Davidson and Robertson, brings a wealth of experience as a chartered surveyor.
Mr Thomson was a professional rugby player captaining Scotland A as well as winning 8 caps for the national team, so he knows how to motivate a team and has a winning mindset.
He has a master's degree in Land Economy and is a Member of the Royal Institute of Chartered Surveyors (MRICS) and is also a Fellow of the Central Association of Agricultural Valuers (FAAV), formerly working for Davidson and Robertson establishing their successful Berwick office specialising in professional rural services.
The firm has said it is keen to build on this experience through our wider Group in the Borders and beyond and complement the work its Rural Team, led by Chris Hall MRICS, already carry out. Mr Thomson is well connected in the market among land agents, and at Rettie & Co. he will be working closely with the firm's Town & Country team.
Simon Rettie, managing director, commented: "We are very pleased to announce that we have a new leader joining us to manage the Melrose and Berwick offices and support the continued growth and strong positions we hold in the respective markets. Fergus Thomson brings strong leadership qualities and a new complimentary professional skill set."
Fergus Thomson, associate director, added: "I am delighted to be joining such a prominent firm like Rettie & Co. and being given the opportunity to expand the rural services within the company can provide from Estate Management, Utilities to Renewables to name a few."
Fergus lives in Berwickshire with his wife and young children on the family farm. He is still involved in rugby coaching at Duns RFC.