Riverside Scotland hands over second phase of homes at Dundonald
Riverside Scotland has handed over the second phase of its modular housing development at Dundonald with a further nine of the 63 homes allocated to waiting list applicants.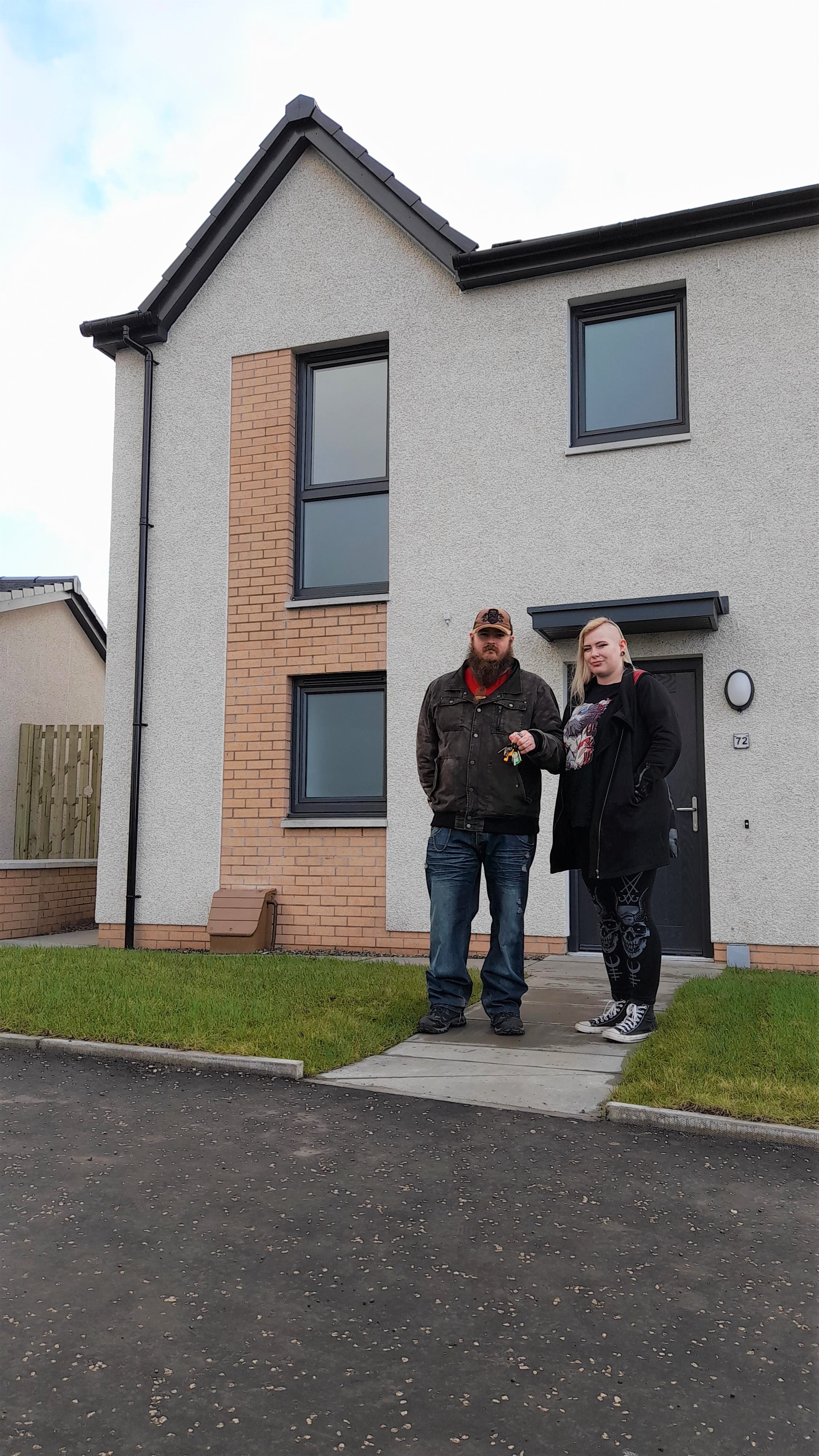 The ground-breaking £9.8 million project, with support from the Scottish Government, is being delivered by Riverside Scotland and Connect Modular Ltd, part of The Wee House Group and will provide highly sought-after affordable housing in the South Ayrshire village.
The new development incorporates a blend of house types, including one-bedroom flats, three-bedroom houses and two-bedroom amenity bungalows.
New residents Nathan and Lauren Cairns recall their relief and excitement when they found out they had been allocated a three-bedroom home within the development. Nathan said: "We've been on the waiting list for seven years, so this phone call has been a long time coming. We were in a small two-bedroom flat with our son and daughter and after lockdown and home-schooling this couldn't have come at a better time.
"The kids are so excited to have their own bedrooms, and just having our own outdoor space will make such a difference to our lives. We can watch the kids play in the garden and enjoy the lovely countryside views – we absolutely love it! It's just going to improve and transform all aspects of our lives dramatically."
Last year Nathan and Lauren were selected to accompany Heather Anderson, Head of Service Delivery at Riverside Scotland, and Jacqueline Gillies-Craig, Housing Options Team Leader, for a tour of Connect Modular's Ayrshire factory to see first-hand the modular homes being designed and fabricated before they are transported to the estate.
Remarkably, the modular houses are already 90% complete when they depart the factory with kitchens, bathrooms, plumbing and electrics pre-installed, facilitating a significantly shorter build programme and earlier occupancy. In comparison to a traditional build project, fabrication under factory conditions diminishes waste, improves quality, negates the impacts of adverse weather, and allows for overlap of site preparation and build phases leading to a more efficient process all round.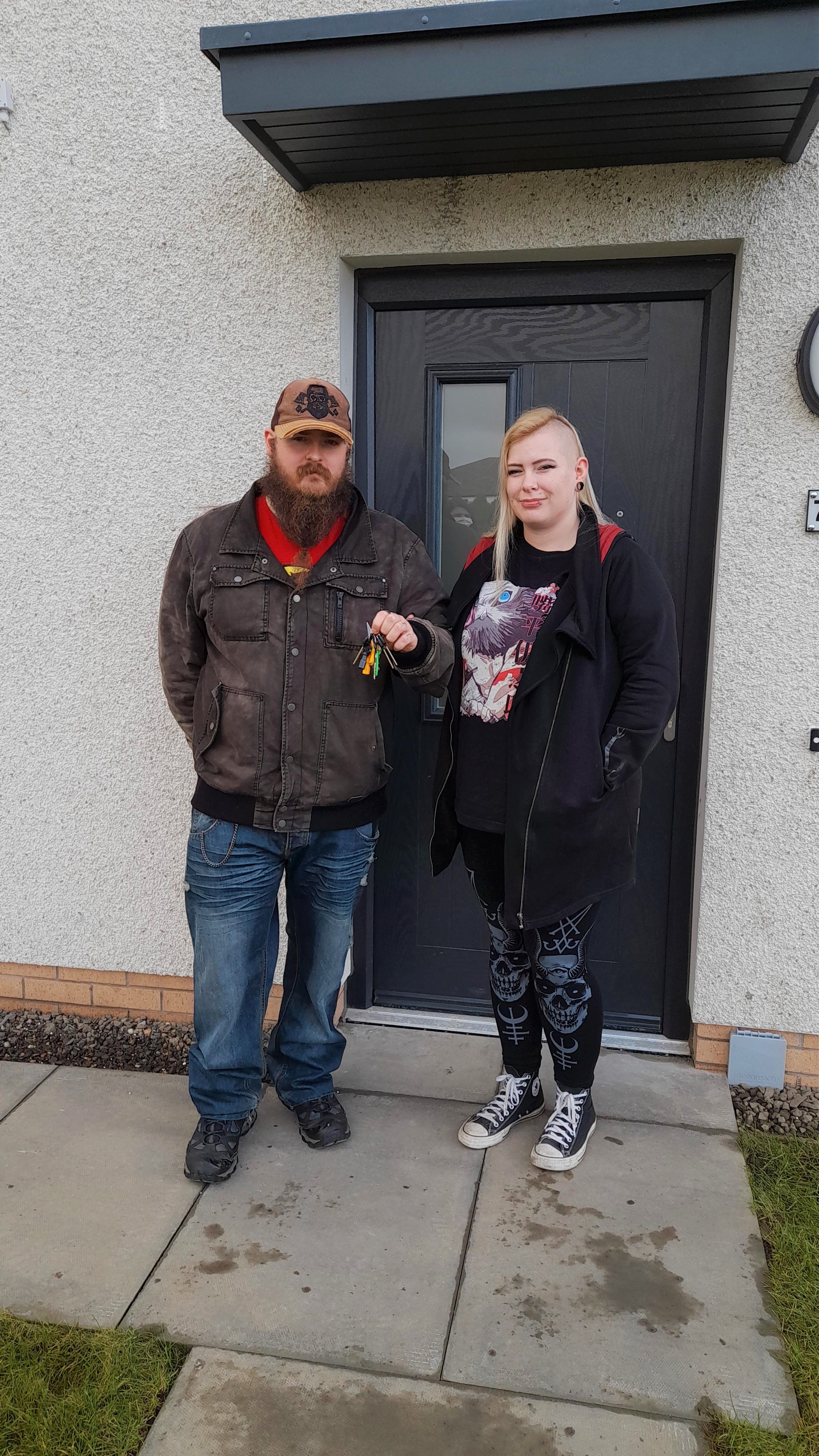 Nathan recalled: "My wife and I really enjoyed seeing the new properties being built in the factory and getting an overview of the development process. We couldn't believe it only takes approximately five weeks to build the modules before they are moved to site. Then to see the finished product – so light and spacious with high quality finishings – it's amazing! We feel so lucky to be moving into a brand new home of this standard. It's the best start to 2022 we could have wished for."
Heather Anderson, head of service delivery at Riverside Scotland, is delighted with the progress and pace at which these homes are being delivered, she added: "We visited the Cumnock factory with Nathan and Lauren last year as we were really keen to track the progress and environmental benefits of the build with it being our first modular development and thought it would be good to give one of our prospective tenants the opportunity to see how the modules are made. And here we are six months on handing over the keys!
"It is such an efficient process, with up to 67% less energy required to produce a modular building and construction waste is up to 85% less that on traditional sites. The spec of the completed properties is just fantastic. We've had great feedback from our residents who moved in before Christmas. We wish the Cairns family and the other residents moving in all the best in their new homes."
Jennifer Higgins, managing director at Connect Modular, commented: "We are pleased to reach completion on this next phase of the development. Hand over day, for me is a satisfying milestone in the process as I get to see the outcome of our team's hard work alongside the happy faces of residents moving into their new home.
"This is always a lovely moment and it really brings the project to life. It is especially nice to see Nathan and Lauren moving in today, having previously met the couple when we hosted their factory visit last summer. We look forward to completing the remainder of the development in the coming weeks and months and are delighted with the progress to-date."