Riverside Scotland urges housing associations to fulfil housebuilding ambitions as completions fall to 70-year low
The number of new homes built in Scotland has fallen to the lowest level for more than 70 years, according to new analysis, and Riverside Scotland has issued a call to housing associations to play their part in reducing the slide.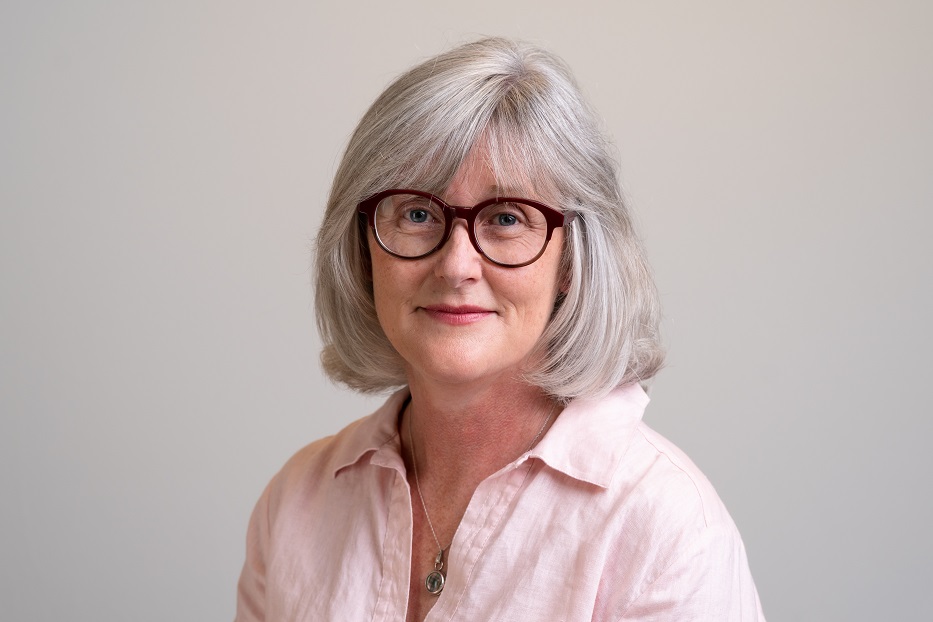 With the impact of Covid on the housebuilding industry, the number of new homes fell by more than a third in 2020. The latest quarterly statistics from the Scottish Government show there were 14,834 new dwellings added to the national housing stock during those 12 months. That was down from 22,673 in 2019, and put an end to three years of increases.
In 2020, Scotland recorded the lowest figure for new-build completions since 1947 – 73 years previously.
Housebuilding in Scotland has seen numerous peaks and troughs since an initial post-war boom. The number of completions soared in the late 1940s and early 1950s, peaking at 39,548 in 1953. Activity then dropped, and completions had fallen to 26,761 in 1962 – relatively low at the time, but still higher than anything achieved in the 1980s, 1990s, or 21st century.
A second flurry of building in the mid-to-late-1960s saw completions rise as high as 43,126 in 1970. That remains the highest figure since modern records began in 1920.
Activity then fell away rapidly: fewer than half of many new homes were built in 1983 (16,423) as in 1976 (36,527). There was then a slow but steady rise until the financial crisis hit in 2008. The impact persisted, and in 2012 only 15,053 new homes were completed. That was a record low - at least until 2020, and Covid.
The social sector appears to have been slightly better protected than the private sector from the ravages of the pandemic.
The data shows the private sector was responsible for 10,634 of the new build homes completed in 2020, down 36.6% from 16,764 the previous year.
Local authorities and housing associations completed 4,200 new-build homes, down 28.9% on 2019.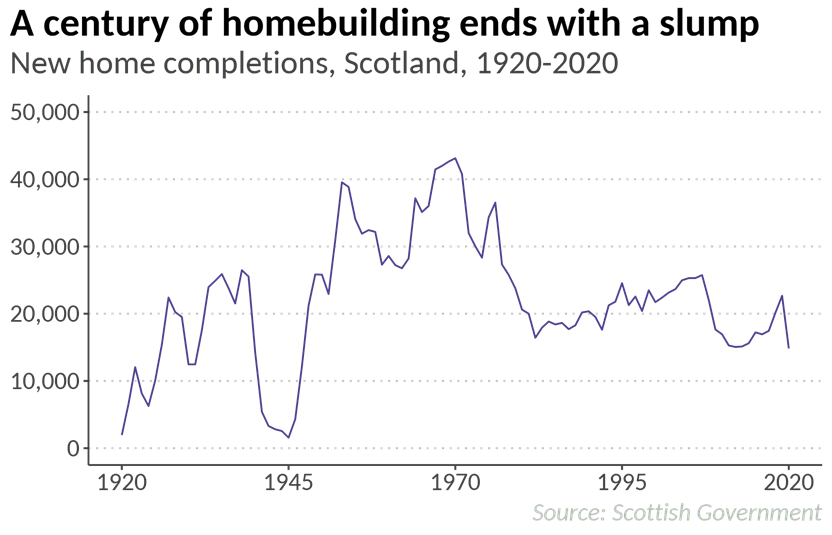 Riverside Scotland has plans to build 100 new homes per year over the next three years up to 2023. Currently, it has three projects, delivering a total of 190 homes under construction, with support from the Scottish Government.
The housing association is currently building Scotland's largest social modular housing development in Dundonald, South Ayrshire.
The ground-breaking £9.8 million project is being delivered by Riverside Scotland and Connect Modular, part of The Wee House Group, and will provide 63 much needed affordable homes in the village. The project is due to be completed in Autumn 2022.
The other developments which Riverside Scotland are currently building include 77 homes at Tarryholme, North Ayrshire which is scheduled for completion Autumn 2022, and 50 homes at Monkton in South Ayrshire, where the first phase is scheduled for completion in Autumn 2022.
Homes across two of Riverside Scotland's current projects under construction will specifically address the housing needs of military Veteran households who are at risk of homelessness upon discharge from the Forces, or who require dedicated support to assist with resettlement.
Riverside Scotland owns 2,300 homes and plans to build 300 new homes which will increase its housing stock by 13%.
Across the UK, Riverside saw a 24% reduction in its own housebuilding in 2020/21 compared to 2019/20, mainly due to the impact of site closures during the Covid lockdowns.
However, it is predicting a bounceback of 95% in 2022, which represents an increase of 48% against 2019 levels.
There is some good news that the housebuilding industry in Scotland is bouncing back strongly. The data suggests the industry was already bouncing back from the economic shock by the end of 2020. Some 5,177 new homes were completed in the fourth quarter of the year, up from 3,969 in the third quarter and just 722 in the second quarter.
While fourth-quarter activity was still lower than in previous years, the gap was relatively small.
Figures for 2021 - which are not yet available - are expected to show a continuation of this recovery.
The 2020 home building slump hit some parts of Scotland harder than others. In Aberdeen, the number of completions fell by almost half, from 1,129 in 2019 to just 572. Edinburgh was down by 37.9%, from 3,291 completions to 2,045. Glasgow performed a touch better, down 32.9% to 1,008.
Diana MacLean, managing director at Riverside Scotland, said: "As housebuilding has been disrupted by Covid it's even more important that housing associations fulfil their ambitions to deliver more new homes across Scotland. As part of The Riverside Group, we are in a strong financial position to enable us to achieve our housebuilding targets."
"While a global health emergency has understandably played a role in denting housebuilding we are heavily focused on our role to help the Scottish Government deliver more much-needed affordable housing."