Rural Stirling Housing Association celebrates award for Claish Farm site
The design and construction of affordable homes in Callandar has won an award for the safety of the site's COVID-19 arrangements, relationship with neighbouring businesses and the use of effective paving in the design.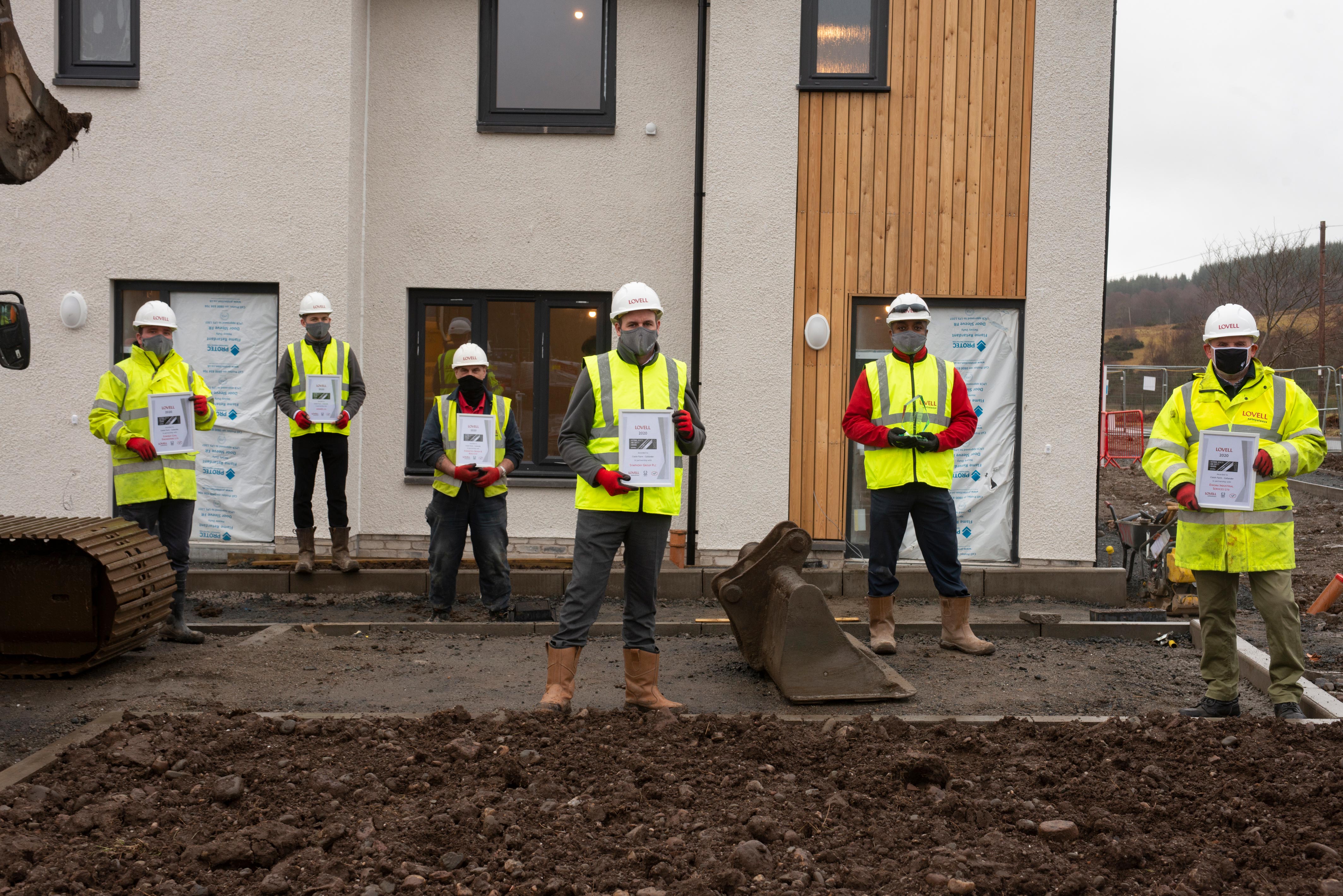 The Claish Farm site near Callandar won Silver in the Lovell National Health & Safety Awards for the design and construction of the 50 affordable homes for Rural Stirling Housing Association.
The awards are organised to promote good health and safety on Lovell construction sites, with Claish Farm the only Scottish winner and beating off competition from six other Lovell regions across the UK.
In particular, Claish Farm was praised for:
COVID-19 secure arrangements with automated audible reminders employed.
Excellent site set-up
Early installation of roads and sewers allowing one-way traffic
Efficient delivery routes
Use of paved routes positioned to rear of buildings to optimise segregation.
High level of communication between all parties leading to a collaborative culture.
Site presentation welcomed by neighbouring businesses.
High standards of internal and external housekeeping maintained on the site, with noticeable workforce buy-in.
Four members of the Claish Farm team; Matt Collins; Euan Lindsay; Henry Rankine; and Ryan McKenzie will each receive £200 of John Lewis vouchers for their work on the site, with Lovell adding a further £100 for dinner and drinks for each individual to spend once hospitality reopens.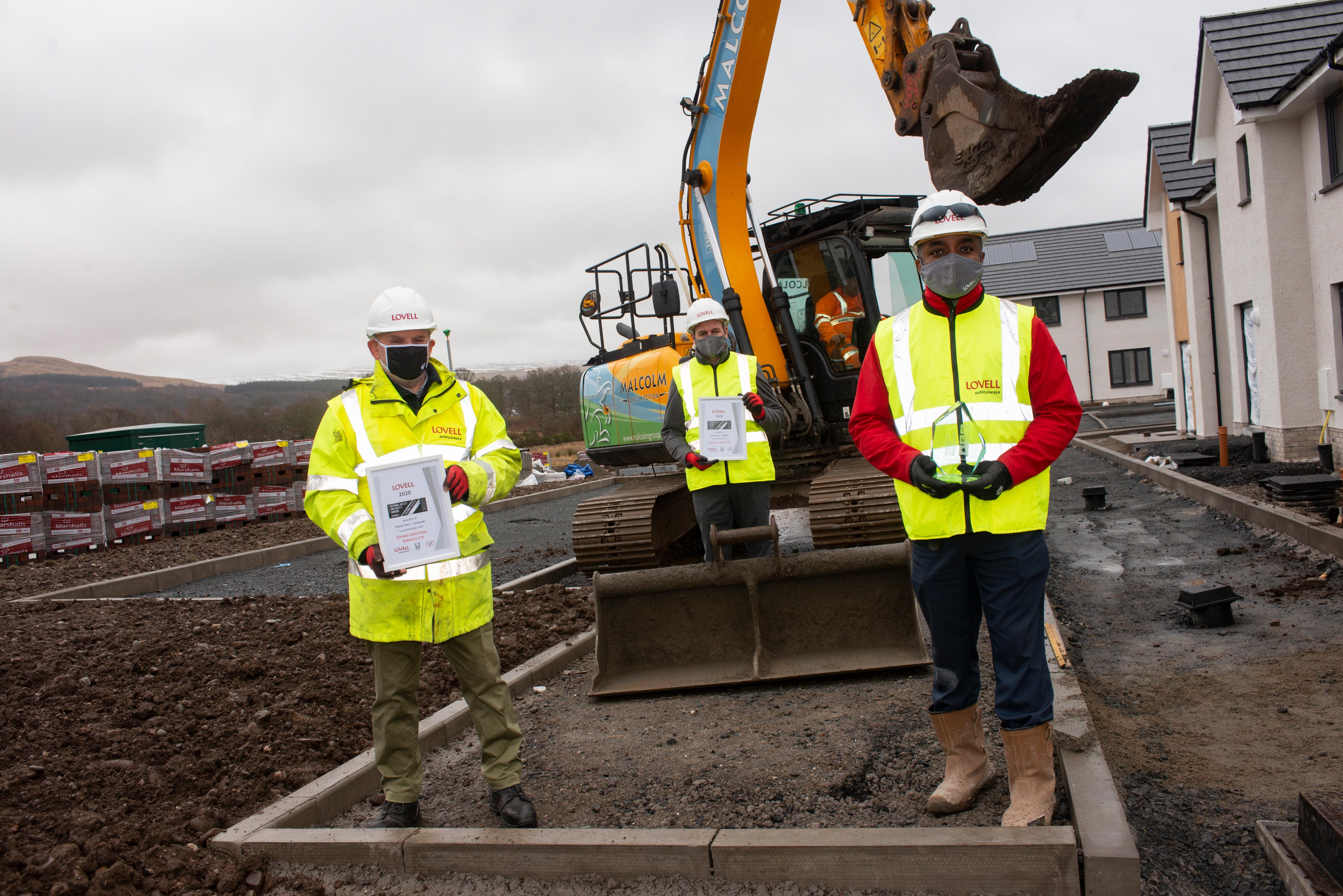 Kevin McColgan, regional managing director Scotland for Lovell, said: "Safety is always the number one priority on our sites and even more so during the pandemic. That is why the Lovell National Health & Safety Awards are taken very seriously by all of our sites and this year saw 7 sites vying to win.
"To be awarded Silver is an incredible achievement for Matt, Euan, Henry and Ryan at Claish Farm and a testament to their hard work and dedication.
"Claish Farm is going to deliver 50 much-needed new affordable houses to Callandar and I would like to thank Rural Stirling for all of their assistance and support. They have been a tremendous partner and I hope that we can work together with them again in the future."
Mark Griffiths, chair of Rural Stirling Housing Association, added: "I am delighted to have been invited to attend the presentation of the Silver Award in the Lovell National Health & Safety Awards for the design and construction of the 50 affordable homes for Rural Stirling Housing Association and to be able to congratulate Matt and his team in person albeit socially distanced.
"I was impressed with the standard of the site and the quality of the homes you showed me around. Clearly the site's safety performance has been recognised by the award you received but I've always found that a well organised, safe site also results in a good quality product. The Rural Stirling team have also found Lovell good to work with and we would be delighted to work together on future projects.
"Rural Stirling Housing Association hopes to handover the keys to the first homes by the end of March 2021 and I'm sure the Lovell's team will keep up the good work and I look forward to seeing you again when we can welcome our first families moving in to this exciting new development."