Scottish Government accepts HARSAG recommendations in principle
The Scottish Government has accepted the full set of recommendations by the Homelessness and Rough Sleeping Action Group (HARSAG) in principle, housing minister Kevin Stewart MSP has announced.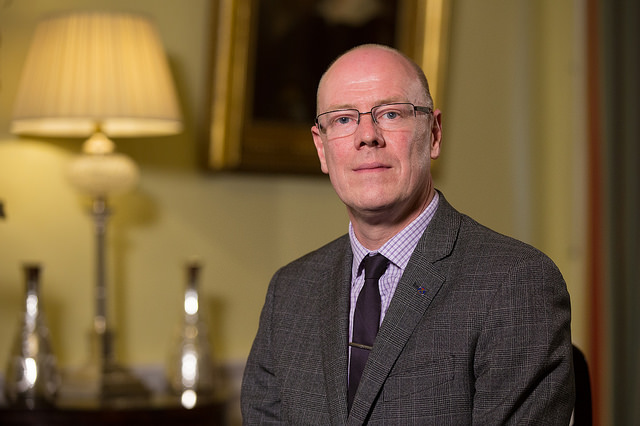 Mr Stewart asked Crisis chief executive Jon Sparkes to reconvene HARSAG at the beginning of June to make recommendations that will inform the drafting of an updated plan to end homelessness in Scotland, taking into account the impacts of the coronavirus pandemic.
The group met towards the end of the month to review a revised set of recommendations for action ahead of submission to the Scottish Government for consideration.
Yesterday, its ambitious 105 recommendations were accepted in principle.
Kevin Stewart, who co-chairs the Homelessness Prevention and Strategy Group (HPSG), said: "As Scotland emerges from this public health crisis, we need to act to tackle inequality and disadvantage while galvanising support for ending homelessness.
"To inform our recovery planning we commissioned HARSAG to develop and provide a set of recommendations drawn from a wealth of expertise, and crucially, the voices of people who have experienced homelessness.
"The Scottish Government accepts HARSAG's recommendations in principle and will now produce – with COSLA – a more detailed action plan. We recognise that some of these recommendations require urgent action and we will share more detail on those in the coming weeks.
"The Scottish Government wants to secure long term, systemic change. We intend to build on the powerful response from all partners, protect the progress we have made and work with our stakeholders to secure our goal of ending homelessness in Scotland."
Jon Sparkes added: "It's fantastic news that the Scottish Government has accepted HARSAG's recommendations. The action taken over the past few months has shown that rough sleeping is not inevitable, and it has undoubtedly saved lives.
"By accepting these recommendations, the Scottish Government has sent out a clear message that people affected by homelessness matter. Now is the time to be bold and show that we can end homelessness when the political will is there.
"Scotland's commitment to ending homelessness is well renowned across the globe, and today's announcement is further proof. We must use this momentum and make sure that anyone experiencing homelessness, regardless of their immigration status, is supported to find somewhere safe and settled to live and rebuild their lives.
"Crisis is committed to supporting the Scottish Government, local authorities and others as we work towards delivering on HARSAG's recommendations. Together we can, and will, end homelessness in Scotland."
The decision has also been welcomed by Shelter Scotland which had proposed a three-point plan to protect people from homelessness during or after the COVID-19 crisis.
The charity called for:
Extension of emergency powers to prevent evictions until at least April 2021.
Renewed government commitment to an ambitious affordable housebuilding programme with a target of 53,000 affordable homes, 37,100 of which should be for social rent.
More consistent enforcement of the existing right to a safe home, including through a new human rights bill.
All three of these recommendations have been accepted by government in principle and Shelter Scotland said it will continue working to ensure they're carried forward and implemented.
Assistant director, communications and advocacy for Shelter Scotland, Gordon MacRae, said: "We welcome the government's commitment to preventing a surge in homelessness in the months ahead. As we emerge from this crisis, no one wants to see families losing their homes or vulnerable people being forced back on to the streets.
"But this is also about long-term change. By building more social homes, stopping evictions and empowering people to enforce their housing rights, we can reduce housing need, stop homelessness and end rough sleeping for good.
"Today's commitments are a big win for Shelter Scotland's campaign. We'll keep working to ensure that these commitments turn into concrete action."