Scottish Green Party members approve cooperation deal
Members of the Scottish Green Party have approved the party's cooperation agreement with the SNP that clears the way for co-leaders Patrick Harvie and Lorna Slater to become Scotland's first Green ministers.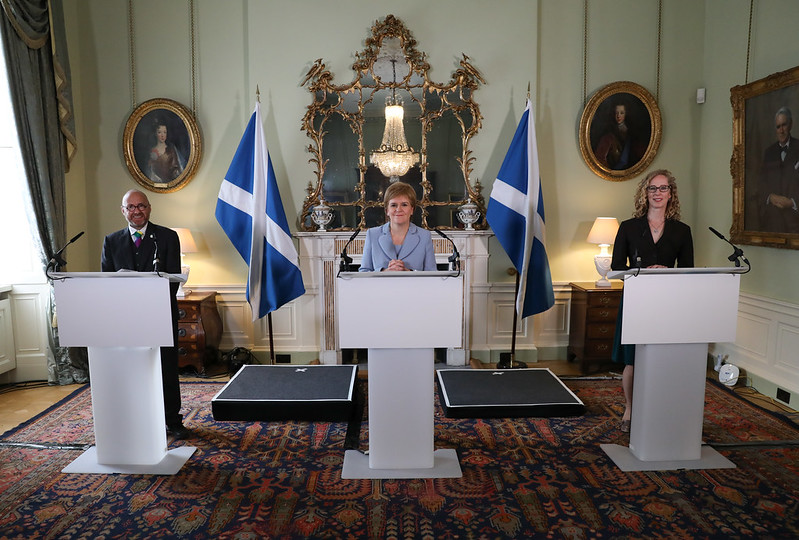 Around 83% of members who took part in an extraordinary general meeting on Saturday voted in favour of the agreement.
The agreement was then formally ratified by the party's national council.
A shared draft policy programme for the next five years includes plans to implement an effective national system of rent controls, enhance tenants' rights and deliver 110,000 affordable homes by 2032.
One of the ministerial roles earmarked for the co-leaders is to deliver plans to decarbonise transport, homes and buildings, as well as a new deal for tenants.
Patrick Harvie MSP said: "I am delighted that our party members have given their support to this historic cooperation agreement that will see Greens enter government for the first time in Scotland, or indeed anywhere in the UK. With Greens in government we will be able to deliver positive change for the people of Scotland."
Lorna Slater MSP said: "Scottish Green Party members are thoughtful and considerate, and I am pleased that having discussed and debated this agreement in great detail they have decided to take this historic step into government. The time has come for Scotland to step up efforts to decarbonise our economy and invest in a fairer, greener future. There's no time to waste and I'm looking forward to start work on our transformative agenda in the coming days."
Welcoming the agreement reached with the Scottish Green Party, First Minister Nicola Sturgeon said: "I am delighted that members of both the Scottish Green Party and the SNP have agreed that we should work together in the Scottish Government to build a greener, fairer, independent Scotland.
"This historic agreement will provide a strong platform for the transformative programme we want to deliver. We will work collaboratively to support a fair recovery from Covid, address with urgency the impacts of the climate emergency, and give the people of Scotland a vote on independence.
"The agreement recognises that co-operation and consensus are essential to finding the practical solutions to the big challenges we face, and it echoes the founding principles of our Parliament.
"While our parties do not agree on everything, we have much common ground. We also have a determination - and indeed a responsibility - to look beyond our differences to build a better country.
"I look forward to working collaboratively with the Scottish Greens in government, and with all parties in parliament, to achieve this."
Meanwhile, new Scottish Liberal Democrat leader Alex Cole-Hamilton MSP has unveiled his new spokespeople team.
Mr Cole-Hamilton will remain as health spokesperson, as well as leading on the constitution and external affairs. Former leader Willie Rennie will become the party's spokesperson on education, economy and communities. Paul McGarry will lead for the party on housing and homelessness. Caron Lindsay will be spokesperson for social security, as well as a member of the Social Justice Secretary's Steering Group on a Minimum Income Guarantee