Scottish Veterans Residences secures Living Wage status
Scotland's veterans minister Graeme Dey MSP met with staff of Scottish Veterans Residences (SVR) in Glasgow last week as the charity announced it has secured accreditation as a Living Wage employer.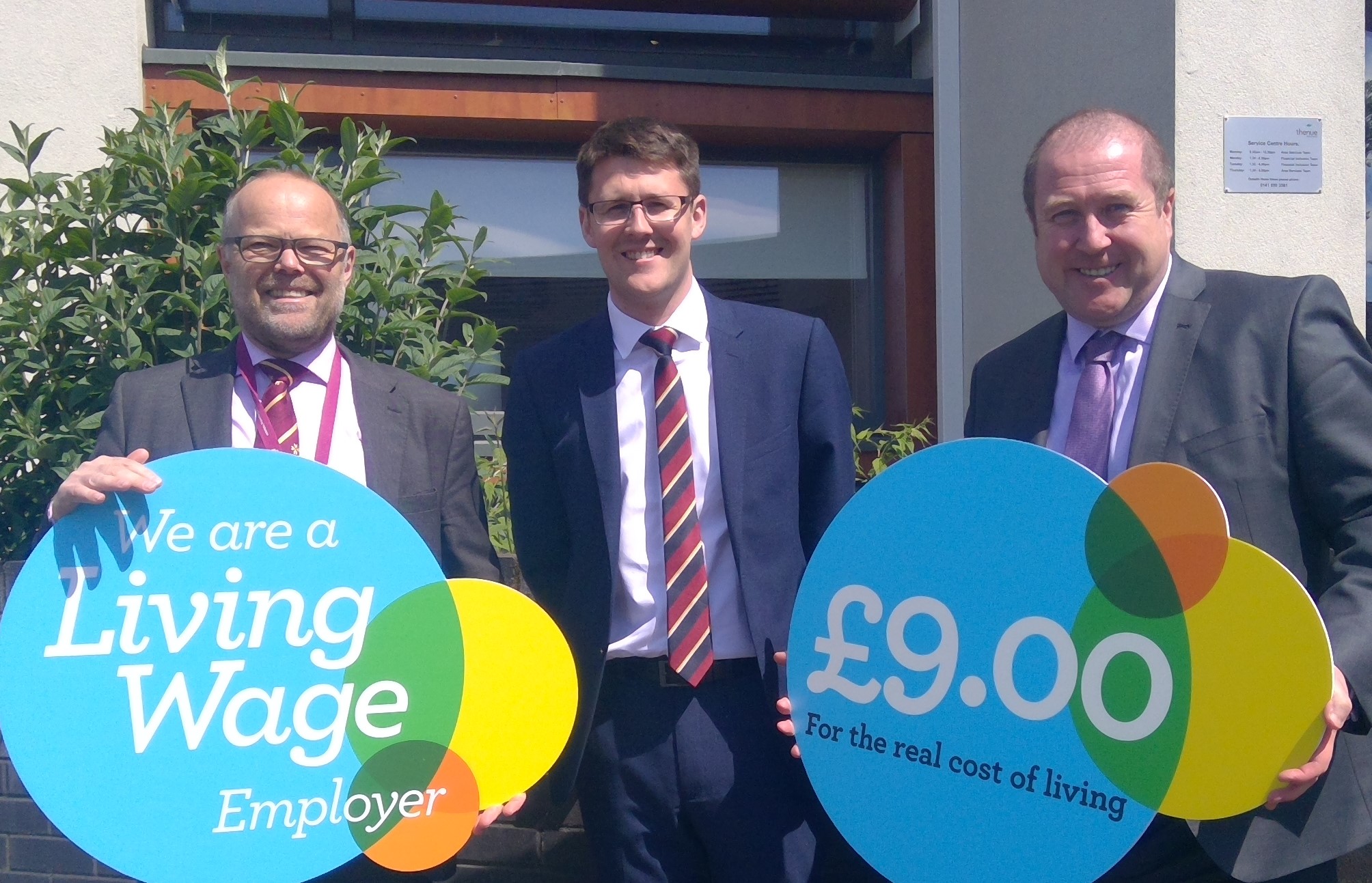 The visit took place at SVR's Bellrock Close, a development located in the city's East End which provides housing and support for 30 UK military veterans. The site also includes 21 affordable rental homes which are exclusively available to ex-armed forces members and their families.
SVR's Living Wage commitment will see everyone working at the charity's three housing developments across Scotland receive a minimum hourly wage of £9.00, regardless of whether they are direct employees or third-party contracted staff. This rate is significantly higher than the statutory minimum of £7.83 per hour for over 25s introduced in April 2018.
SVR chief executive Martin Nadin OBE said: "I'm very pleased that our governing body was unanimous in its support for us to become a Living Wage employer which makes a positive impact on our lower paid staff throughout Scotland. As a charity organisation which aims to be a great employer, adopting the Living Wage is a no-brainer as it means our people are happier and can enjoy a better quality of life."
Veterans minister Graeme Dey MSP said: "It is a pleasure to be here at Bellrock Crescent, to not only witness yet again the valuable and dedicated work being carried out on behalf of our veterans' community, but to celebrate SVR securing Living Wage accreditation.
"Payment of the real Living Wage encapsulates the basic fairness at the heart of our economic approach, and I am delighted that SVR is now a real Living Wage employer. This only goes to reinforce the valuable work they do for our Armed Forces, by demonstrating their commitment to their fantastic staff and the wider community.
"The Scottish Government has long championed the payment of the real Living Wage and it is our ambition for Scotland to become a Living Wage nation. SVR have taken us one step closer to achieving that goal."
Julie McGahan, Living Wage Scotland manager, said: "We are delighted to welcome SVR to the Living Wage movement of over 1400 Scottish employers who together want to go further than the government minimum to make sure that all their staff earn enough to live on. We have lots of smaller employers as well as larger and iconic Scottish employers like SSE, Standard Life, Barrs, Mackies, ScotRail, DC Thomson and many more.
"These businesses recognise that the Living Wage accreditation is the mark of a responsible employer and they, like SVR, join us because they too believe that a hard day's work deserves a fair day's pay."
Peter Kelly, director of the Poverty Alliance, said: "The real Living Wage is one of the key tools at our disposal to help make an impact on levels of in-work poverty in Scotland. There is a strong business case for paying the real Living Wage; but crucially it allows those in work to become more included in society, better provide for their families, and feel that their value and hard work is recognised by their employer.
"We are delighted to congratulate SVR on becoming a Living Wage employer. I hope more organisations follow their lead by becoming accredited."