Serco lock-change evictions paused by Glasgow Sheriff Court
Asylum seekers facing eviction proceedings in Glasgow have been given a temporary reprieve by a court.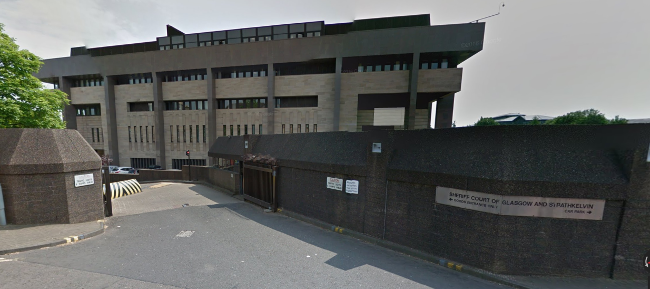 Around 130 court actions concerning proposed lock-changes by Serco have been put on hold or continued by Glasgow Sheriff Court meaning clients in all those cases have been protected.
Another handful of cases were dismissed, as asylum support had been reinstated for those clients.
Lawyers representing people affected by the policy are seeking interim interdicts from the Sheriff Court on a case-by-case basis as a means of protecting people at risk of summary eviction, while the law is being clarified.
Govan Law Centre (GLC) has meanwhile appealed a Court of Session decision that the lock changes were not unlawful.
Fiona McPhail, principal solicitor of Shelter Scotland, said: "The collaboration of lawyers and charities working in this area has been calling on Serco to pause their lock-change programme since it was recommenced in June 2019.
"Serco's insistence on pressing ahead with the lock-changes, despite the lawfulness of this procedure being subject to ongoing litigation, has resulted in lawyers from Shelter Scotland, Legal Services Agency, Latta & co. and Govan Law Centre having no option but to take urgent steps to raise these interdict proceedings on behalf this very vulnerable client group.
"This client group is particularly vulnerable, not just because they claim to be fleeing persecution from their country of origin, but because unlike most of us, they are unlikely to have access to homeless services or other forms of social welfare. They are in effect being forced into destitution on the streets."
Graham O'Neill, policy manager, Scottish Refugee Council, said: "We are deeply relieved that Glasgow's Sheriff Court has maintained the protection against Serco rendering, through lock changes, vulnerable and traumatised men and women immediately street homeless.
"Every day, we see and hear the torment, confusion and fear of people that this cruel lock change programme is causing. Our colleagues are coming to work, facing a packed reception area with people in desperate need.
"And, these are men and women who sought safety here. They have fled countries such as Iran, Afghanistan and Eritrea. Some, tragically and disgracefully, are now lock change victims. One woman has serious mental health issues, but now she is street homeless. One man had an urgent health appointment for heart problems, but he is street homeless too. That is the reality, that is why today's Sheriff Court actions matter, and that is why we hope the Court of Session appeal against summary evictions by lock changes is successful.
"Were it not for the Sheriff Court's actions today and Scotland's housing lawyers, over 100 men and women would be facing lock changes and street homelessness within days or weeks. They would be cast out onto Glasgow's streets with nothing and nowhere to go. This is being done by a multinational with billions in revenue whilst the Home office, quite disgracefully, by-stand.
"Street homelessness should have no place in Glasgow, Scotland or the UK, and that includes in the asylum system."
Robina Qureshi, director, Positive Action in Housing, said: "This is a welcome decision for now. Our caseworkers worked tirelessly round the clock in collaboration with Glasgow lawyers including Latta & Co, Shelter Scotland, Legal Services Agency and Govan Law Centre to block Serco from embarking on its lock-change programme since it was recommenced in June 2019. Our network meetings were instrumental in encouraging an en masse approach of pursuing interim interdicts.
"Since June 2019, we have directly assisted 102 men and women from 26 different countries of origin, the greatest numbers are from Iran, Eritrea, Iraq, Nigeria, Afghanistan and Syria. We worked to make fast track referrals to solicitors to secure interim interdicts. We also provided advice, casework challenges to Serco, community hosting and crisis grants to those left without support. Some people did decide to give up their accommodation under pressure and either went to stay with friends or went down South.
"But this is a temporary reprieve, as we still await a Court of Session appeal decision against summary evictions by lock changes. That decision defines what happens next in Glasgow, and it provides hope for those campaigning for refugee housing rights across the UK. In the meantime, we welcome the fact that around 130 people are protected by Scotland law from rogue actions by Serco trying to turn a highly vulnerable and traumatised community onto the streets of Glasgow, with no recourse.
"Serco - a multinational worth billions - is still trying to force out asylum seekers who don't have interdicts and it's a case of making sure people know their rights. Asylum seekers are vulnerable because they are unlikely to have access to homelessness accommodation that the rest of us can expect as a basic right. Those who are threatened with destitution have been referred successfully by our own caseworkers, also British Red Cross and the Glasgow Night Shelter to our Room for Refugees hosting programme.
"We have managed to found safe shelter in the homes of generous Glasgow host families with spare rooms to offer. Currently, we are accommodating between 60 and 70 men, women and children every single night, at no cost to the state. Around one third of our current residents are accommodated in Glasgow.
"Some people have had their rights reinstated, and this is par for the course, the Home Office routinely refuses cases out of hand, cuts off peoples support only to be forced to reinstate that support. It's like a yo-yo effect that goes on for years and often ends in people getting their right to remain. Making people destitute just means it takes longer to get their case heard. When your street homeless, without support of any kind, you are trying to survive each day, not think about legal paperwork.
"The suffering and stress caused by the threat of destitution is immense and often results in serious mental and physical health problems. It hurts our society too, because when society makes refugees destitute, it is delaying their path to resettlement and contributing as taxpayers of the future."