'Shameful' Universal Credit cut 'will push 22,000 children into poverty'
Today's removal of the £20 uplift to Universal Credit will have a dramatic impact on thousands of children in Scotland, charities have warned.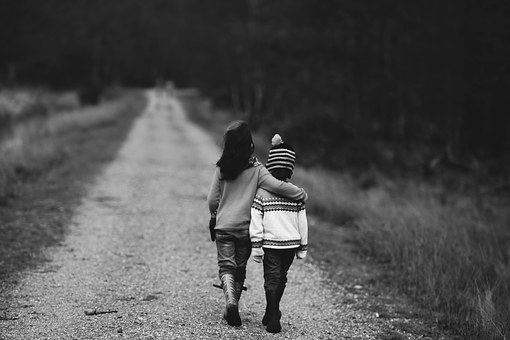 The level of welfare support, which had been increased in light of the impact of the pandemic on household incomes, has now been removed despite mounting calls from across civic Scotland and beyond for the uplift to remain.
A new report published by the Child Poverty Action Group (CPAG) in Scotland estimates that a further 22,000 children will be pushed into poverty in Scotland as a direct result of the cut.
Calling on Prime Minister Boris Johnson to reverse the cut immediately, the charity has also urged First Minister Nicola Sturgeon to bring forward plans to double the Scottish child payment.
Kirsty McKechnie, a project manager for CPAG, said: "It is shameful that the Prime Minister has pressed ahead with today's extraordinary cut to ordinary family incomes – ripping over a £1000 a year from already inadequate family budgets.
"The UK Government really must think again and reverse this cut before the damage mounts irreparably. In the meantime, it's vital that families are supported to claim the other financial benefits they are entitled to.
"We know that too many are missing out on council tax reduction and on disability benefits for example, while others are unaware that their children may be entitled to free school meals and school clothing grants."
Ms McKechnie added: "The scale of the loss ordinary families face as a result of this UK Government cut is frightening. It makes the Scottish Government's commitment to double the value of the new Scottish child payment even more important. Children need to see that additional support now."
Save the Children has warned that the £20-a-week cut will impact a child in Scotland every seven seconds over the next month.
Between now and early November, over 360,000 families - from nearly 250,000 households in Scotland, who are in receipt of Universal Credit will see their payments reduced– by £87 a month or £1,040 a year, the charity said.
Over 103,000 families in Scotland with children on Universal Credit have a child of primary school age or younger. Research shows that 20,000 more children in Scotland will be pushed into poverty as a result of the cut.
Claire Telfer, Save the Children's head of Scotland, said: "The UK Government's decision to go ahead with this cut will devastate families in Scotland. Over the next month, over 360,000 children will be affected with a further 20,000 pushed into poverty.
"People we work with tell us they've been relying on this £20 lifeline to buy essentials like food and clothing for themselves and their children. Without it, tens of thousands more children are facing a cold and hungry winter. And we know the impacts of childhood poverty can last a lifetime.
"It's astonishing that UK Government ministers have chosen to inflict the most significant social security cut in memory at the same time that families are grappling with a cost-of-living crisis; Inflation, increases in energy prices, fuel shortages and tax hikes are all taking their toll on family finances. For many, this will be a significant catastrophe of falling income and rising costs. The UK Government has a duty to protect families from hardship and not add to it.
"The UK Government must change course. In his budget announcement later this month, the chancellor should reinstate the £20 lifeline. Children will be affected immediately by this change as well as throughout the course of their entire childhoods and beyond."
Scottish Greens social security spokesperson Maggie Chapman MSP said the cut, equivalent to £1,040 per year, will devastate the most vulnerable, many of whom are already struggling to recover from the impact of the pandemic.
"People across the country are in dire financial straits," she added. "As household energy bills soar, national insurance is hiked, and runaway inflation means prices are outstripping wages it is shameful that Boris Johnson's government has chosen this moment to inflict the largest cut to social security since the welfare state was first introduced.

"At a conference sideshow this weekend Scottish Tory leader Douglas Ross laughingly claimed that his is the party of the working class. He has previously claimed they are the party of "family values". Well, they've got a funny way of showing it. This ideological attack on Scotland's working class will plunge thousands more working-class families into extreme poverty. Scotland can, and must, choose a different path."

Shadow Scottish secretary Ian Murray said: "The Tories are inflicting untold damage on communities with this disgraceful cut as the PM laughs about it.
"There was never any justification for this – but it is all the more dangerous to press ahead with these plans as a cost of living crisis hits.
"The Tories have given up any pretence of caring about the most vulnerable in our society. This cut will go down in history as a particularly shameful act from a cruel and uncaring government on working people."
Scottish Labour's social security and social justice spokesperson Pam Duncan-Glancy added: "This increase to Universal Credit was a lifeline for families struggling to make ends meet. Even by the Tories' standards, the decision to scrap it is catastrophic.
"We can and must take a different path in Scotland – but it will require real ambition from the SNP.
"Both governments should be pulling out every stop to fight poverty. With the Tories intent on this heartless approach, it is more urgent than ever that the SNP put their money where their mouth is and use the powers we have to transform lives."
Citizens Advice Scotland (CAS) has urged people affected to seek advice on how they can manage financially.
CAS chief executive Derek Mitchell said: "Increasing the value of Universal Credit at the beginning of the pandemic was the right thing to do and was a lifeline for millions of people across the UK and around half a million people in Scotland.

"Our fear is reducing the value of these payments will push lots of people into impossible financial choices in the coming weeks and months. This is particularly worrying as energy bills have increased and prices have risen in the shops. It's a perfect storm for people.

"Anyone worried about money, bills or their income can get help from the Citizens Advice network, whether that's a local CAB, our online advice pages or our money map tool. Our advice is free, confidential and impartial and has helped unlock £147 million for people during the pandemic."
A UK Government spokesperson said: "We've always been clear that the uplift to Universal Credit was temporary.
"It was designed to help claimants through the economic shock and financial disruption of the toughest stages of the pandemic, and it has done so.
"Universal Credit will continue to provide vital support for those both in and out of work and it's right that the Government should focus on our Plan for Jobs, supporting people back into work and supporting those already employed to progress and earn more."