Shelter Scotland wins Scottish Social Services Award for Time For Change project
A new approach that uses the untapped, expert lived experience of former homeless people in Glasgow has won a prestigious award.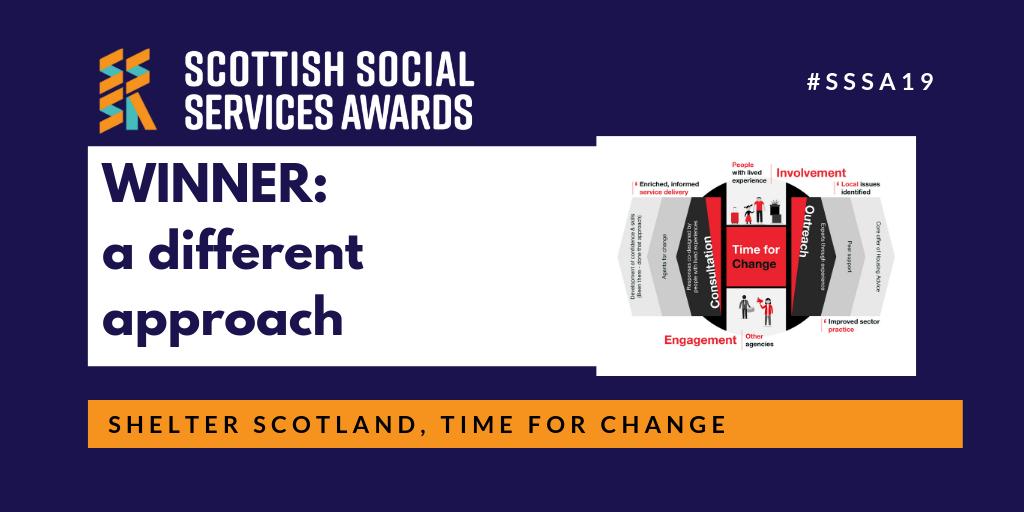 Time for Change, which engages experts through experience to drive local change, was a joint-winner in the 'A Different Approach' category of the 2019 Scottish Social Services Awards.
Time for Change engaged with people across Glasgow to learn first-hand what issues they were experiencing. Recognising the numbers of people being denied their legal right to a home when making a homeless application, the team responded by upskilling people to provide advocacy to others going through the homeless application process.
The team helped dozens of people to get temporary accommodation instead of being forced to sleep on the streets, sofa surf with friends or family or return to dangerous home situations. The Time For Change team members have also benefitted immensely from confidence boosting involvement and life-changing training and qualifications.
Time For Change is now embedded as Shelter Scotland's approach to involvement across its entire Scotland operation.
Gillian Reid, national services manager at Shelter Scotland, said: "We thank the Scottish Social Services Awards for recognising the transformative work carried out by Time For Change.
"Time for Change is delighted at this recognition as it is a user-led, co-produced response to issues experienced by people facing homelessness in Glasgow every day.
"By harnessing the lived experience of individuals and creating opportunities for involvement, delivery and professional development, Time for Change in Glasgow has succeeded in delivering incredible outcomes for individuals, for trainees and across the sector.
"The response to the issue of 'gatekeeping' co-produced by this core group of individuals was innovative and impactful. People told us it was Time for Change and through their creativity, tenacity and commitment to supporting others facing the same issues, change has been delivered."