Site visit marks progress on 38 council homes in Larkhall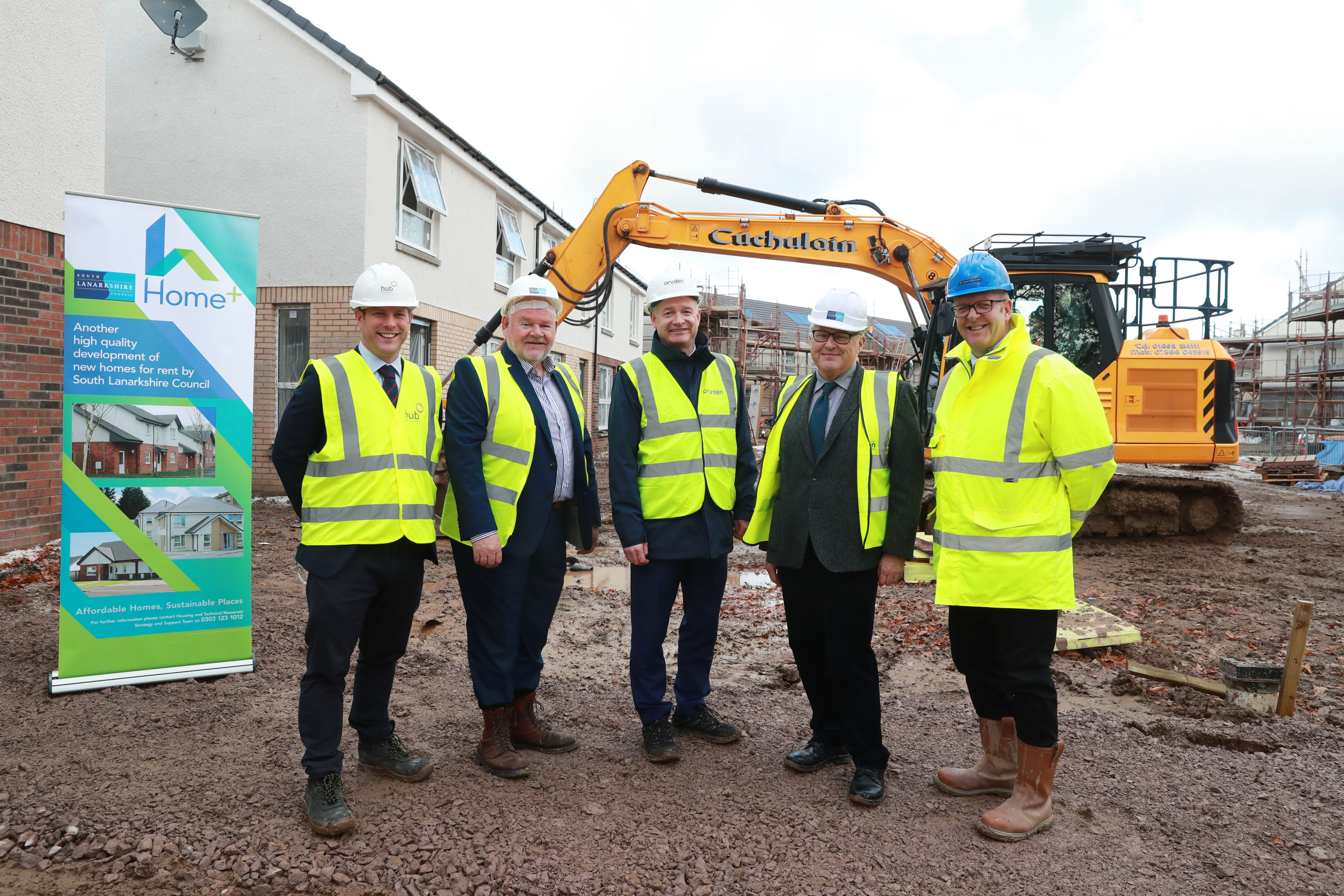 Work is progressing well on a new council housing development in Larkhall.
A total of 38 new homes are being built on Avon Road in the town, with a mixture of flats, bungalows, terraced and semi-detached homes.
They are being constructed in partnership with Cruden and Hub South West, a successful partnership which has already delivered developments at Auldkirk Road, Cambuslang (48 units) and Glengonnar Street Larkhall (20 units).
The development is part of the council's flagship Home+ Programme and is part funded by a grant from the Scottish Government's Affordable Housing Supply Programme.
Chair of the council's Housing and Technical Resources Committee, Councillor Davie McLachlan, said: "It was fantastic to visit this site and see the progress being made on the new homes.
"There are a range of house types available, suitable for households with varying needs, which I am delighted about.
"They are also built to be of the highest standards of energy efficiency, which will help tenants save money on fuel costs."
Gordon Lee, partnering & procurement director at Cruden Building Scotland, said: "We are delighted to be making such good progress on the Avon Road development and this is mainly due to the fact that we have been able to utilise the same site management team and core group of operatives who successfully delivered the Auldkirk and Glengonnar developments.
"In addition to sustaining our strong working relationships with South Lanarkshire Council we have also been able to continue our commitment to community benefits through employment and training initiatives within Larkhall and the surrounding area."
Michael Ross, chief executive of hub South West Scotland, said: "We're pleased to see work is progressing well on this exciting housing project at Avon Road. To date hub South West Scotland has delivered 252 housing units across South Lanarkshire at a cost of over £36 million.
"We're looking forward to working closely with our partners to deliver more crucial infrastructure projects across the region and help drive economic and social benefits for the surrounding area."
It is anticipated that properties will be completed and available for occupation by Spring 2023.