South Lanarkshire Council welcomes 100th tenant to new home
The 100th tenant to receive keys to a brand-new house at South Lanarkshire Council's biggest housing development says it is her dream home.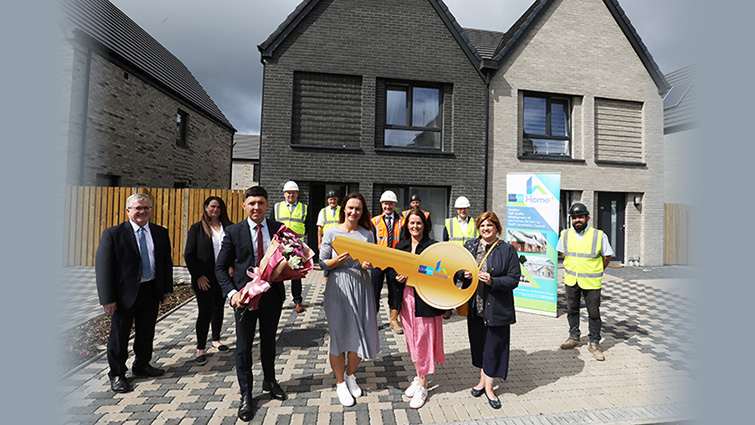 Aleksandra Lennon and her daughter are not just settling into a new house in Whitlawburn, they are also enjoying moving back home.
The family were among the long-term residents of the area temporarily rehoused while South Lanarkshire Council and its partners deliver a multi-million-pound redevelopment in the area, including more than 300 new homes.
To mark the handover of the 100th new council tenancy on the site, Councillor Josh Wilson, chair of the council's housing and technical resources committee, personally welcomed the family.
He said: "This is a significant milestone in the regeneration of Whitlawburn, and I am delighted to welcome Ms Lennon and her family to their new home.
"This development demonstrates the council's ongoing commitment to ensuring that we will do all we can to meet housing need across South Lanarkshire by increasing supply through the building of new homes."
The council's Home+ programme has already delivered 496 new build council homes for communities throughout South Lanarkshire and is on target to deliver 1000 new homes.
Aleksandra Lennon has lived in East Whitlawburn with her young daughter since 2012. She said: "The house is just perfect for us, and I can't wait to create loads of memories with Maya. It's great to have our own space and a garden to enjoy and she loves playing outside with her friends.
"Staying local also means it is convenient for Maya's school and for my work."
Designed by Stallan Brand Architects and constructed in partnership with CCG (Scotland), hub South West and West Whitlawburn Housing Cooperative the multi-million-pound Whitlawburn development includes 311 homes featuring a range of house types including a mix of two-storey detached, semi-detached and terraced houses, along with cottage flats and four blocks of flats.
A total of 230 of the properties will be socially rented with priority being given to tenants who were relocated to make way for the new development. The remaining 81 properties will be sold through CCG Homes and are scheduled to come onto the market in the coming months.
Included in the redevelopment are properties specifically designed to meet the needs of older residents or people with mobility needs.
Daniel Lowe, the council's executive director of housing and technical resources, added: "We are transforming Whitlawburn and I am delighted that working with our partners and with the support of Scottish Government Affordable Housing Supply funding we have now reached this milestone of 100 completions."
David Wylie, CCG managing director, commented: "The Scottish construction industry has faced some trying times over the last year but CCG, like others, have had to face these challenges head on to ensure that we deliver for our clients and communities. Reaching the 100th handover at the Whitlawburn Regeneration carries an added weight of significance in this regard and I am extremely proud of our Contracts Team for their efforts in reaching this milestone."
Michael McBrearty, hub South West chief executive, said: "This is an important regeneration project and hub South West is very pleased to be participating in the development of high-quality homes in partnership with South Lanarkshire Council, West Whitlawburn Housing Co-Operative and CCG.
"Our engagement in the housing sector has brought improved value for money to the provision of new homes through both the rigour of the hub South West process and the collaborative nature of our development practices. We are the only housing procurement route that offers local authorities a meaningful and structured social value framework, ensuring a lasting legacy is built beyond the homes.
"We are absolutely delighted that 100 new homes have now been occupied to date in Whitlawburn."