Surveys point towards increasing construction sector confidence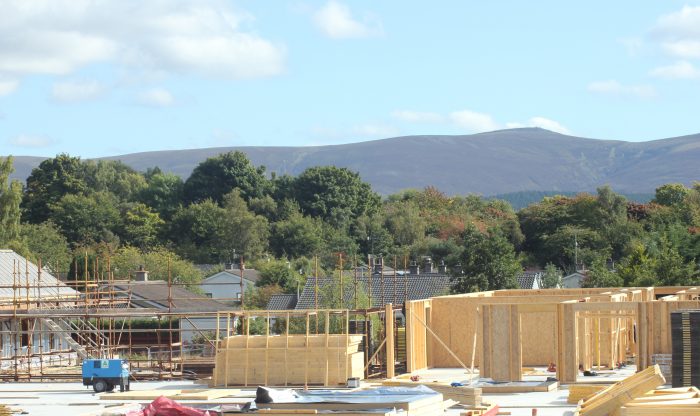 Despite a fall in construction activity at the start of 2023, surveyors in Scotland are predicting sector growth for the first time in almost a year while another survey has highlighted a rebound in repair, maintenance, and improvement (RMI) work for construction SMEs.
A net balance of -6% of Scottish respondents to the latest Royal Institution of Chartered Surveyors (RICS) Construction Monitor said that workloads fell, the second consecutive quarter that this indicator was in negative territory. This is compared to the net balance +3% of respondents at the UK level. But on a 12-month horizon, Scottish surveyors now expect growth, with a +12% saying that workloads will be higher in a year's time. The last time this indicator was in positive territory was Q2 2022.
Looking at the current workloads, private housing experienced the steepest slowdown of the sub-sectors, with a net balance of -21% of respondents reported. Most other sub-sectors were said to have had broadly flat workloads other than infrastructure. A net balance of +14% of respondents said that infrastructure workloads increased in the quarter.
With the expected rise in workloads, respondents in Scotland also expect employment to increase with a net balance of +26% expecting employment levels to be higher in a year's time. In line with this relatively robust employment picture, skills shortages don't appear to have eased. Shortages of quantity surveyors bricklayers and other construction professionals continue to be reported.
In Q1, 63% of surveyors reported a shortage of quantity surveyors, up from 58% in Q4 2022. Shortages in other construction professionals rose from 54% in Q4 to 61% in Q1. 51% of respondents continue to report shortages of bricklayers.
Although there are continued labour and material cost pressures, respondents in Scotland seem less concerned about the outlook for profit margins than they were. Whilst the net balance for profit margins was -40% in Q4 2022, this has eased to -1% in Q1 2023.
Commenting in the report on skills shortages, Andrew Outram from Pacific Partners LLP in Glasgow and Edinburgh said: "More training and encouragement to join the industry for school leavers should be prioritised."
John Keillor of Currie & Brown in Edinburgh said: "The skills shortage across all parts of the industry will increase as more hit retirement age."
Ian Simpson from Dc Thomson & Co Ltd in Dundee said that uncertainty over public policy and the future of government support for energy infrastructure was a concern.
Darren McCann, CCG (Scotland) Ltd in Glasgow added: "Financial constraints and technical challenges around decarbonisation of existing assets."
Commenting at UK level, Simon Rubinsohn, chief economist at RICS, said: "The negative mood around development has eased somewhat in recent months with the workload trend stabilising away from infrastructure where the trend remains more positive. A key challenge for the sector continues to revolve around labour shortages in general and skills in particular. Unless addressed, this could prove to be a significant drag on the ambitions of the construction industry.
"Unsurprisingly, credit conditions remain restrictive for now but there is a sense that they could ease as the year wears on. Whether this improvement materialises remains to be seen in the face of the ongoing banking stress in the US and how this plays out around the globe."
Meanwhile, the latest State of Trade Survey from the Federation of Master Builders (FMB) has highlighted a rebound in repair, maintenance, and improvement (RMI) building work for the first three months of this year with reported workloads up by 12% compared to Q4 2022, and reported enquiries up 14% on the previous quarter.
The latest survey for Q1 2023 found:
Market conditions
There is an overall recovery in enquiry and workload levels for the RMI sector as 14% of members report an increase this quarter.
Almost nine in ten (87%) FMB members report an increase in material costs.
The house building sector is continuing to struggle with more reporting a decline in workload that those seeing more work (-4%). However, this has improved on last quarter where it was -18%.
Skills
At least one in three FMB members reported that they are struggling to recruit carpenters/joiners, bricklayers and general labourers are (41%, 36%, and 31%).
Members report an overall net decrease in employment levels in Q1 2023 (-3%).
Impact of changes in prices and costs
87% of members reported that material cost had increased in Q1 2023.
Three quarters (75%) of FMB members reported an increase in the prices they charge for work.
45% of members reported that business profits were lower than expected this quarter.
Brian Berry, chief executive of the FMB, said: "The rebound in domestic building work at the start of this year compared with the pessimistic forecasts towards the end of last year is an encouraging sign that parts of the building industry are bouncing back. It's a positive sign for the overall economy that homeowners are continuing to invest in their homes.
"Despite the good news for domestic building work, it is very concerning that house building is still in negative figures, despite a slight increase in reported workloads. Given there is a growing housing crisis the fact we are building fewer and not more homes is a worrying sign for consumers, builders and the Government alike."
He added: "The FMB's survey also shows the effect inflation is having on SME building companies resulting in them having to raise their prices in order to stay afloat and with 10% of FMB member companies potentially at risk of closure. We are far from having certainty in the building industry but at least there are some signs that we are starting to move in the right direction."